The Most Detailed uMobix Review: The Ins and Outs of This Monitoring App
Affiliate Disclaimer: SpyPhone.App may earn a commission from purchases made through our links, at no extra cost to you. Our reviews are unbiased and based on our evaluation of the products and services. Your support through these links helps us maintain our website. Thank you for your support!
Recently, I caught myself thinking that modern children can only picture the world without smartphones and computers, listening to the stories of us old-timers. It probably sounds like some sort of Middle Ages to them, no more or less. However, with gadgets introduced into their lives at such a young age, kids often find themselves unable to fend off online dangers such as scams and cyber predators, and they may also develop an addiction to excessive online spending and posting private information.
Fortunately, this is the 21st century, which means a solution such as a parental control app like uMobix allows you to push the envelope and move away from the usual pattern of annoying control and visible interference in a child's personal life.
uMobix App in a Nutshell
My Likes
What's really awesome about uMobix is that to use its salient features like tracking WhatsApp, Viber, etc., or to get full access to Facebook and Instagram, users do not need to download uMobix software if they have an iOS device that needs monitoring. Even installing the uMobix app for Android gadgets does not imply rooting, as in other cases. You have the option to hide the app, make its operation completely invisible, and just sit there comfortably, seeing all the viable information coming onto your smartphone.
My Yikes
Keeping in mind that a phone monitoring app is not something that people encounter every day and users may simply have a lot of doubts, making them reluctant to make a purchase, many would certainly be happy to have the opportunity to test the product in a free uMobix trial version before making an informed purchase. uMobix app free trial is available only upon request and is not automatic. Also, since uMobix doesn't go hard on the device, avoiding tampering with its core settings, it lacks features such as iOS keylogger, which allows for a complete observation.
What Is uMobix in Layman's Terms
uMobix is a spy program or, in other words, a tracking app that requires a one-time setup and then collects and sends screenshots, data on calls, messages, geolocation, etc., to your uMobix control panel. All it takes from the user is to log into their account when needed and check the received data.
In a world of rapidly developing technologies, there are many opportunities to find the location of loved ones quickly or, for example, ensure that they are safe. Jumping ahead, the uMobix app is one of the best spy phone apps and one-size-fits-all solutions out there, capable of catering to you in many scenarios; however, it should not be used just to satisfy one's curiosity.
How Does uMobix Work?
Whether it's an iOS or an Android device, you must purchase a subscription to proceed with the uMobix spy app. What's convenient is that in addition to packages for 3 and 12 months, users can opt for as little as 1 month of uMobix app tracking functionality. Next, the program will provide you with a link to register your account, logging in where you will find the uMobix dashboard. The information in it will be updated as soon as a fresh backup is received from the iOS device iCloud, or the program will automatically retrieve information from the Android gadget, which happens approximately every 5 minutes.
Are You and uMobix App Compatible?
uMobix spy app boasts a high level of compatibility with modern devices; to be more specific, it covers all target iOS devices, but they must have the iCloud service activated to supply uMobix with data.
As for Android devices, uMobix will run on all gadgets (smartphones, tablets) updated to at least OS 4. This is a fairly old version, and most likely, the Android device you plan to monitor has already been updated by itself or comes with a more modern version since purchase. You can double-check this via Settings → About Phone/About Device → Check Android Version.
A nugget of advice: Compatibility (with the device that will host the mobile tracker, also called the target device) is one of the most important features that you should pay attention to when choosing a monitoring app for your children or loved ones and before installing the app on their phone.
Some Data on uMobix Performance
Let me shed light on some specifications in the uMobix operation. By the way, I've seen some controversial user reviews on the app usage online, ranging from praising to confusing. They are mostly related to the features kit, and I haven't seen issues raised from the operation itself. I suppose this is coming from the lack of prior research. Disappointment happens from false expectations. Anyway, let's move on to the performance details.
How to Use uMobix Spy App
Setting Up Your uMobix Account: Initial Steps
Let's start from the beginning: you've opened the uMobix website, what next? In the top left corner (and just below the left center of the screen), you'll notice a Try Now button – this is where your journey with uMobix begins.
Take the following steps to purchase a subscription and register an account with uMobix:
Enter your valid email address and click Create an Account.
You'll find yourself on a page where you have to choose the OS of the device you are going to monitor. Click on the appropriate option.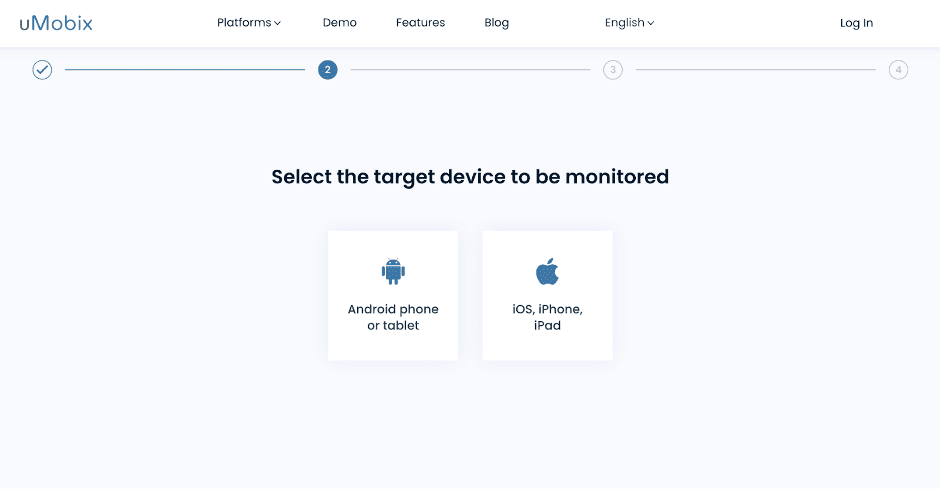 Next, choose the appropriate subscription in terms of duration and budget.

Enter your card credentials or use the Google Pay method to finish the transaction in one click. Also, consider the numerous crypto methods available.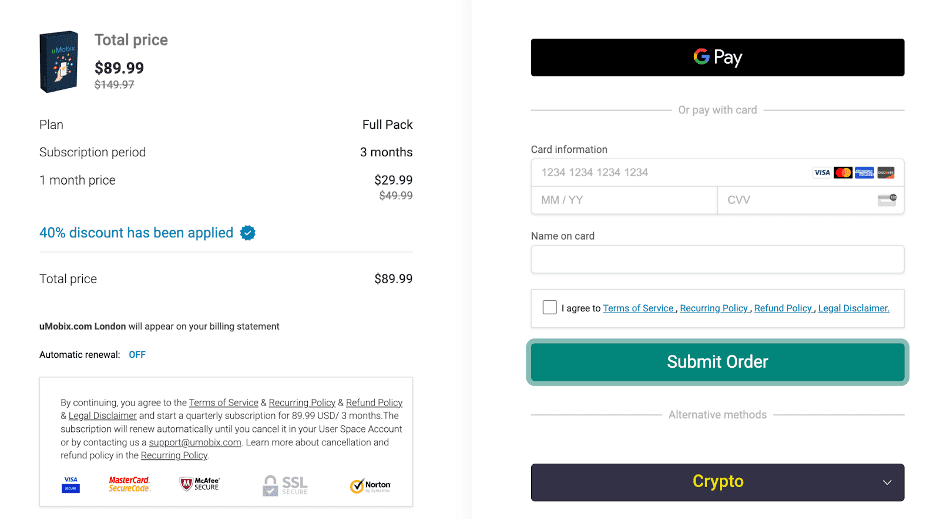 After they receive your payment, uMobix may immediately send you a confirmation email with your entry credentials or in a couple of minutes. Use those to log into your account and continue with installation.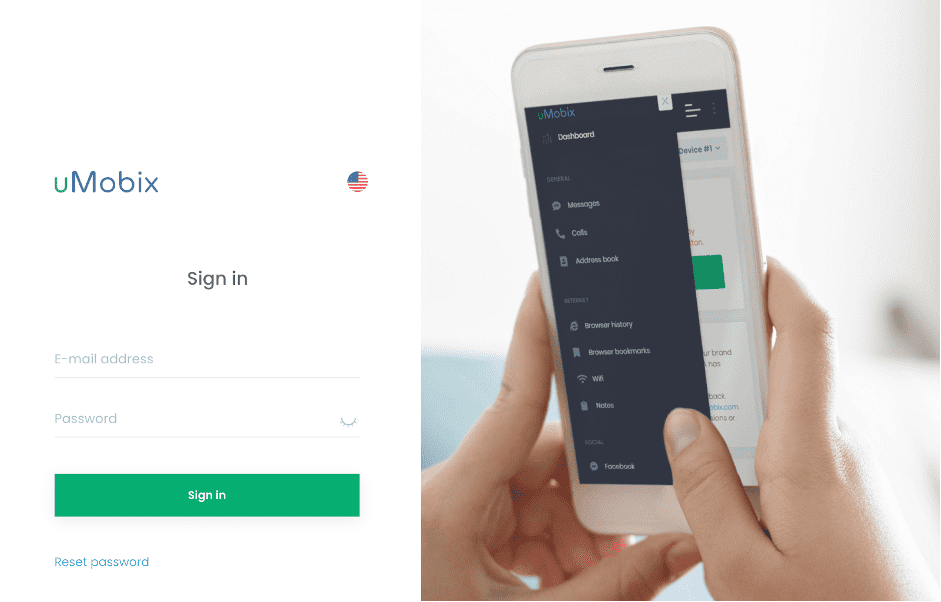 There are some main prerequisites to begin and finish the setup process without any hassle in the interim:
constant internet connection (mobile or Wi-Fi, it doesn't matter for installation purposes; it should not be interrupted)
disable all the VPN connections on the target device – when configuring iOS, the program might stall if any are enabled.
try to figure out their screen, iCloud, and other passwords in advance – explain you'll just need them once to set up the app.
uMobix for Android
In my modest opinion, uMobix is a top spy app for Android monitoring. Let me remind you of some of the top points why:
keylogger
precise geolocation tracking
all popular messengers and social media content
deleted info tracking
remote device controls
live streaming
Plus, despite this frequent occurrence on Android devices, even after planting, uMobix comes with as little load as possible on the target gadget's performance.
How to Install uMobix on Android
To install uMobix on Android, you first need to click on the hamburger menu (if you're using your phone) or find the Log In button on the screen top and register by entering your email and password. These are needed to access your profile and dashboard in the future. After this, you will be redirected to the Installation Wizard, and you will need to have the target gadget in your hands. Now, let's get started!
Click on Android Phone or Tablet when asked after registration.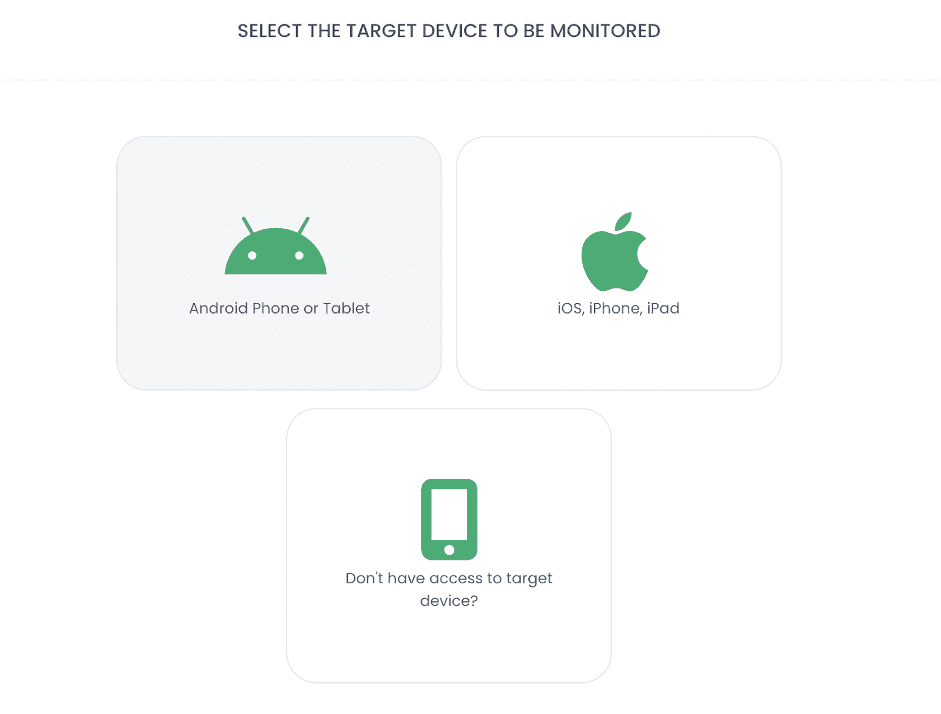 Don't neglect on-screen advice and instructions. Be ready to spend some time to finish the setup.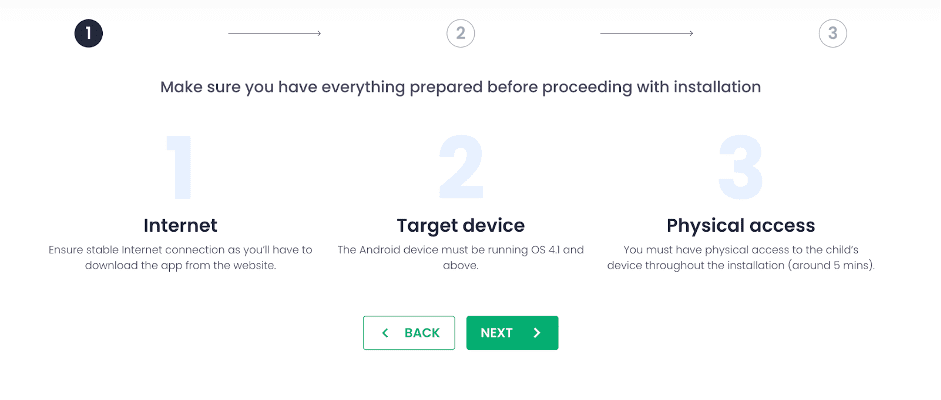 Do it yourself, or watch a helpful video on how to install uMobix for your platform. Use the embedded link.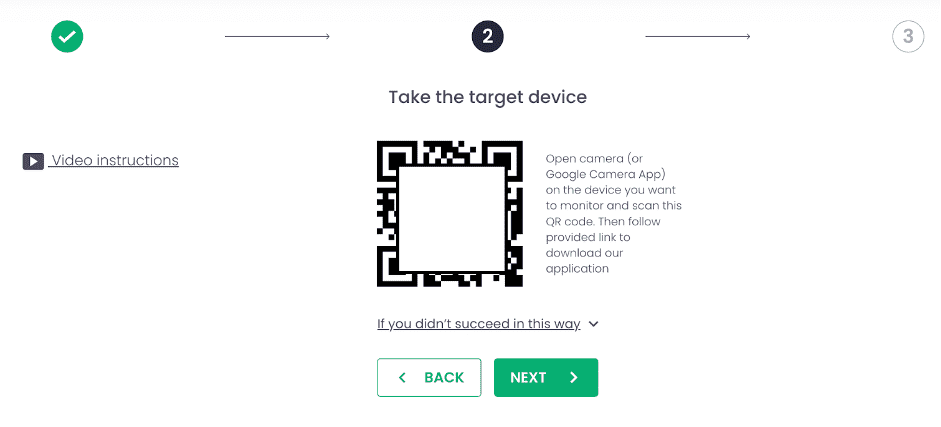 Pay attention to drop-down instructions, as they may be helpful when something goes wrong.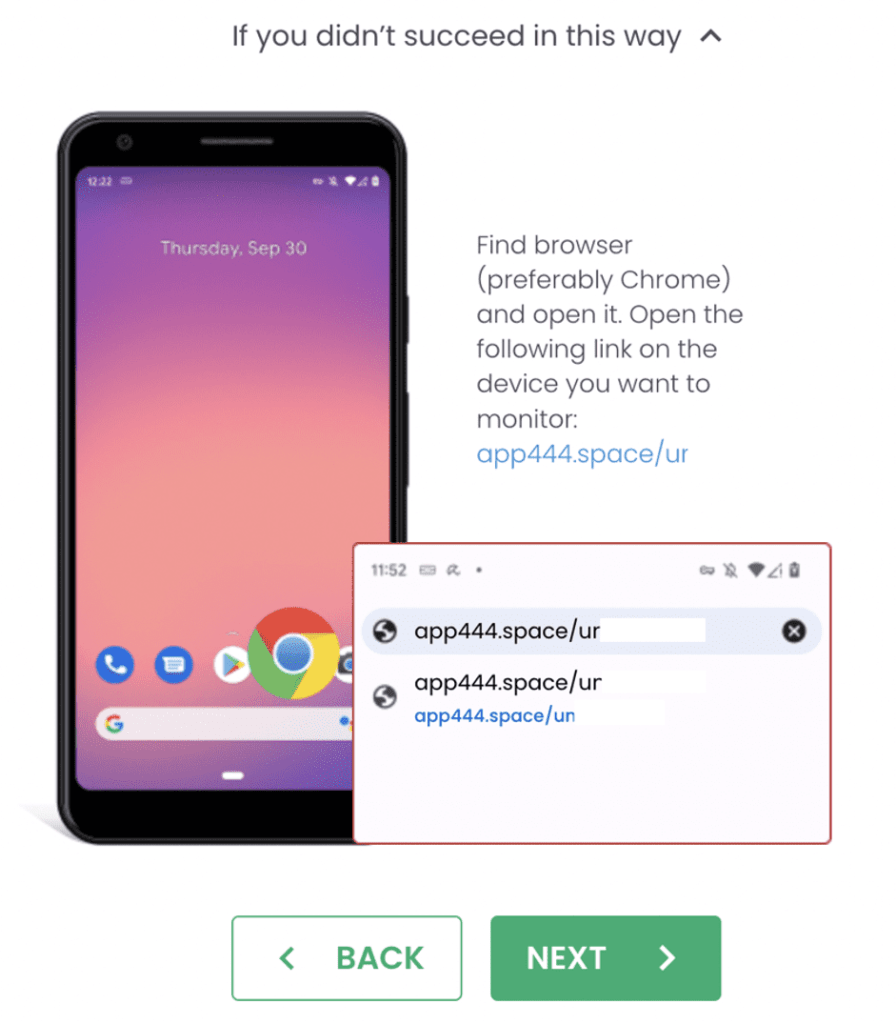 Provide confirmation as prompted on the screen.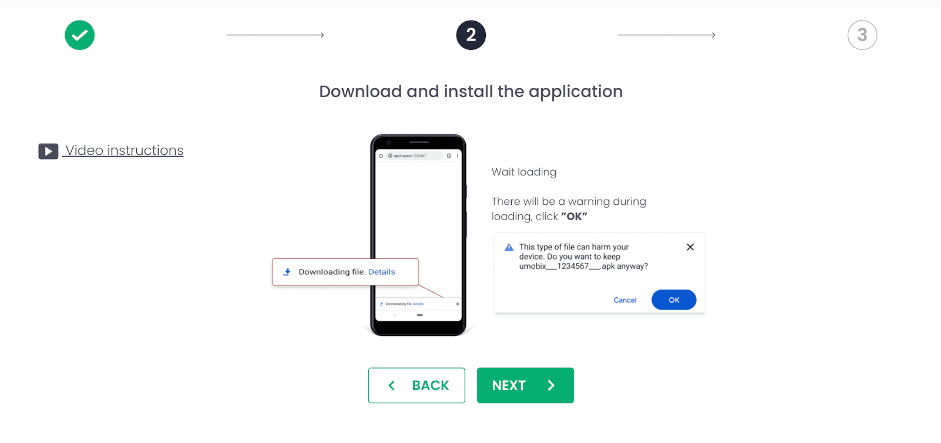 Click on Install the uMobix app and then Open. Click on Agree and Continue.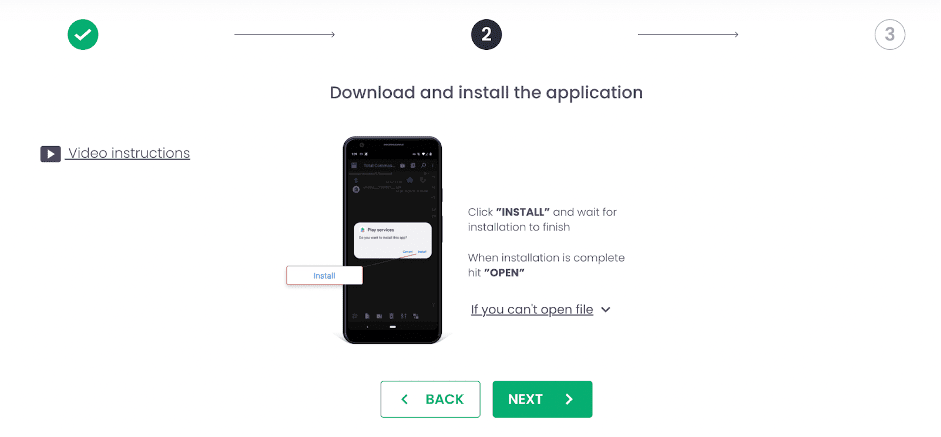 After that, uMobix claims different permissions, etc. Confirm all if you want to continue using the uMobix spy app.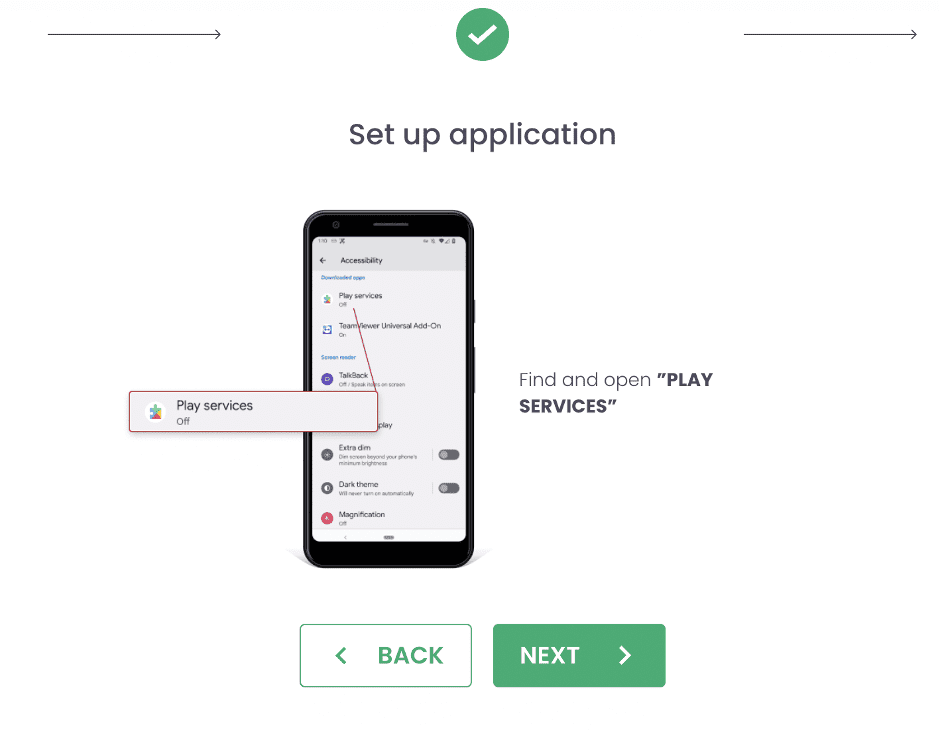 After allowing permissions and enabling Google Play, proceed as follows to install uMobix.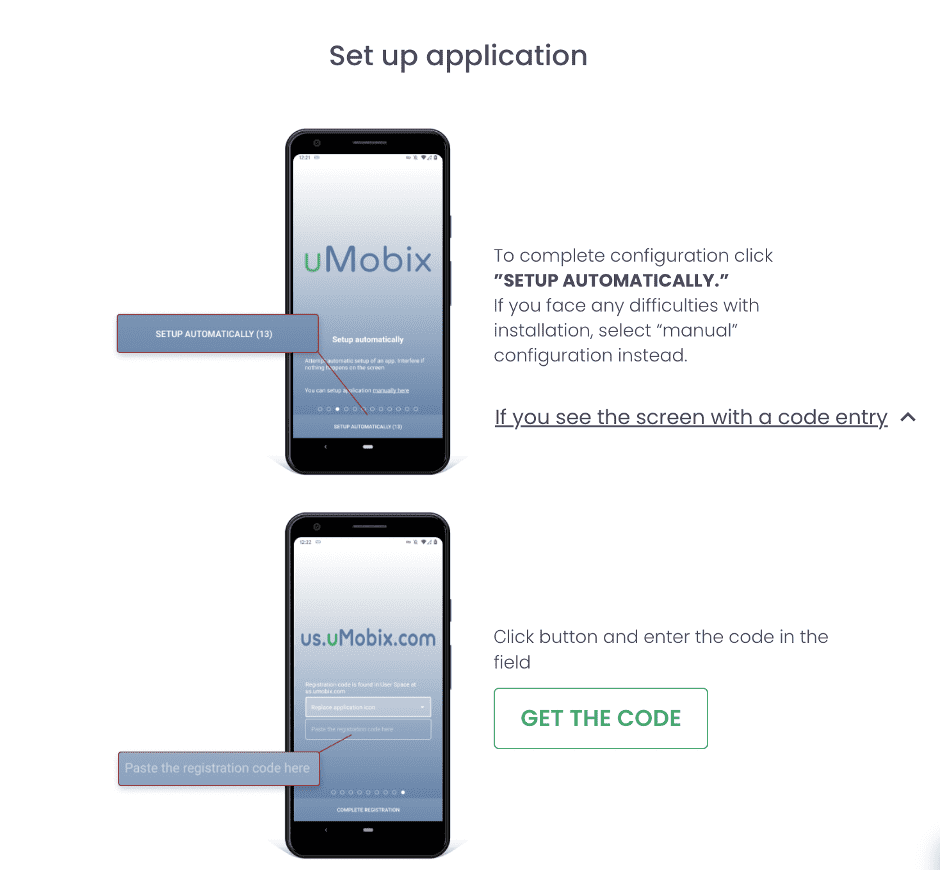 To complete the process, wait for the target gadget to finish loading. After that, you are good to start monitoring. Also, you'll be presented with the option to hide the app from the menu.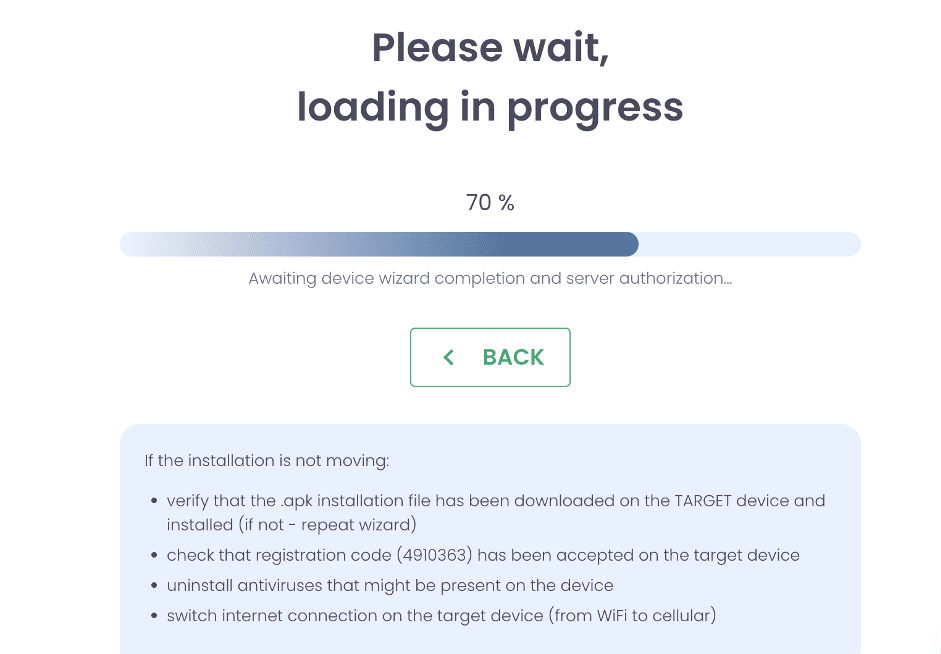 uMobix for iPhone: Quick Presetting
The iOS version of uMobix is available for all Apple gadgets, but iPhones undoubtedly remain the most popular among users. Let me remind you that the following features are available for iPhone monitoring:
communication history on the device (calls, SMS, contacts)
location
Internet activity
social network tracking with full access to Insta and Facebook
camera and media files
If you want to use the uMobix app for iPhone tracking, the most important thing the uMobix client needs to take care of first is the regularity and availability of backups on the tracked gadget. To ensure this, perform the following steps:
Open General Settings on the target device.
Click on the name at the top of the screen.
Then tap iCloud, iCloud Backup, and toggle next to Back Up This Phone (Tablet).
Now, the iCloud service automatically backs up data when the device is connected to a power source and Wi-Fi.
How to Install uMobix on iPhone
Let's review the installation process, or rather, binding the gadget of interest to uMobix. Just like if you need to install the app on your Android device, you first register on the website and purchase a subscription. Use your own smartphone or laptop, as you'll need to open a QR code on any of them and scan it with the target device. Having entered your credentials, the algorithm of actions is as follows:
Click on iOS, iPhone, iPad.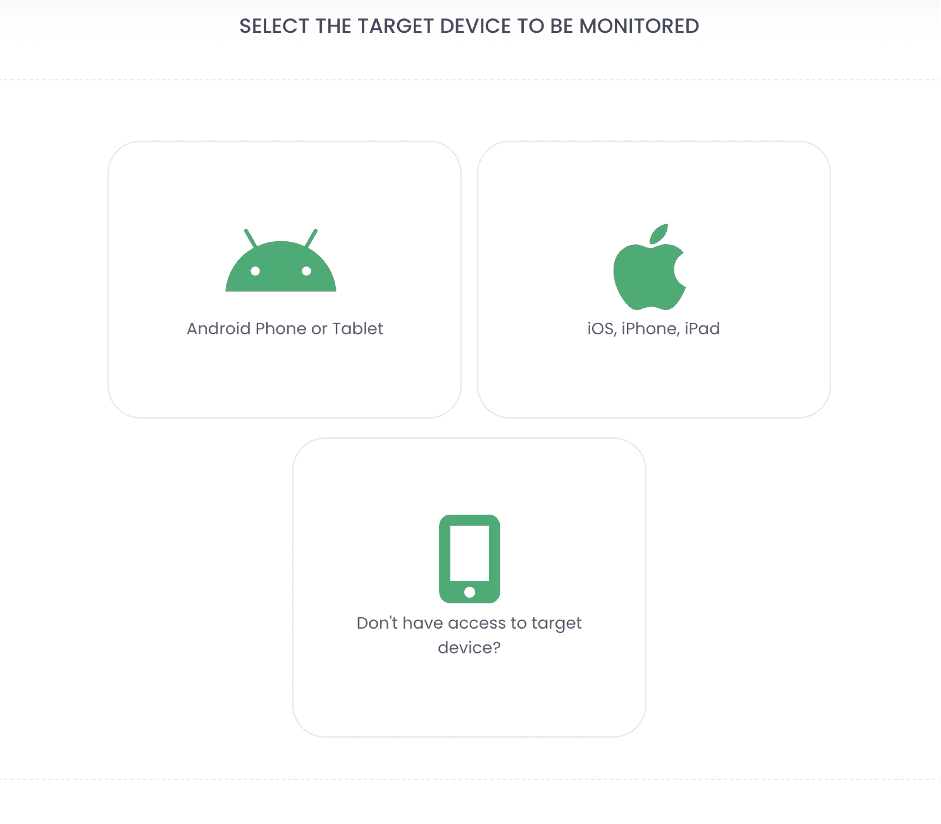 Proceed with the pointers. Click on Start.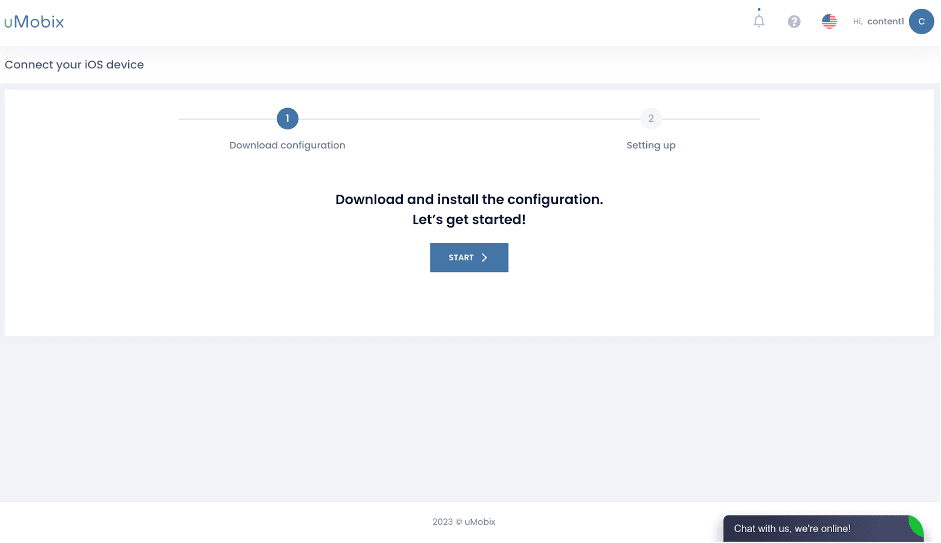 Get hold of the target gadget for a few seconds to scan the QR code on the screen.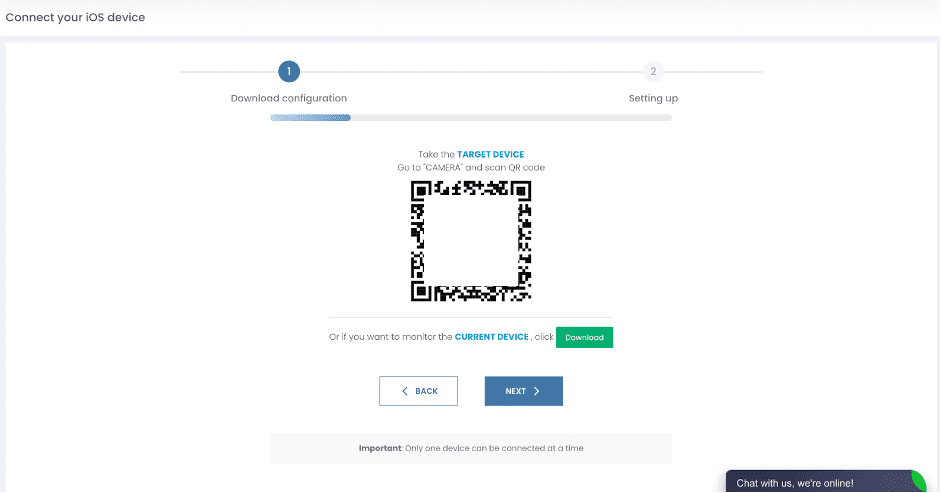 Follow the instructions on the screen of the target iOS gadget – from now on, all unpacking will occur there.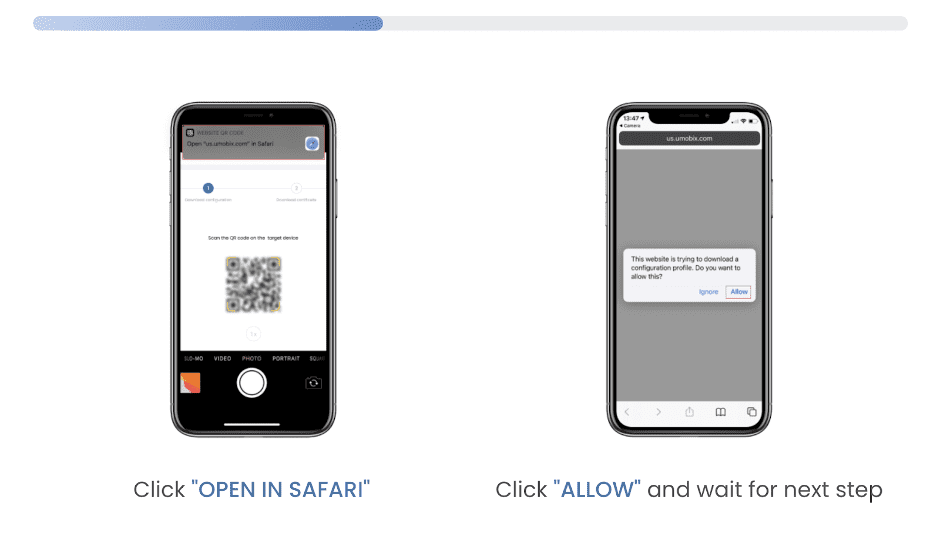 Proceed with Profile Downloaded.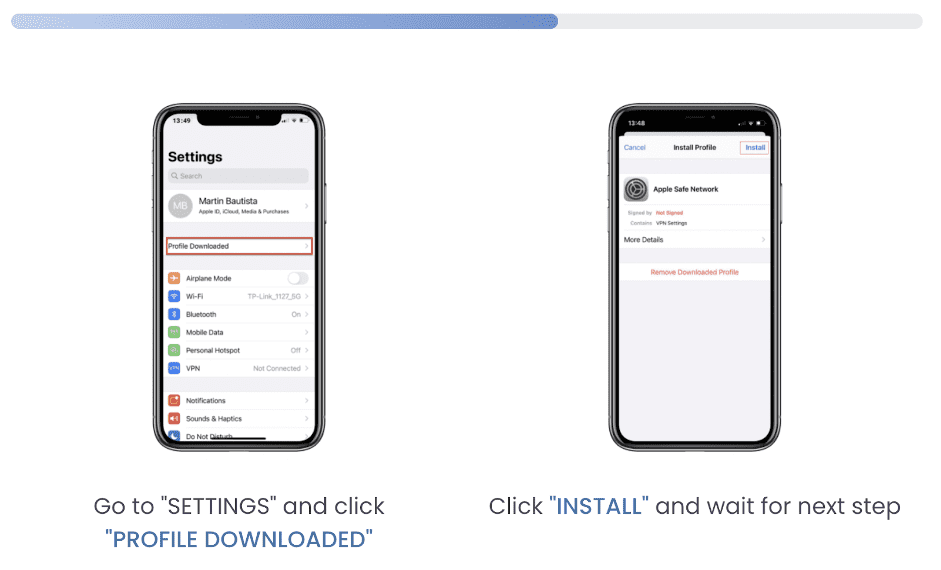 Enter the target device's passcode.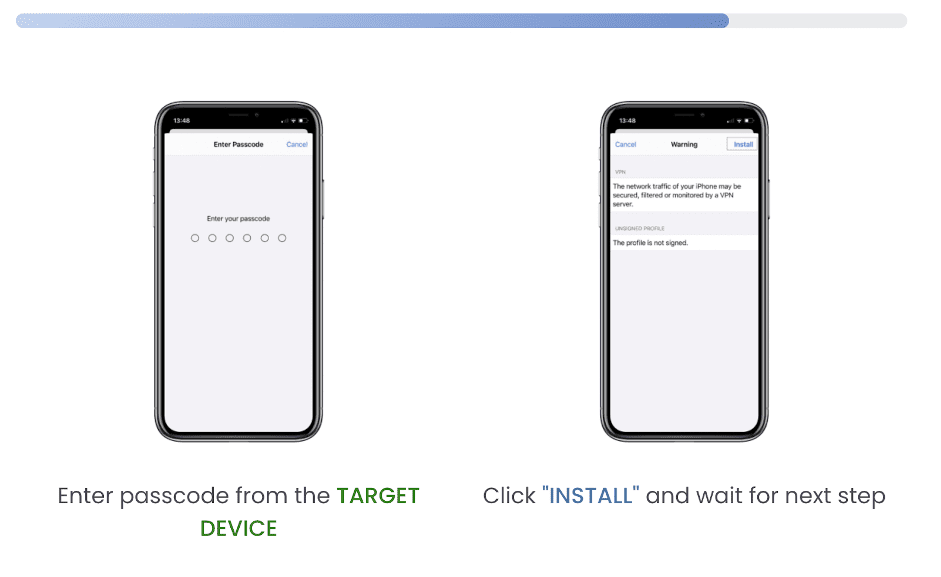 Continue with the Wizard to configure the settings.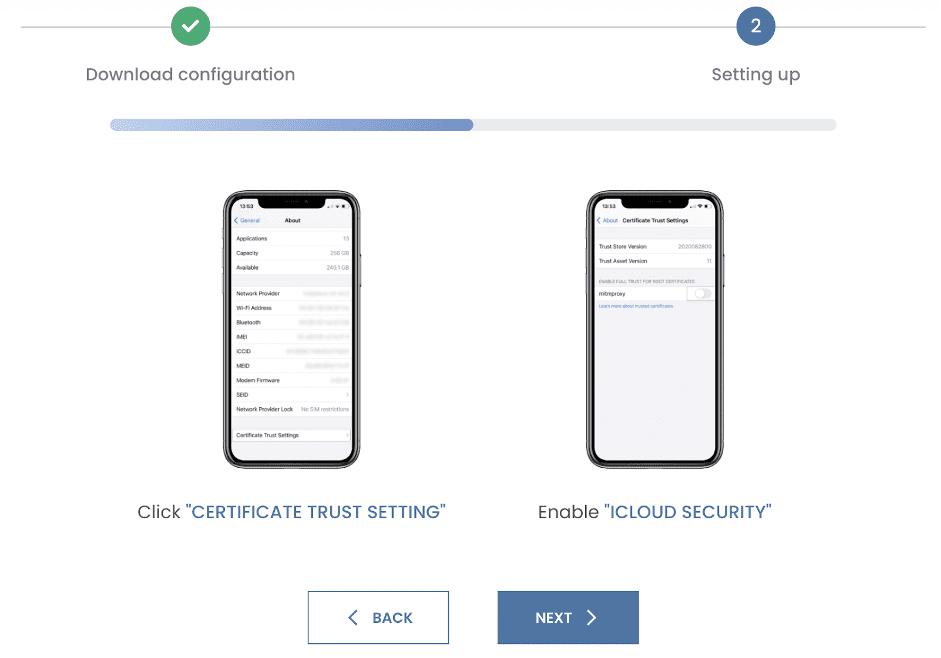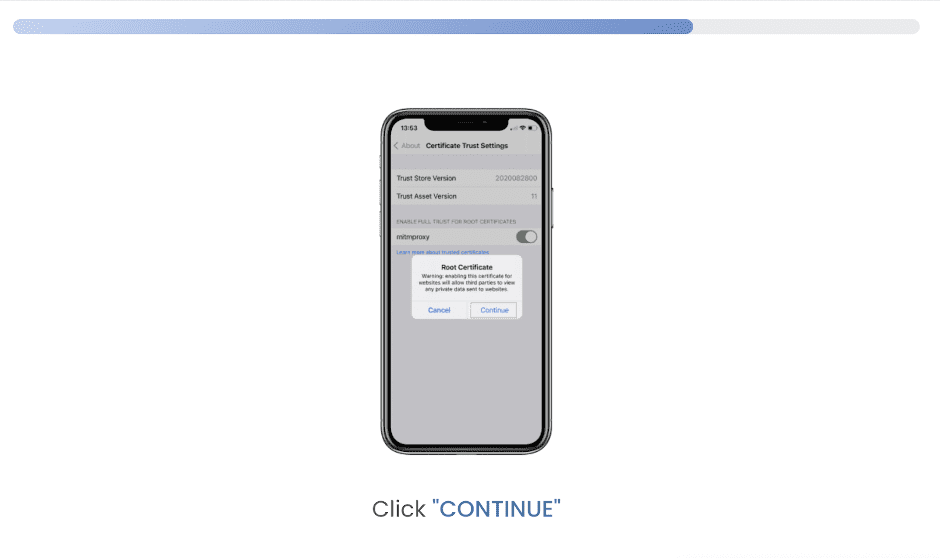 Click on Get Data to retrieve all the data using the uMobix app. Finish the installation by clicking the finish button.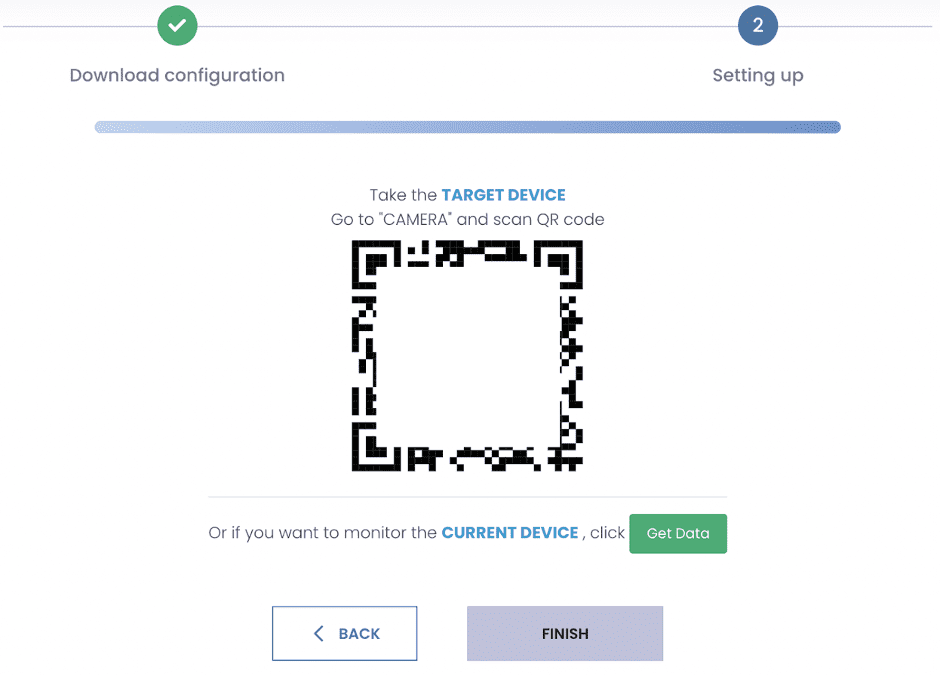 How to Use uMobix Without Access to the Target Gadget
As you see in the screenshot where you are asked to select an OS for monitoring, there is an option "Don't have access to target device?" Click on it if this is your scenario – the uMobix app offers geolocation monitoring simply based on the gadget's phone number, without the need to install uMobix physically.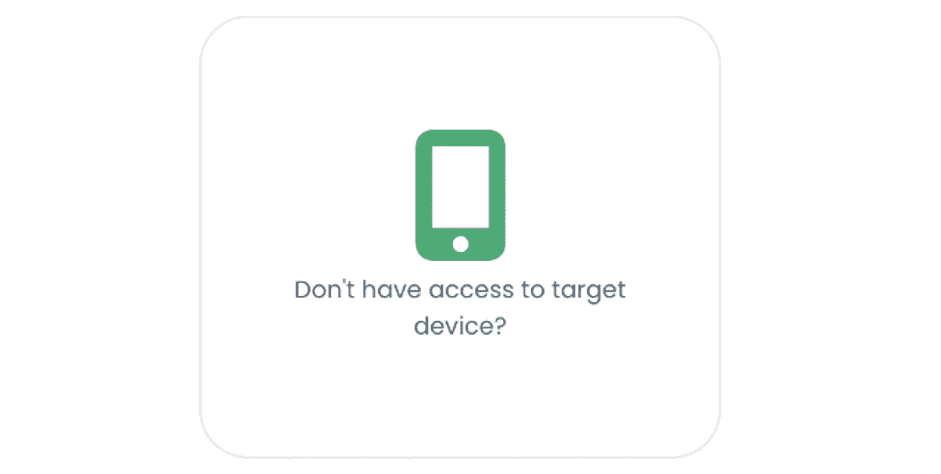 First, you need to choose a personal photo or any image from the Internet that will carry the inserted link.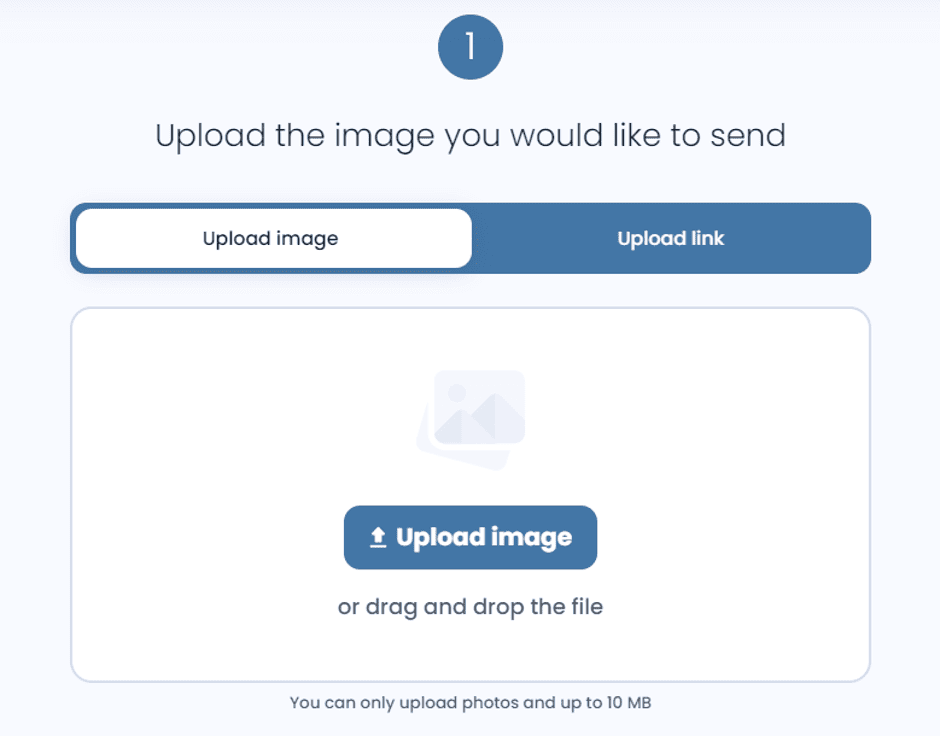 The service will generate a link for you, which you will need to share with the person whose gadget you want to track.
The service itself will help you send the link – you just need to enter the needed phone number. You can also write any accompanying text that will look intriguing to the recipient.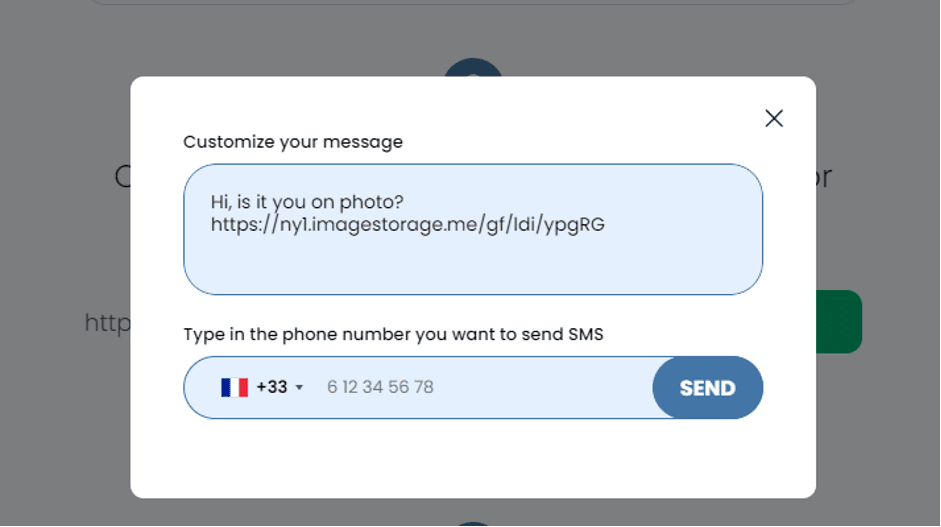 In addition to GPS tracking, users will also be able to find out more details, as indicated in the screenshot, including Wi-Fi connection, IP address, and more.

Overview of uMobix Spy App Key Features
Now that the most stressful installation stage has been reviewed, let's review what features you will get unlocked if you use uMobix app.
Calls and Contacts
As mentioned, the uMobix app is a non-jailbreak solution and, therefore, has little effect on the operation of the tracked gadget. Therefore, users cannot rely on energy-consuming services such as call recording. However, uMobix can monitor caller IDs and record information about the time and duration of calls; besides, you can block and unblock any contact with just one click. Oh, and if the phone owner decides to delete a call from the history or a contact from the address book, you will be able to track all these actions.
Text Messages
Do you think your child is no longer using regular SMS? This is easy to find out using the uMobix spy app text tracking feature! Many services often send confirmation codes, newsletters, etc., via SMS, which can be a valuable source of information for you, and mobile operators also send notifications if a subscriber who could not be reached appears on the network. As they say, one man's trash is another man's treasure. What may interest you even more is the ability to retrieve deleted SMS along with the content and name of the person.
Messaging Apps
You were definitely looking forward to this one – how could it be otherwise if messengers are like air for a modern person? While discussions of work issues and romantic experiences can be left private, no one is immune from receiving messages from malicious actors, spam, child molesters, and such attempts should be nipped in the bud. This is where the usefulness of the uMobix spy app makes itself felt again: even if a person hits the delete button for messages in such instant messengers as Viber, Telegram, Signal, WhatsApp, Facebook, and many others, you will still receive comprehensive screenshots of their communications before this happens.
GPS Location
Trust is certainly the basis of any relationship, be it between parents and a child or between 2 lovers. But you must admit, the scenarios that we see in crime films come from real life, not vice versa. That's why it's so important these days to be able to pinpoint the exact location of someone very important to you who may be lost. The uMobix spy app can track and save places that a person has visited previously and thus also becomes helpful in cases where a person, for example, has lost their gadget.
GEOfinder
GEOfinder is a lightweight solution from uMobix that allows you to receive updates about a person's location without being installed on their device. How is this possible? You just need to send them an SMS message and ensure the person clicks on the attached link. No installations and no need to get one-time access to the device; I think this is an excellent service in emergency situations.
Social Media
So far, using uMobix has been like a walk in the park for me. Now, we are going to test how it will show itself as a social media app and whether it can spy on Facebook Messenger and offer Snapchat spying.
WhatsApp appeals to many netizens, and not without reason: within this application, you can exchange text messages and media, post and view statuses, and also set a password or face ID that makes access from the outside impossible. However, for uMobix, these obstacles are an easy nut to crack – as soon as it runs on their device, you will receive all the information about personal and group chats and even locations shared in chats.
Must admit, this app has been sitting idle on my smartphone for several years now. But I can't argue with the fact that Snapchat is extremely popular among young people and teenagers, and fortunately, uMobix can track Snapchat. It does this as quietly and stealthily as monitoring all other activities on the target gadget.
Known as a utility for sharing disappearing snapshots, Snapchat can be used as a service for entertainment, but it can also attract people with a variety of intentions, especially due to the ability to make your location visible. Another reason to be aware of how your child spends their time online is that thanks to uMobix, you can be there at the right time.
Instagram, along with Facebook, are two platforms that you can keep track of in "as it is" mode on iOS devices, meaning you have the experience and authority as the account owner. uMobix Instagram features include the ability to block users, limit the content displayed, read and delete messages, see the newsfeed, reels, and more.
Dating Apps
Online dating sites are a great opportunity to arrange your personal life or find friends with similar interests. What could possibly be wrong with this? Well, if the person is already in an exclusive relationship with someone else. Or if we are talking about a minor teenager who found themselves on a site with adults who feel free to talk explicitly and have no limits exchanging nudes. With a reliable uMobix app at your fingertips, you will see in a few clicks how enthusiastic your child or loved one is about online dating sites and possibly prevent an unwanted experience for all parties.
Internet Activity
With the Internet being around us for some time now, many ways have been invented to leave our traces unnoticed on the Internet, including deleting history, anonymous browsing, etc. Guess what? As soon as you start using uMobix spy software, you, in turn, will find a remedy for such steps taken by a teenager or a partner who is insincere with you. uMobix records all their visits to browsers, including links, dates, and will also display saved bookmarks and even Wi-Fi connections that were used.
Deleted Info
Several times throughout this uMobix review, I mentioned the ability to retrieve data deleted on the user side. But the trick here is that uMobix instantly captures what is happening on the screen and immediately sends this information to your dashboard, which you can see in your uMobix account. This way, you may track what messages, calls, or media were deleted and what information was altered – for example, names in their contact book.
Media
Every day, we exchange tons of media, and if the phone holder takes a photo or video, in addition to storing it in their library on the gadget, this data will also be displayed in your uMobix app, with the ability to play the video. uMobix supports all media formats, so you will be aware of all the files they share with their friends. You should also allow for more time for the service to upload large format media files – but rest assured, even photos and videos from a year ago will make it through to you.
Device Control
From my experience, this is one of the most sought-after features among parents of children and teenagers who have a hard time putting their device aside for even 5 minutes and using it to access adult or inappropriate content online. You may not want your child to use the Internet or a gadget within the school walls. uMobix can help with these and other problems thanks to features such as remote blocking of an Internet connection, blocking a device for a certain time, and blocking contacts, calls, and SMS. In addition, you can monitor the memory on the gadget and, if necessary, remove unnecessary applications and junk.
Streaming
Now that we've established that uMobix shows excellent results as a deleted data monitoring tool, dating app detector, and social media app watchdog, it's time to mention its top-level real-life streaming capabilities. The software functions with no delays and allows you to get answers to the most pressing questions: where and with whom your kiddo is spending their free time and what concerns them. I guess there's no need to recite all the precarious situations where this feature might be of great aid – you, as a loving and caring parent, can put two and two together.
SIM Card
People who start getting into shady businesses often get themselves a second SIM card to separate their traditional life from the side hassle. But all of them began their thorny path at one point, many at a very young age, and while juvenile crime decreased in the 2020s compared to the 90s, the Internet environment promises anonymity and may encourage the younger generation to engage in illegal activities. Therefore, if you start to notice strange behavior in your child or loved one, knowing if they regularly remove the SIM card can be very telling. Moreover, uMobix gives its users automatic notifications when this happens.
Keylogger
To know everything, everywhere, and all at once, you need a little something called a keylogger – however, not all spy apps on the market offer this feature. This special tool records any string a person types on their gadget and displays all their text interactions on your user panel in the uMobix app.
Please note that uMobix, as a non-jailbreak solution, offers a keylogger only for Android devices.
It was important to check how this feature of uMobix works in the field since sometimes users complain about the keylogger's malfunction, as, for example, in the case of TheOneSpy. As I verified, text entries not only arrive on the user's dashboard in full, but the design itself allows you not to get confused and clearly see which application the data came from.
Notifications
The uMobix spy app notification system does not imply any sounds or sudden alerts on your screen but allows you to stay aware of the frequency of your child's use of social networks and will let you know about the battery status of the tracked gadget. To stay informed, you need to log into your account through the uMobix website and check out the new information highlighted in green next to the section you are interested in (for example, three new calls or SMS, online status in Viber, etc.).
Spy App Scanner
I don't need to tell you how easy it is to get malware planted on your device by carelessly clicking on a suspicious website or email link. Unfortunately, young users don't care much about such trifles because the Internet is a brave new world that needs exploring. However, having the uMobix app at your fingertips means malicious programs can be detected and removed in no time, or you may seek help from specialists without putting your child's personal data at risk.
uMobix Live Demo
In case you still think that remote app tracking is akin to rocket science, just click on the live Demo version on the uMobix website at the top of the screen and jump in to see a review of uMobix features. You can click on each of them (calls, WhatsApp, browser history, etc.) and get an idea of what it will look like. Not all sections are displayed in a live Demo if compared with the real one since not all of them can be demonstrated, such as live streaming. Of course, all examples on the site are fictitious and presented for illustrative purposes only.
uMobix Dashboard Review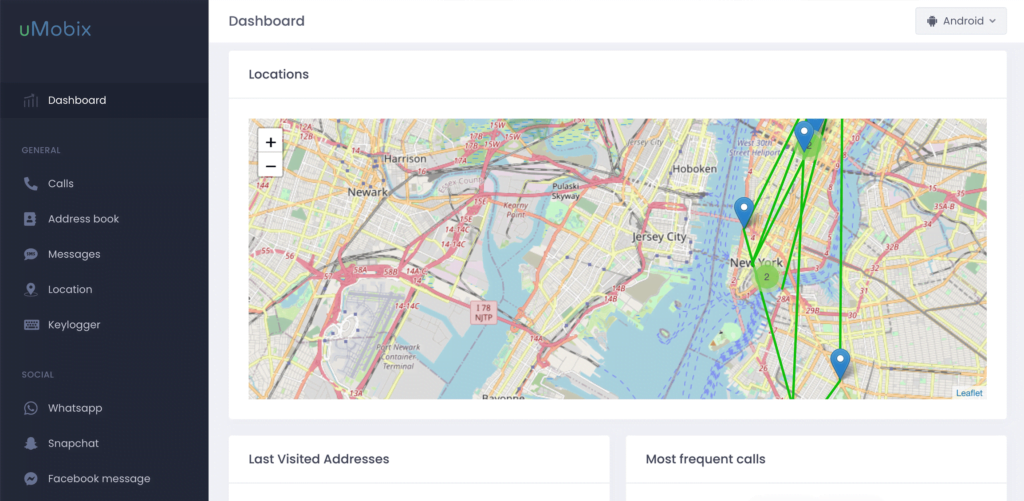 What else works constantly after you install uMobix successfully is your user dashboard, an interactive online board where all the features of the app are displayed on one side, clicking on which unfolds texts, images, or other data. For the system to initiate dashboard updates every few minutes, you need an Internet connection on the target gadget – and, accordingly, its stable presence on your device so that you can see the new items in a timely manner.
It is important to note that your personal dashboard allows you considerable interactivity, such as the ability to download the uMobix Snapchat photo or video files you need, as well as sort information by date, quantity, etc. To make it easier for you to navigate in which segment new information has appeared, uMobix highlights with a green indicator every app that needs your viewing or is being used right now.
The dashboard allows one to see the most visited sites, the last opened, the most frequently visited social media within a specific period, the most frequent SMS and calls, the last visited locations on Google Maps, browser bookmarks, and last added contacts – all represented in the form of interactive charts, including details on durations, timestamps, dates, etc.
Is uMobix Safe? Get Your Answers
We mindlessly browse various websites every day, but not all of them are to pay for purchases online, so ensuring the platform has certain security certificates is a must in such cases. However, uMobix users should not worry about their private data, as it is protected from any unauthorized access with a reliable cryptosystem and a 256-bit algorithm. Its encryption methods not only allow for safe payments but also enable encoded and enhanced security on every step you take. What's more, I could spot that my user experience was also guarded by the Norton antivirus shield.
uMobix works in strict adherence to GDPR (General Data Protection Regulation) standards, whose scope lies in the protection of the rights and privacy of users. Thus, it is obliged to ensure that its users are timely informed about any crucial changes and terms of use and may rectify and restrict the processing of their data.
While visitors to the uMobix website or a user after uMobix login are familiarizing themselves with the site, personal information such as the device used, traffic data, IP address, and other data that users agree to provide during account creation and payment for services may be collected and processed. Other data is stored on separate secured servers and is subject to deletion after a 90-day period. Further information on how your data may be managed is to be found in the Privacy Notice Section.
uMobix Price & Your Subscription Options: How Much Does uMobix Cost?
The uMobix cost is relatively high compared to other players in the market. For example, the uMobix pricing for one individual month is $49.99, while a month of mSpy costs $48.99, and eyeZy costs $38.39, but some features differ; for example, no other competitor can boast monitoring FB and IG on iOS without jailbreak. At the same time, among online tracking solutions, there are tools that will cost you much less – around $10 a month, like KidsGuard or FamiSafe, but they are not equipped with certain important features such as social network monitoring or a keylogger.
In case you were wondering, the uMobix worth is the same for Android and iOS. By purchasing a subscription for a longer period – for 3 months or a year – the average monthly uMobix pricing will be reduced compared with a standalone month. You'll pay $29.99 monthly for the uMobix spy app if you purchase a 3-month subscription ($89.97 total) and $12.49 monthly for an annual subscription ($149.88 total).
Payment Methods
As of now, uMobix readily accepts payments via regular payment and credit cards, e.i. Visa and Mastercard, as well as American Express and Discover. Moreover, crypto users can pay for services using digital assets such as Bitcoin, Litecoin, Dogecoin, Ethereum, etc. If you're looking for an instant settlement without entering any data, you're free to use the Google Pay method, too.
Money-Back Guarantee, Refund Policy
Let's be honest, users rarely read different agreements or privacy policies, and they better be doing that – for example, the uMobix refund policy is very compact, and although I will now give you a summary of it, you should feel free to review it yourself, since such information may be updated from time to time.
Before purchasing a subscription to the uMobix app, be prepared to ensure access to the target iOS or Android device and obtain the credentials and passcode.
So, you have 14 days after the day of purchase to request an uMobix refund. You should be prepared for their support team to verify that your request is due to your inability to use the service as described and that they cannot help you. Also, a refund is not approved if the subject of the user's dissatisfaction is automatic subscription prolongation, which can be turned off in settings, or if they decide to request a refund after changing the subscription plan.
The refund procedure, as well as auto-renewal cancellation instructions, are provided here.
uMobix Free Trial
From time to time, newly launched monitoring applications arrange a free trial period to attract the attention of new users. Usually, this is a short period – no more than 1–3 days, after which the service can automatically continue for the usual amount, and the debiting of funds will begin.
uMobix monitoring app offers such an opportunity, but not to all users. Upon request to customer support, a trial offer may be provided for 48 hours or even a week (special offer for Android) for $1, but it's not applied automatically. As per a few uMobix reviews, some users were lucky to get one. And to be honest, I was also offered one.
Scrutinizing uMobix Customer Service
You might think that customer support is an indispensable attribute in today's world with so many products and services on offer. However, not every spy app sees the need for this, and let me point out that they lose a lot of customers because of this, who are hesitant to take up a subscription or simply do not return for a second subscription cycle due to problems encountered – and are left with some unresolved issues due to lack of support.
Although uMobix.com does not have a multi-line phone line, here you can chat with 24/7 support, which appears to be always available. Moreover, the operator with whom I had the pleasure to communicate turned out to be knowledgeable and did not just heap tons of instructions upon me – no, we had a lively dialogue. I give uMobix customer support an excellent rating.
Parting Ways with uMobix
Tastes differ, and circumstances change, so sooner or later, you might decide to remove uMobix from your target gadget. Therefore, this uMobix app review will not be complete without removal steps. Well, I bet your memories of the somehow lengthy installation have not yet vanished – likewise, simply pressing and deleting the icon will not do the work.
How to Uninstall uMobix on iOS
Got you worried a bit, but in vain. To remove the uMobix app from any target iOS device, take these simple steps:
Open Settings on the target iPhone.
Go to General, then VPN & Device Management.
Click on iCloud Secure Network and Remove Profile.
Note that in case you decide to cancel subscription and stop using uMobix, all logs and data downloaded from a target device with the use of the service will be erased within a month.
How to Uninstall uMobix on Android
Get your fellow target Android at hand and do the following:
Open Settings.
Go to Apps/Applications.
Scroll to "Play Services" in the list of all device apps.
Uninstall "Play Services" and check if it is displayed on the device (it shouldn't).
Summary of uMobix Pros and Cons
Let's summarize our uMobix review with its ins and outs. The phone tracker has many positive aspects, which, fortunately, significantly outweigh the negative ones – which, however, also exist.
Pros:
uMobix operates seamlessly and stealthily, no matter what device you decide to connect to, Android or iOS.
The absolute forte of the uMobix Android tracker is that it both captures all the information entered on the target gadget through a keylogger and even retrieves deleted data such as calls, SMS, browser searches, etc.
No matter how hard the developers try to make the product user-friendly, there will always be incomprehensible technical nuances for users, but this is not a problem because there is a 24/7 support service that sheds light on uMobix installation if necessary.
Full access to FB and IG on iOS with no jailbreak.
User-friendly dashboard.
The tracked device is upgraded automatically if a new feature is added.
Detailed installation wizards and an option to track location via image if you have no access to the device.
Cons:
Among the disadvantages (although they can't be considered as such completely) is that there are online applications cheaper than uMobix – and even completely free services, which are rather a pale shadow of what this product can offer.
It won't work wonders for some, and that's because there's no jailbreak available for iOS that would allow users to get the same full experience as in the case of the uMobix app for Android.
uMobix Compared to Other Apps
| Feature | uMobix | SpyBubble | Cocospy | Glassagram |
| --- | --- | --- | --- | --- |
| Call recording | Yes | Yes | Yes | No |
| Message monitoring | Yes | Yes | Yes | No |
| Deleted information | Yes | No | No | No |
| Instagram tracking | Yes | Yes | Yes | Yes |
| Device control | Yes | No | Yes | No |
| Streaming | Yes | No | Yes | No |
| Media | Yes | Yes | Yes | No |
| Browser history | Yes | Yes | Yes | No |
| Dating apps | Yes | Yes | Yes | No |
| Hidden mode | Yes | Yes | Yes | Yes |
FAQ
Is uMobix detectable?
No, it is undetectable after you install uMobix on target phone, since, during the installation process, the user will be able to hide its icon according to the instructions provided. In addition, the service is designed not to send any notifications to the target gadget. If you do not want your use of uMobix undetectable software to become known, you may want to be more careful with your own browser history.
Can I get a refund from uMobix?
Yes, the uMobix app offers a full or partial (depending on the situation) service fee refund within 14 days. However, you should carefully explore which features are supported by uMobix because if claims are made for unsupported features, the refund will be denied.
I forgot password to my uMobix account. What should I do?
For those who have forgotten the password to enter their online account, it is possible to change the password using the Reset Password button, which can be found by clicking on Log in on the main screen and finding it under the Sign In button.
Is uMobix a scam?
No, uMobix is not a scam but a modern parental tool for monitoring children's smartphone activities. After you download uMobix app, even deleted information can be found on your dashboard. Thanks to uMobix, you can get peace of mind and avoid many unpleasant situations.
What should I do if I run into uMobix not working?
If you have difficulty installing the app on the target device or need assistance linking uMobix for iPhone, you can do this with their online support representative in real-time mode. This process involves granting various permissions, which is common for installing third-party applications and sometimes makes people stuck in the middle. But no worries – this is a one-time procedure, which, however, requires a stable internet connection and access to the target gadget. 
Does uMobix really work on iPhones?
Yes, uMobix tracks iOS devices such as iPhones and tablets. But, unlike Android devices, users do not need to install uMobix on the target device. uMobix uses iOS backups to provide the user with all the necessary information. The syncing on iOS comprises 2 stages: iCloud sync and installation via a QR code. The latter is not obligatory. iCloud sync allows tracking iMessage, Contacts, Whatsapp, Facebook, and Instagram, while scanning a QR code enables tracking location and browser history. 
Is uMobix free to use?
No, the uMobix app free use is a rare case. Currently, uMobix provides a demo version of its services and features, which can be seen on the website, and a special free trial. Stay tuned to further developments and updates – perhaps a free trial will be available not only upon request from customer support one day.
uMobix Review Conclusion: Is uMobix Legit?
uMobix
This was a long and detailed uMobix spy app review, so I thank you for your patience and attention. Keeping in mind that the uMobix app requires a compatibility check, access to the target gadget, and carefully studying its features, every potential user is almost 100% likely to have no problems during installation. But if doubts or uncertainty arise, the support team will answer all your questions so that the detailed uMobix operation is as clear to you as ABC. Even though uMobix won't track every app on the device, the bottom line is that the features it offers can fully satisfy the appetites of modern parents. Take, for example, uMobix keylogger, geofinder location tracker, audio and video streaming, access to messages, instant messengers, etc. – with minimum effort on your side, the uMobix spy app turns the target smartphone into your remote mini-assistant, which is not just a means for communicating with a child anymore.
This was a long and detailed uMobix spy app review, so I thank you for your patience and attention. Keeping in mind that the uMobix app requires a compatibility check, access to the target gadget, and carefully studying its features, every potential user is almost 100% likely to have no problems during installation. But if doubts or uncertainty arise, the support team will answer all your questions so that the detailed uMobix operation is as clear to you as ABC. Even though uMobix won't track every app on the device, the bottom line is that the features it offers can fully satisfy the appetites of modern parents. Take, for example, uMobix keylogger, geofinder location tracker, audio and video streaming, access to messages, instant messengers, etc. – with minimum effort on your side, the uMobix spy app turns the target smartphone into your remote mini-assistant, which is not just a means for communicating with a child anymore.