Unlimited Cross-Platform Tracking: Hoverwatch App Review

Can one spy app cover your tracking needs across three operating systems? Apparently, yes, since the developers of our today's review subject claim that Hoverwatch is designed for Android, Windows PC, and Mac surveillance.
The app comes with a formidable toolkit on board that allows you to track anything from conversations in messages to the current GPS location of the device's owner – all for a price lower than average on the market.
How is it possible that a top-of-the-range phone spy app costs way less than its competitors, and is any corner-cutting involved? In this comprehensive Hoverwatch phone tracker review, we shall find an answer to that, as well as scrutinize the app's features along the way.
General Information
What Is Hoverwatch App in a Nutshell
The easiest way to introduce Hoverwatch is by describing it as a multi-purpose, cross-platform tracking piece of software. The data exchange between the sender and the receiver is made possible by installing a small sync app on the target device. This applet monitors all the activity that the tracker is designed to register and sends the data to the online Hoverwatch storage in real time. Thus, you are freed from the necessity to always keep an eye on the target, as the incoming data gets automatically sorted by type and can be accessed from the Hoverwatch dashboard at any time.
There are practically no limits as to what kind of files or information you can obtain from the tracked device – logs, files, pictures, screenshots, you name it. What makes such spyware particularly powerful is the fact that it's practically impossible to detect unless the owner of the tracked gadget is looking for the app consciously. Even then, the risk of being discovered is low until they resort to using software specifically designed to identify and erase spy apps.
How Does Hoverwatch Work from a User's Perspective
Over the years, mobile spy apps have evolved into lightweight and user-friendly utilities, and Hoverwatch is no exception – it can take literally 10 minutes from encountering the tracker's website for the first time to being an active user. All you've got to do is create an account, activate the trial, download Hoverwatch for the corresponding system, and install it onto the device you'd like to track – later on, we shall give you excruciatingly detailed instructions for all three supported operating systems.
Of course, there's the device availability factor – if you intend to monitor someone else's phone without their permission, you must have unhindered physical access to the gadget. There is no way around this when we're talking about Android, so plan your steps in advance before even considering the purchase.
The troubles of planting the Hoverwatch spy app into someone's phone pay off tenfold, though. A successful synchronization means you don't just see and collect their data but also have a significant degree of control over their phone. How you use this power is up to you – the Hoverwatch website insists their app is only for consensual parental and employee control and strongly discourages other possible applications.
Benefits & Drawbacks
Benefits:
Smooth functioning in the background that doesn't manifest itself to the device owner;
Unlimited browsing of the target phone files and folders;
Reasonable pricing and no paywall that would limit the use of tracking tools;
Wide range of supported social media apps and messengers;
Convenient dashboard with one-click navigation;
3-day trial with all features unlocked;
Desktop computer support (Win, MacOS);
Drawbacks:
Lengthy Android installation process that can take more than 5 minutes;
A feedback form is the only way to contact support and the replies take up to 48 hours;
No iOS support;
The Distinctive Features of Hoverwatch App
When it comes to tracking tools, Hoverwatch does everything you would expect from a premium-tier Android spy app, only for half the price. Let's take a closer look:
Calls & SMS Tracking
This feature is present in all similar software, the only difference being the level of detail you can get with the one you picked. The Hoverwatch spy app does the job with flying colors, as it offers the full spectrum of call and message tracking tools.
The software stores all the data about the said activities, including time, number, duration, and even the location of the phone at that moment. Any contact list update is immediately reflected in the app's control panel. In addition to that, you may view the stored and deleted SMS as well as record all the calls.
GPS Positioning
The Hoverwatch app for Android provides a highly customizable positioning system where any detail can be fine-tuned to meet your needs. The tracker combines several sources and methods of GPS data collection that choose from:
In real-time tracking mode, Hoverwatch will send you the phone's precise location on OpenStreetMap at regular adjustable intervals. All the log entries can be combined to display the target's uninterrupted route, and you can even view their animated movement within a certain period.
If GPS positioning is inactive on the tracked device, let the tracking happen via the Wi-Fi spots the owner is connected to. This method is less accurate but saves the phone's battery – good for keeping their suspicion at bay.
Hoverwatch Keylogger
Keylogger is one of the features universally available on all three platforms supported by the Hoverwatch phone tracker, and the tool is equally powerful no matter what device you're monitoring. By using the utility, it is possible to obtain sensitive data that is almost impossible to retrieve otherwise, such as passwords.
To access Hoverwatch logs, you simply need to open the corresponding tab on the control panel. The log will contain every instance of typing and a corresponding timestamp. When combined with the screenshot tool, keylogger becomes a perfect spying tool that can procure undeniable evidence.
Browser History & Bookmarks
Hoverwatch makes viewing someone's search history as easy as if it were your own browser. In a dedicated dashboard tab, you'll see a detailed log of their recent activity that includes the URL link, the name of the page, and the time of visiting.
The list is updated shortly after the person uses the browser, even if they switched to incognito mode. Not only that, but Hoverwatch will also preserve all the browser history during the initial synchronization, so you'll have enough research material that is backed up properly in case they decide to erase it.
Remote Commands
The tracker doesn't have too many remote command options, so you won't be able to install Hoverwatch on target phone and thus gain complete control over it. Some other spy apps can turn the monitored phone on and off, block its ability to connect to Wi-Fi, and even delete unwanted apps, but all these methods are destructive and will definitely attract unwanted attention.
Apart from call recording, Hoverwatch is capable of one more remote control option, and that is frontal camera shots. You'll get a picture each time the person unlocks the phone by using facial identification, which also means that anyone trying to manipulate the phone without the owner's consent will leave their face snap on your dashboard.
Media & Messenger Monitoring
The list of social apps that Hoverwatch can monitor is not the longest we've seen in a mobile tracker, but most people don't use the apps outside of Google Play's top 10 for communication anyway. The viewer's roster includes Instagram, Telegram, Viber, Kik, Snapchat, Signal, WeChat, Facebook, and WhatsApp, which is more than enough to cover your investigation needs. Let's see how it works in some of these apps:
WhatsApp: The tracker allows you to view (but not record) the instances of calls made over WhatsApp and has a separate category for them. You can also monitor the active chats in the messenger and view the conversations in each of them.
Instagram: If the phone owner has a private Instagram account, you should have no problem viewing the screenshots of their posts and other activities. What is more, Hoverwatch allows you to spy on Instagram direct messages and view the reactions of other users.
Snapchat: The platform was a pioneer of self-destructing messages, and the first trackers couldn't do much about it. However, Snapchat spy apps have improved greatly since then, and now you should have no problem capturing all Snapchat messages and media with Hoverwatch keylogger and screenshot tools.
Hoverwatch Viewer Compatibility
Since the tool neatly combines the functions of the phone and desktop tracker, one can install Hoverwatch on Android, Windows, or MacOS devices. If you have the latest version of these operating systems installed, you shouldn't worry too much about compatibility, and the app should function without a hitch. However, if we're talking about dated and legacy systems, you need to know that Hoverwatch will only work on Windows 10, Android 4.0 and above, and MacOS 10.15;
How to Use Hoverwatch Upon Purchase
Before you benefit from all the tools that come on board, you'll need to install Hoverwatch properly. The app's website has video instructions for that, but we felt they could be more detailed, so we wrote our own guides on how to install Hoverwatch on Android and desktop.
How to Install Hoverwatch on Android
Step 1. Once you're done with the purchase, download Hoverwatch app package from the website to your own device or straight to the monitored phone.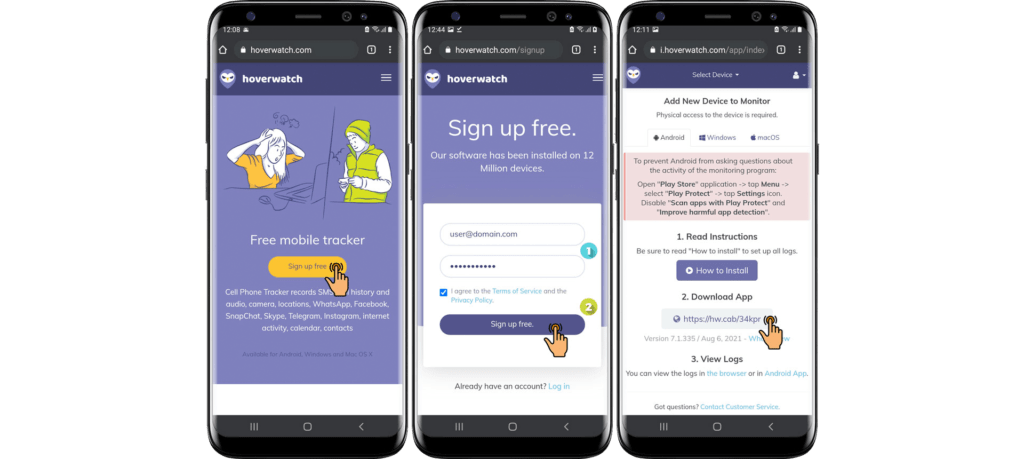 Step 2. Prepare the device for installation by disabling the Google Play Protect feature.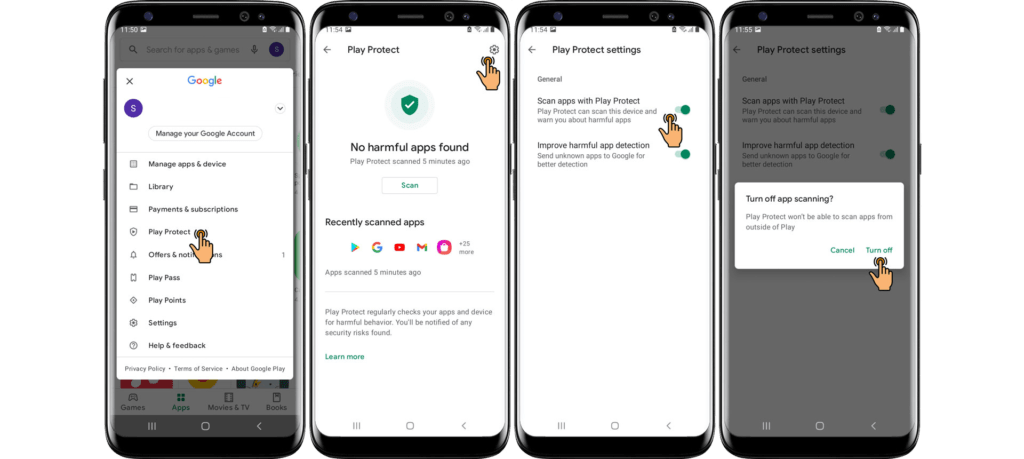 Step 3. Run the .apk file installation and remember to remove the file from the phone's memory.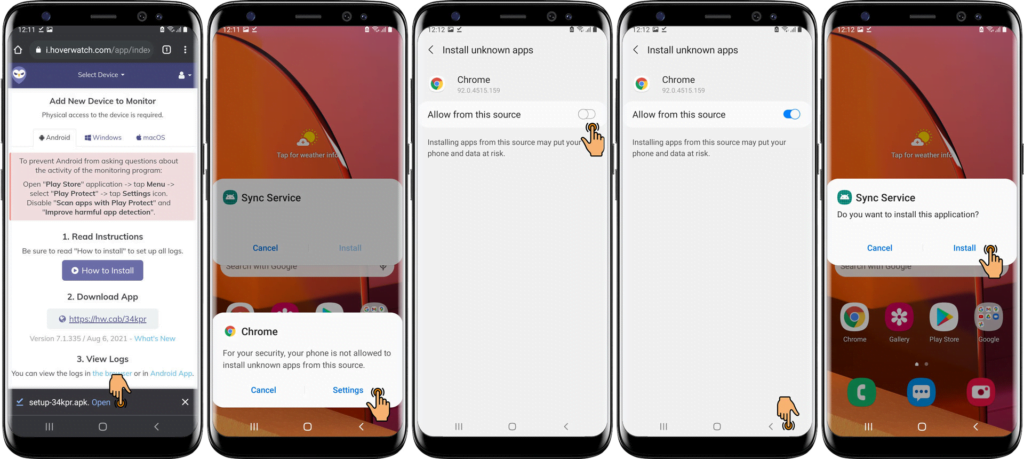 Step 4. Follow the prompts inside the app to finalize the installation.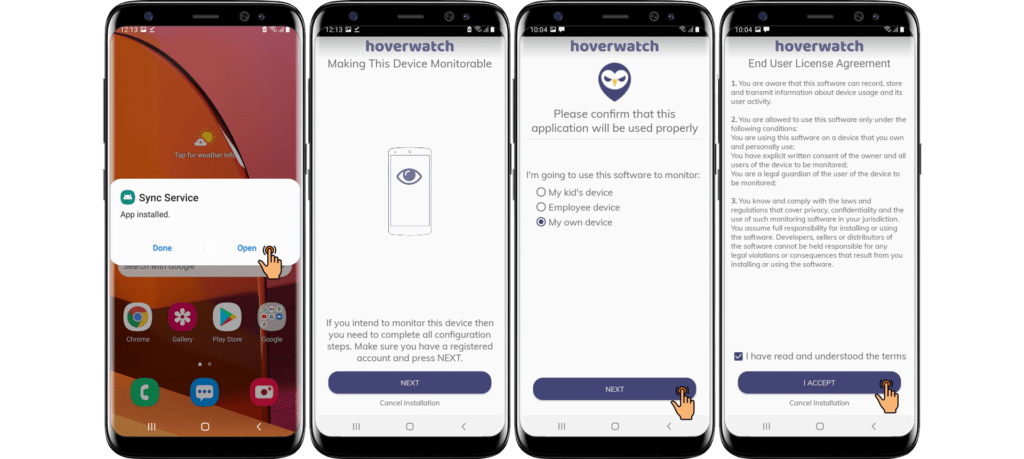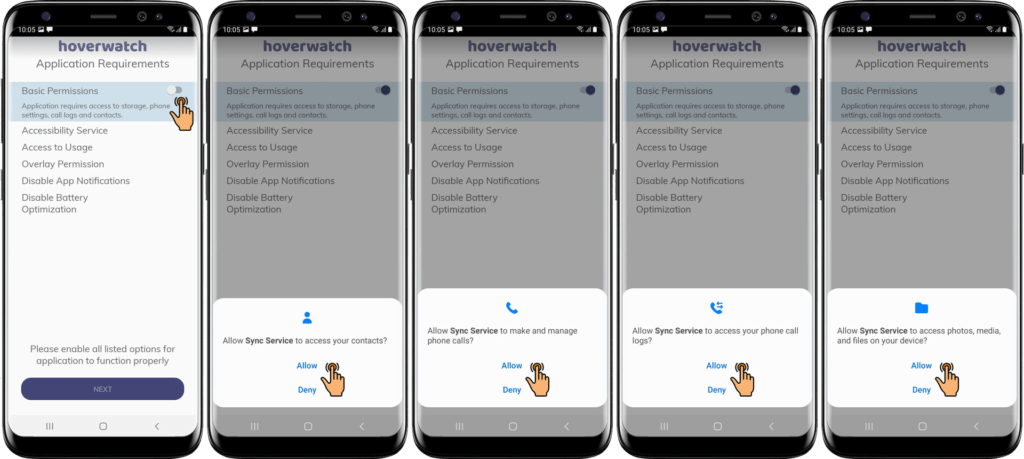 Step 5. Go to the app's settings and toggle the Accessibility switch.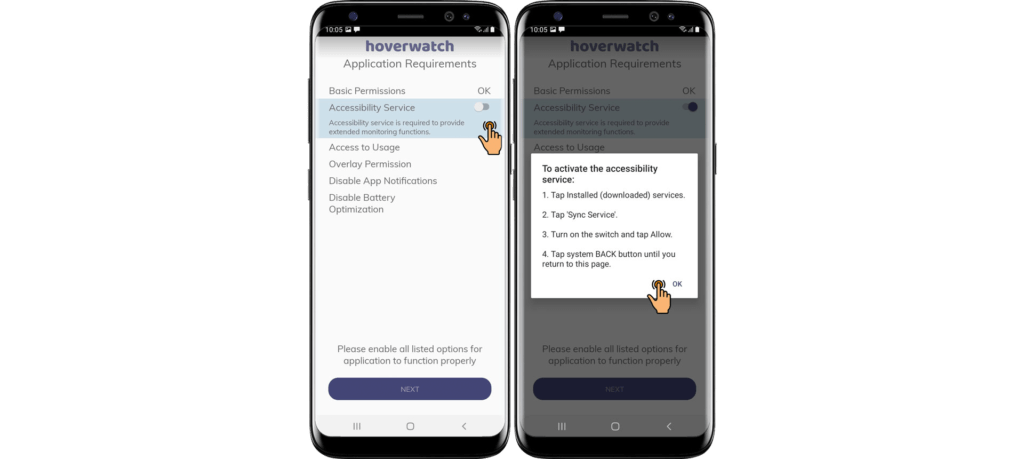 Step 6. Turn on the Sync service and other permissions by following the app's instructions.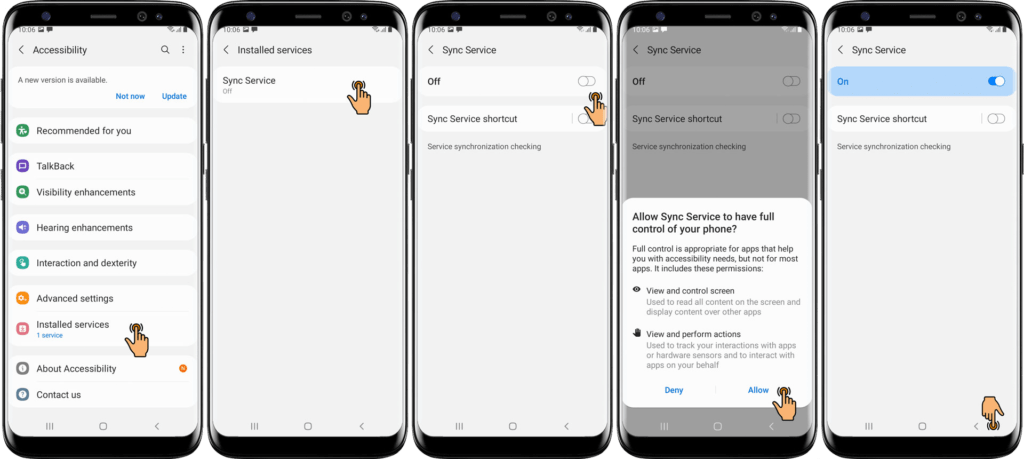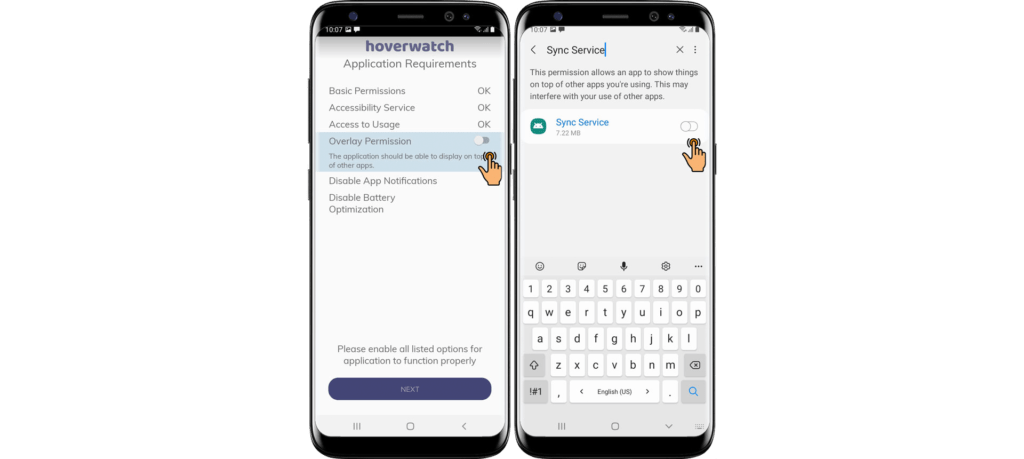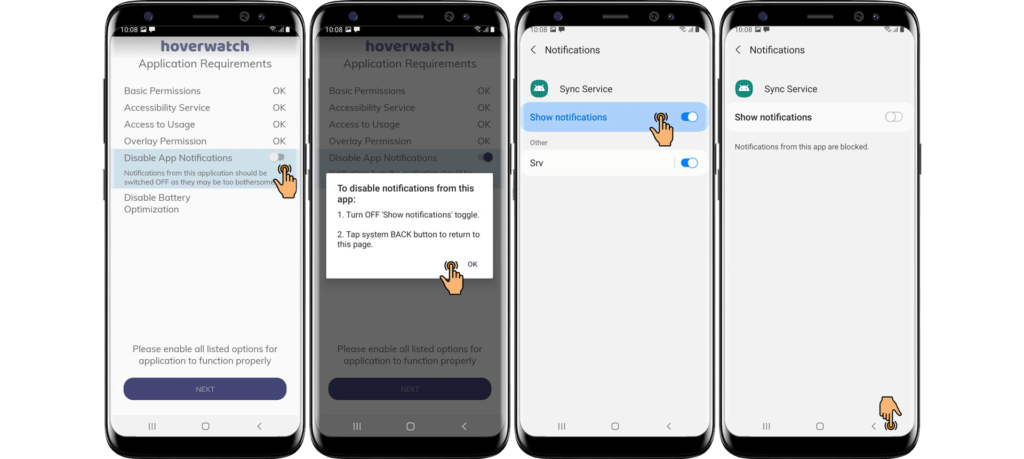 Step 7. Sign in to your Hoverwatch account directly from the app.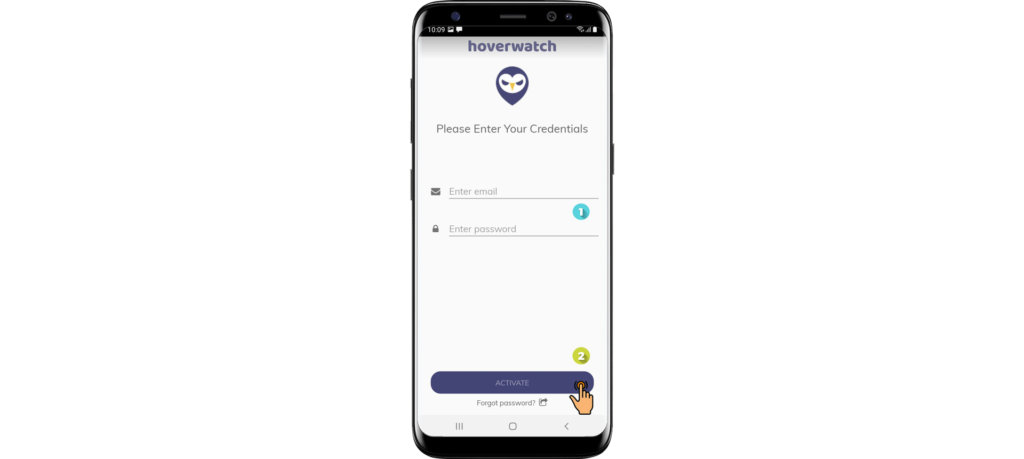 Step 8. Decide on the scope of tracking activities you'd like Hoverwatch to perform.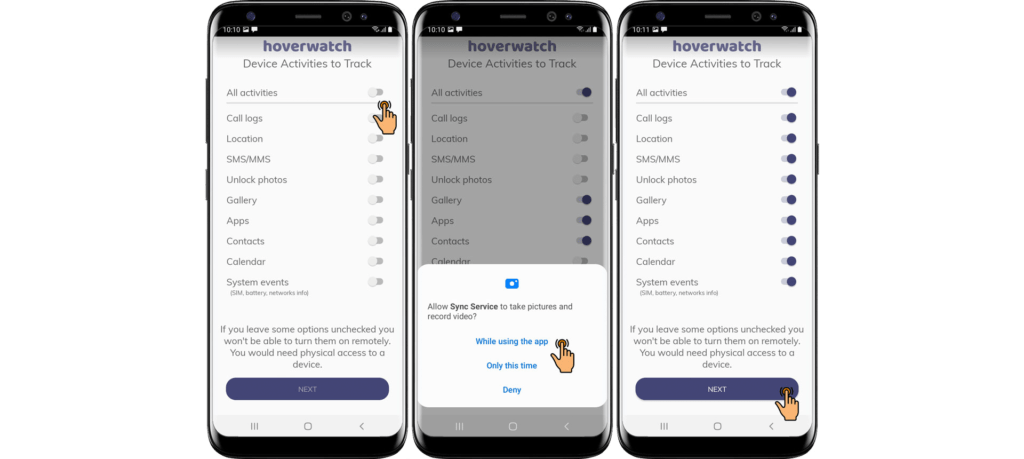 Step 9. Set a Hoverwatch PIN to prevent unauthorized use.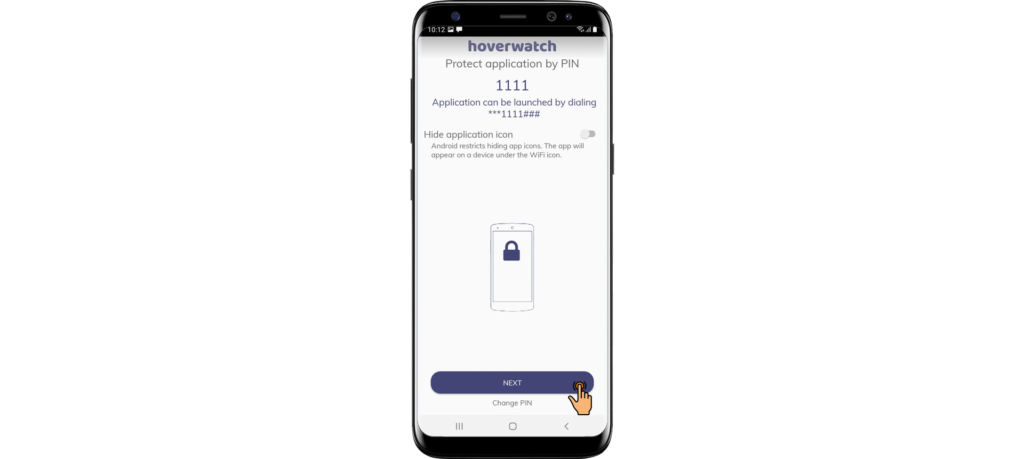 Step 10. Wait until the app syncs the data with your online control panel. You can now hide the Hoverwatch icon.
How to Install Hoverwatch on Windows
Step 1. Go to the Hoverwatch login page from the target PC browser and authorize using your account credentials.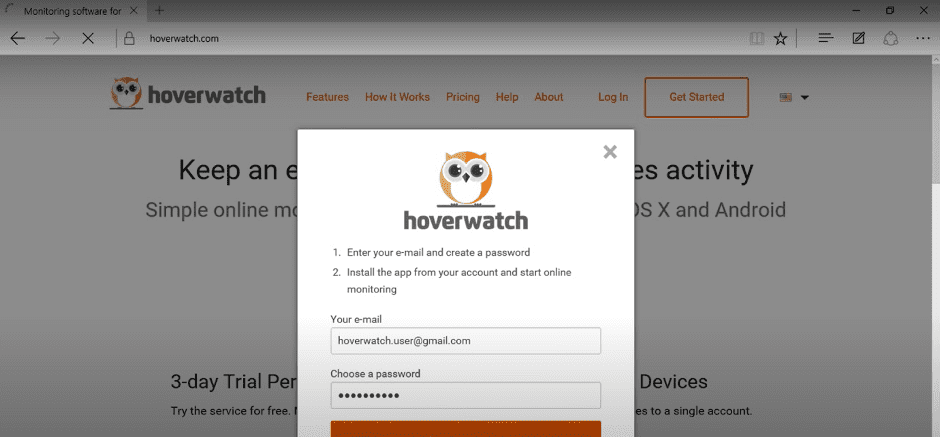 Step 2. Select 'Add new device' option that will take you to the download screen with the Windows version.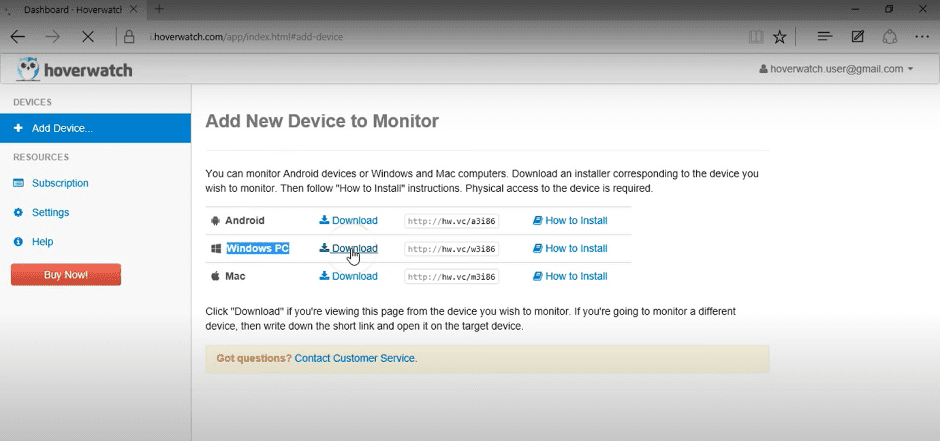 Step 3. Run the .exe installation file.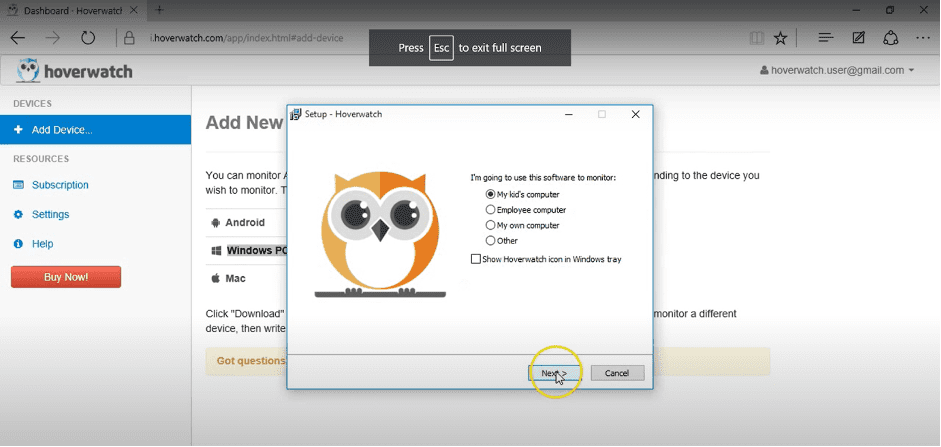 Step 4. Sign into your account from the app's interface and finish the installation by pressing 'Activate'.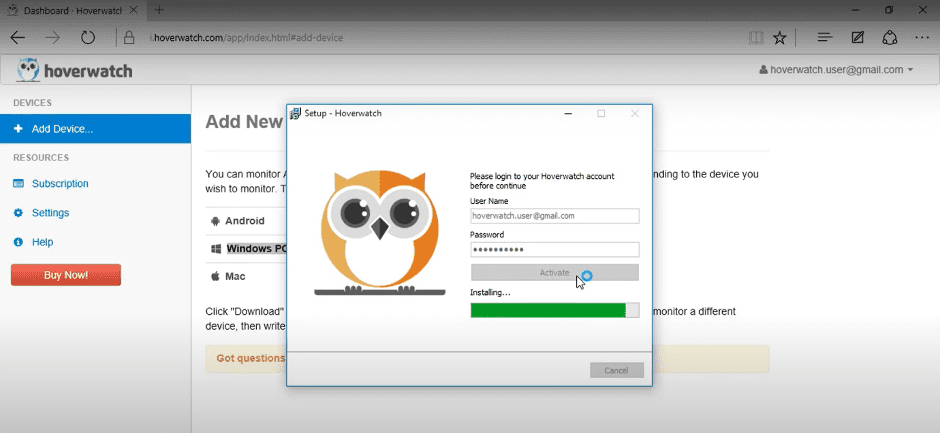 Step 5. Adjust the monitoring parameters and wait until the software delivers the initial tracking data to Hoverwatch servers.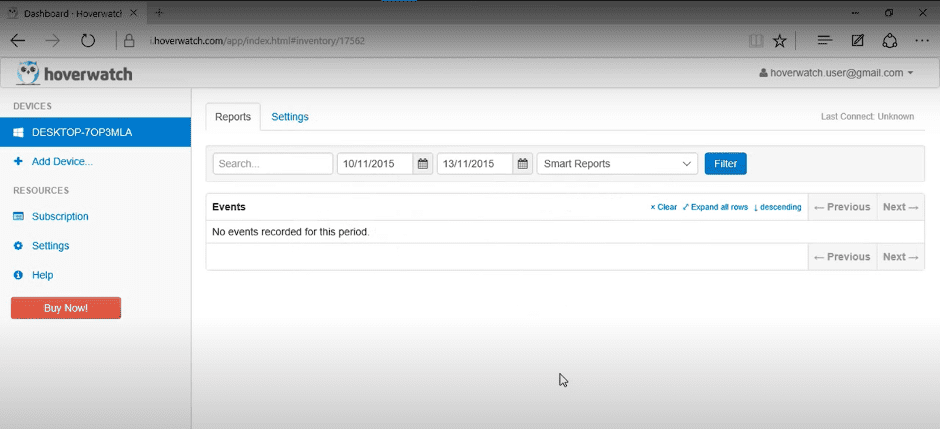 Hoverwatch Price: How Much Does Hoverwatch Cost
The cost can significantly differ depending on what subscription plan you choose. The good news is that none of them are limited in terms of functionality – a personal monthly plan with a price tag of $24.95 is as good as a business subscription that costs $149.95. Why pay more, then? Well, it's about the number of devices you can link to one account – the Hoverwatch phone tracker can manage as many as 25.
Speaking of trial options, Hoverwatch is willing to provide 3 days of a fully-functional free trial if you create an account and provide your credit card credentials. Considering that your only option to cancel the subscription is by contacting their support via the feedback form with a 48-hour response time (see the next section for details), you'd better do it well in advance if you don't plan to use the tool after the demo license expires.
Hoverwatch Customer Service
The client care system of the Hoverwatch viewer is slightly different from what we've seen on other spyware websites, but it's nonetheless effective. On the Support page, you are greeted with a ton of answers to the commonly asked questions (they even made a search box for navigation).
However, if this doesn't solve your problem, look for the orange 'Submit a request' button in the top right. Clicking on it will take you to the feedback form – the closest thing you'll get to a customer service number. You'll need to fill out about a dozen fields, and Hoverwatch support undertakes to reply within 2 days, which they promptly did, and solved our case of Hoverwatch not connecting to some of the devices we used for testing.
Hoverwatch Compared to Other Apps
| Feature | Hoverwatch | uMobix | SpyBubble |
| --- | --- | --- | --- |
| Calls and messages | Yes | Yes | Yes |
| Geofencing | No | Yes | No |
| Remote control | Yes | Yes | No |
| Keylogger | Yes | Yes | Yes |
| PC monitoring | Yes | No | No |
FAQ
Is Hoverwatch free?
Like any other functional spyware out there, Hoverwatch rightfully expects you to pay for the service – however, signing up will grant you 3 days of Hoverwatch free trial. Do not believe the scam sites claiming to have a cracked version – this is not how subscription services work. It is completely useless without a Hoverwatch license activation code or an active trial.
Is Hoverwatch legit?
To this day, apps like Hoverwatch are not explicitly regulated by national law – however, the instances and consequences of using spyware are a direct violation of all the laws aimed at privacy and personal data protection. If you want to stay out of trouble, you should never use the Hoverwatch viewer for non-consensual and concealed surveillance.
Does Hoverwatch work on iPhones?
Perhaps the biggest drawback of the Hoverwatch spy app is the lack of iOS support. It is not clear whether the developers are planning to add Apple gadgets to the roster any time soon, so if iOS tracking is your priority, you might want to see our guide to the best iPhone spy apps.
Hoverwatch phone tracker is an above-average spy app that delivers great value for money and has enough standout features to compete with heavily marketed products. While there's no Hoverwatch version for iOS devices, you can use it to track computers on Windows and Mac, which is pretty unique for this kind of spyware. As per the Hoverwatch app for Android, you may expect fluid performance from all the declared functions - however, most Hoverwatch reviews conclude that the installation process is quite toilsome, and we can only attest to that.
Hoverwatch phone tracker is an above-average spy app that delivers great value for money and has enough standout features to compete with heavily marketed products. While there's no Hoverwatch version for iOS devices, you can use it to track computers on Windows and Mac, which is pretty unique for this kind of spyware. As per the Hoverwatch app for Android, you may expect fluid performance from all the declared functions - however, most Hoverwatch reviews conclude that the installation process is quite toilsome, and we can only attest to that.