iKeyMonitor App Review
Affiliate Disclaimer: SpyPhone.App may earn a commission from purchases made through our links, at no extra cost to you. Our reviews are unbiased and based on our evaluation of the products and services. Your support through these links helps us maintain our website. Thank you for your support!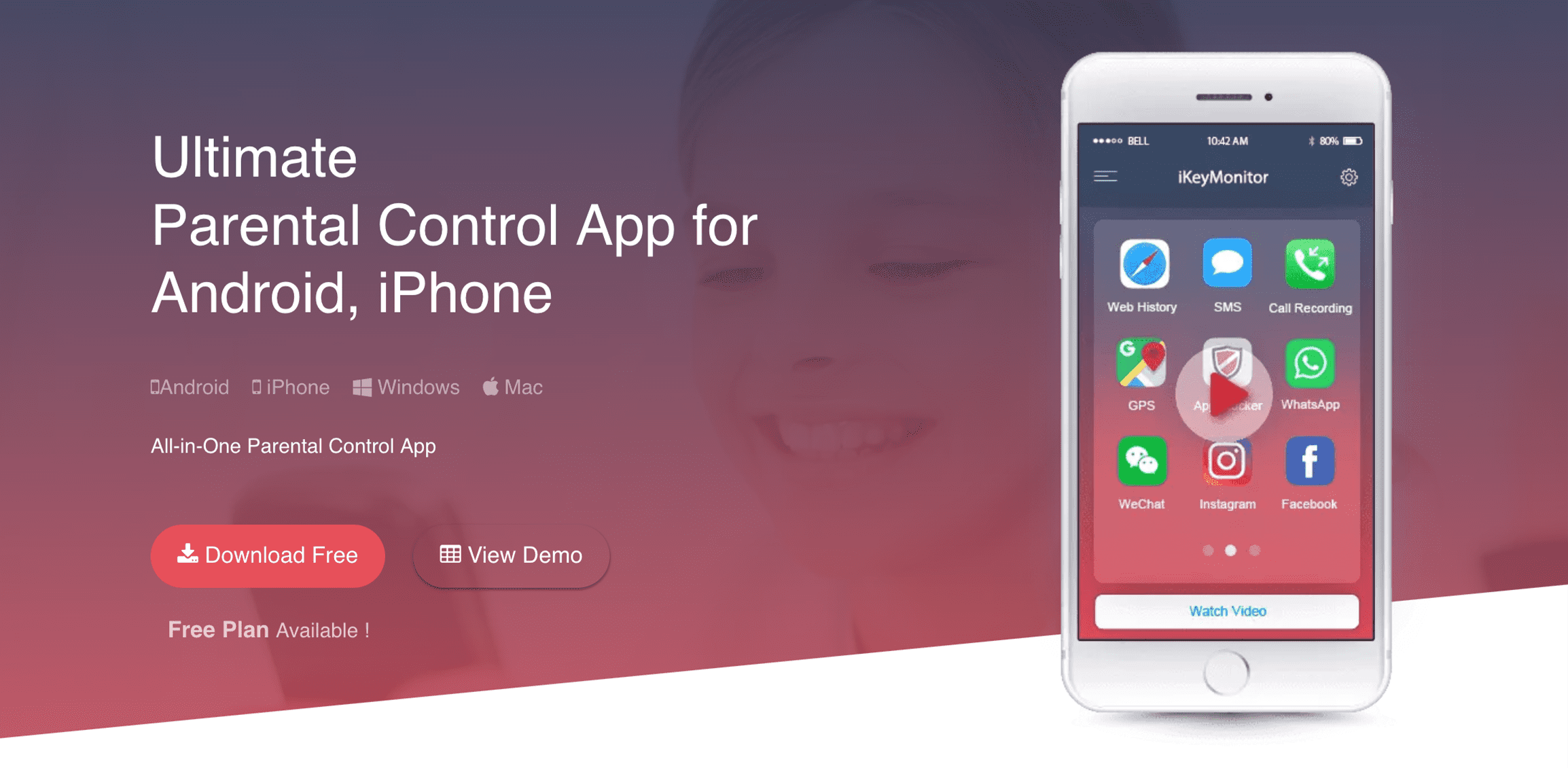 In the vast realm of digital monitoring solutions, iKeyMonitor stands out as a reliable and comprehensive option that has garnered high praise from users worldwide. Therefore, in this iKeyMonitor review, we dive into the world of advanced monitoring tools and uncover the unique features that set the iKeyMonitor app apart.
From its discreet tracking abilities to its user-friendly interface, this spy app offers a seamless experience for individuals seeking to keep a watchful eye on digital activities. Keep reading as we delve into the realm of iKeyMonitor reviews, where we uncover the remarkable benefits of this powerful monitoring software and its impact on ensuring online safety.
iKeyMonitor Review: General Information
What Is iKeyMonitor App?
iKeyMonitor app is an exceptional parental control solution designed to support busy and concerned parents in keeping track of their children's activities. With a global user base spanning over 100 countries and exceeding 400 thousand parents, it has emerged as one of the most popular monitoring apps worldwide. With iKeyMonitor mobile spy, parents can find peace in knowing crucial details about their child's mobile activities. This might include accessing the child's contact list, browsing history, interests, and habits.
However, its utility extends beyond parental use, making it an excellent solution for monitoring partners or employees. When it comes to suspicions of infidelity or concerns about employee conduct, this app can provide vital insights to remedy your doubts. Moreover, for businesses, monitoring employees using company devices can prevent or identify data leaks that may threaten the business.
One standout feature of the phone tracker is its user-friendly design. The manufacturers have made it easy to operate without requiring advanced technical skills to navigate the app. However, tech enthusiasts will appreciate the ability to effortlessly configure its more advanced features. Another advantage is the ability to block websites and applications, ensuring that company devices are solely utilized for work purposes. Overall, the application is proving to be quite high-tech.
How Does iKeyMonitor App Work?
iKeyMonitor operates by discreetly monitoring and capturing various activities on the target device. This provides the tracker with comprehensive insights into the phone's usage. Here's how it works:
Installation: To begin monitoring, install the app on the target device.
Activity Tracking: Once installed, the app starts recording and logging activities. Some data include keystrokes, calls, messages, social media interactions, browsing history, etc. Also, it operates in stealth mode, ensuring that the user remains unaware of its presence.
Data Logging: It collects and organizes the captured data into user-friendly logs. These logs can be accessed through the iKeyMonitor cloud panel or mobile app.
Remote Monitoring: Users can securely access the iKeyMonitor cloud panel or log into the mobile app using their credentials to view and analyze the recorded data remotely. This allows for convenient monitoring anytime, anywhere.
Advanced Features: It offers a range of advanced features, including GPS location tracking, website and app blocking, remote screenshots, voice recording, and more. These features provide a deeper level of insight and control over someone's online and offline activities.
Customization: Users have the flexibility to customize their monitoring preferences by choosing specific features or opting for the comprehensive "Full Plan" that includes all advanced features.
Compatibility
Here are the key compatibility details:
For iOS Devices:
No Jailbreak: iKeyMonitor supports iOS 9 to 14 without requiring jailbreaking. It is compatible with all iPhone and iPad models within this iOS version range.
iCloud ID & Password: To monitor iOS devices, you need the iCloud ID and Password of the target device. This information is essential for seamless monitoring.
For Android Devices:
Physical Access: To install the iKeyMonitor app on an Android device, physical access to the target device is required. This ensures proper installation and setup.
Rooted Devices: iKeyMonitor is also compatible with rooted devices. Therefore, users with rooted devices can benefit from more extensive monitoring capabilities.
iKeyMonitor Installation
Whether you are using an iOS, Android, Windows, or MacOS, you can use the monitoring app to spy on a device remotely effectively. Here is how to use it on different operating systems:
How to Install iKeyMonitor Spy App on iPhone
To install iKeyMonitor on iOS, follow these steps:
Open Safari on your iPhone/iPad, and tap this link [insert link]. Skip to step 3. Alternatively, launch Cydia.
In Cydia, search for "iKeyMonitor" in "BigBoss" and select it.
Tap "Install" and confirm to complete the installation.
iKeyMonitor will launch and run in the background. Access it by tapping the "iKeyMonitor" icon on the home screen. The icon can be removed or disabled in iKeyMonitor settings without affecting monitoring.
You can also open Safari and enter "localhost:8888" to access iKeyMonitor.
Installation is quite easy and does not require additional skill in the field of digital technologies.
How to Install iKeyMonitor Android Spy App
With the availability of various phone spy apps on the market, installing ikeyMonitor on Android might be a little different. To install iKeyMonitor spy app for Android:
Deactivate Google Play Protect in Settings > Google > Security.
Deactivate notifications from Google Play Protect in Settings > Apps & notifications > Google Play Store > App notifications.
Enable installation. Click on "unknown sources" in Settings > Security.
Install the downloaded iKeyMonitor apk file.
Access iKeyMonitor through various methods, including visiting a specific URL, dialing a PIN, or tapping the icon.
Either on Android or Apple gadgets, there is nothing difficult to start with this application. Everything works well.
Key Features of iKeyMonitor
There are more than 50 features available for monitoring rooted/jailbroken or unrooted/non-jailbroken devices. Some of its most notable advanced characteristics are:
Calls Monitoring
Its сall feature lets you track your child or partner's phone conversations, including contact frequency, duration, and call recording. In addition, it helps concerned parents intervene in inappropriate discussions and enables partners to address any suspicions. Stay informed and take action with iKeyMonitor's сall feature. As a rule, calls can carry a lot of information.
Messages Monitoring
The message feature enables the monitoring of SMS conversations, including deleted messages. Despite the rise of instant messaging apps, SMS remains a preferred communication method for unfaithful partners and employees leaking sensitive information. iKeyMonitor ensures you can intercept text messages, providing comprehensive monitoring capabilities. So you don't miss any important detail.
Location Tracking
It offers accurate GPS location tracking and history, making it an essential monitoring feature. Users can view the target device's current location and track its movement history. Additionally, the geo-fencing feature allows for marking safe and dangerous zones on the map. Instant notifications are sent if the monitored user leaves a safe zone or enters a dangerous area.
Social Media Monitoring
The app provides comprehensive social media monitoring to protect children from online dangers. It allows parents to monitor their child's social media activities, including messages and disappearing content like auto-deleting messages or Instagram stories. With this feature, parents can easily identify and protect their children from potential sexual predators, cyberbullies, and scammers lurking on social media platforms.
Tracking Other Apps
With this app, you can discreetly monitor the target device for any activities involving dating apps. This monitoring app can notify you if your partner or child downloads a dating app like Tinder, giving you the option to block it or silently monitor their activities. View their chats with strangers to ensure their safety and prevent any inappropriate interactions.
Browser Monitoring
It offers comprehensive browser monitoring capabilities, allowing you to track and monitor someone's web browsing activities. You can view the websites visited, search history, and even access bookmarks. This feature enables you to stay informed about the online activities of your child or partner, ensuring a safe and secure browsing experience.
Accessing Wi-Fi History
With this phone tracker, you can also spy through WiFi router. This feature lets you view a detailed record of all the Wi-Fi networks the device has connected to, along with the dates and times. Monitoring the Wi-Fi history can help you gain insights into the device's location and internet usage patterns.
Device Control Capabilities
It offers comprehensive device control features, allowing you to manage and control the target device remotely. With features like app blocking, website blocking, and time restrictions, you can effectively control the device's usage and ensure a safe and productive environment. Take full control over your child's or employee's device with iKeyMonitor's powerful device control capabilities.
Remote Environment Listening
Environment listening is a powerful feature of iKeyMonitor that allows you to listen to the surroundings of the tracked device remotely. It lets you discreetly monitor the device's environment and gather valuable information. Whether you're a concerned parent or an employer, the app provides you with the ability to listen to the device's surroundings for added security and peace of mind.
iKeyMonitor Price Breakdown
iKeyMonitor offers three main subscription options: Basic, Premium, and Ultimate Editions. The Basic Edition provides essential monitoring features, while the Premium and Ultimate Editions offer advanced functionalities such as social media tracking, keylogging, and more.
iKeyMonitor free trial and a 30-day money-back guarantee for customers to try the service risk-free are presented for users. Their price plans include:
For mobile: Free Basic+Addon features (3 days – $9.99, from $16.66/month – on demand).
For desktop: $29.99/month per device.
iKeyMonitor Customer Support
The platform provides excellent customer support, ensuring users have a smooth monitoring experience. Their support team is responsive, knowledgeable, and readily available to assist with inquiries or issues. Whether you have questions about installation, features, or troubleshooting, they are dedicated to helping you. We specifically asked the question and got a qualified answer instantly.
They offer multiple channels to reach their support team, including email and live chat, ensuring prompt and efficient assistance. Additionally, their website provides a comprehensive FAQ section and user guides to address common queries. Their commitment to customer satisfaction ensures that users feel supported and confident in using their monitoring solution.
Pros and Cons of iKeyMonitor Free SpyApp
We'll go over the pros and cons of this spy app with free trial and affordable price. There are many more benefits than drawbacks to this parental control app:
Pros:
Offers a comprehensive set of advanced features
Remote control capabilities for convenient monitoring
Discreet and tamper-proof operation
Beginner-friendly interface for easy navigation
24/7 live chat customer support for timely assistance
Accurate GPS tracking and geo-fencing for real-time location monitoring
Free plan available, along with multiple paid options for flexibility
Cons:
The all-in-one plan may be considered expensive by some users
Fewer features are available for monitoring iOS devices, limiting functionality for iPhone and iPad users
FAQ
Is iKeyMonitor legit?
Yes, be sure. iKeyMonitor is a legitimate and trusted monitoring solution. It offers easy setup, user-friendly features, and customizable pricing plans. With its free forever plan, you can try it out before committing. iKeyMonitor is a reliable choice for parents looking to ensure their child's safety and monitor their online activities.
Is iKeyMonitor detectable?
It offers the option to be hidden or visible on the target device during installation. The app remains undetectable by choosing the stealthy option, ensuring it won't be stumbled upon it accidentally. However, if there is powerful antivirus software, exists a possibility that the app may be detected. 
Is iKeyMonitor safe?
Yes, the iKeyMonitor app is safe to use. The app is designed to be secure and reliable, ensuring the user's and monitored device's privacy and safety. It employs encryption techniques to protect data transmission and has a trusted reputation in the market. Here, all precautions in terms of online use are strictly observed.
Is iKeyMonitor free?
It offers a free plan that provides basic monitoring features. However, paid subscription options are available for more advanced functionality and comprehensive monitoring. The pricing varies based on the selected plan, offering flexibility for different budgets and needs. It's important to review the pricing details on the iKeyMonitor website to determine the best option for you. 
At the end of this iKeyMonitor review, it is safe to say it is a robust monitoring app that offers advanced features and reliable performance. Its discreet operation, user-friendly interface, and dedicated customer support provide a comprehensive solution for parental control and device monitoring. We have tested the functionality that matters the most and can safely recommend the app.
At the end of this iKeyMonitor review, it is safe to say it is a robust monitoring app that offers advanced features and reliable performance. Its discreet operation, user-friendly interface, and dedicated customer support provide a comprehensive solution for parental control and device monitoring. We have tested the functionality that matters the most and can safely recommend the app.