Minspy App Review: Is This Phone Tracker Worthwhile?
Affiliate Disclaimer: SpyPhone.App may earn a commission from purchases made through our links, at no extra cost to you. Our reviews are unbiased and based on our evaluation of the products and services. Your support through these links helps us maintain our website. Thank you for your support!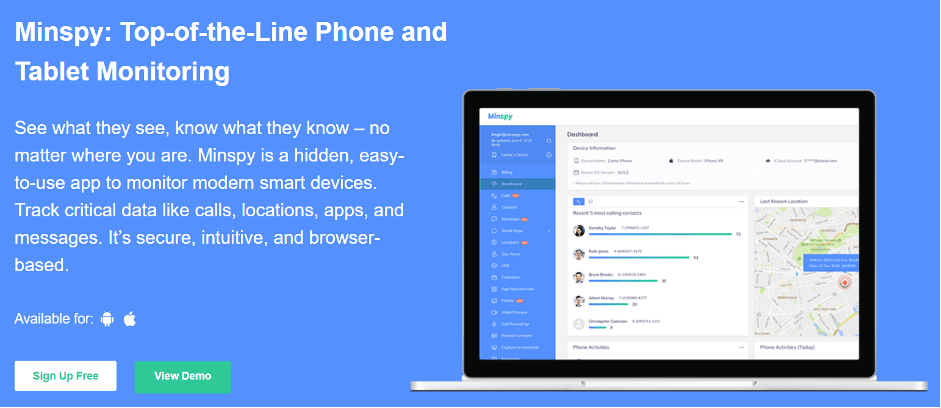 Ever wanted to be able to check on your partner, friends, or even children remotely from your own device? Now you can. Minspy is an easy-to-use app that is available for both iOS and Android devices.
Using the Minspy app, you can actually track other devices and even restrict certain activities, making it easy to monitor other people's device usage. Especially for parents, this can be a big safety tool that will allow you to completely take control of your child's device usage without them being aware. The following guide and Minspy review will help you understand everything you need to know about this app.
General Information
What Is Minspy App?
Minspy is an app you can download on your smartphone device. There are both Android and iOS versions available, but beware, these two versions are not identical as they can have different features. The process of downloading the Minspy app is incredibly easy. Once the Minspy apk is downloaded, you can track a device remotely. This means you can use it to target the devices of your partner, friends, children, or even colleagues.
There are many different uses for the Minspy app, and as it runs invisibly in the background, you can use it on different devices without even getting your hands on them. The different features included allow you to not only track the other person's device but also monitor their usage. If, for example, you are trying to find out how someone is utilizing their time on their phone, you can do it with this app.
Outside of monitoring, you can also restrict activities. This can be extremely important if you want to use the app as an extra layer of parental control, as it can allow you to reduce your child's access to harmful activities. Finally, you can also access some of the stored information that the person has on their phone. This can be great if you want to be able to access messages, call logs, or even photos.
How Does Minspy Work
The creators of the Minspy app wanted to focus on ease of use which is why this app is not only extremely easy to install but also easy to set up and use. The first thing you will need to do to run this app is to complete the Minspy installation. This is simple to do as all you will need to do is go to your device's Appstore and buy the app. Once the installation has been completed, you can start using the app normally.

Once spy phone app has been installed, it will continue to run and track the device in the background. This means that the person who owns the device will not be able to detect the app running unless they start looking for it. All of the data that the app finds and extracts during the monitoring session will be uploaded online for you to review.
To review the data, you will need to use your Minspy login details to access the cloud-based servers. These servers will hold the updated information coming in in real-time from the device you are tracking. You will also be able to set up restrictions and live-tracking the devices you have installed Minspy on.
Minspy App Review: Pros and Cons
If you are trying to understand the benefits of using the app a bit better, then looking at a quick Pros and Cons analysis can help you get a better idea of what you are getting without having to read an entire Minspy review.
Pros:
Rooting is not necessary to install the app
Incredibly easy installation
The Minspy app can run in the background
You can complete the setup without access to the other iOS device
Wide range of features, including the Minspy phone tracker, Minspy location tracker, and social media trackers
Cons:
Only a demo version is available, there is no Minspy free trial
There are limited features available which change based on your operating system
Features of the Minspy Tracking App
There are many different diverse features available in Minspy which allow you to track and monitor many aspects of a device's usage. Because of all the features, Minspy manages to be one of the most holistic apps for tracking a device. The features include:
Minspy Location Tracker
The Minspy location tracker app is fairly self-explanatory as it allows you to view in real-time the location of the targeted device. You will also be able to access the location history, which will show you from where the device has passed. You can also set up geofences to be alerted if the device goes outside a specified area.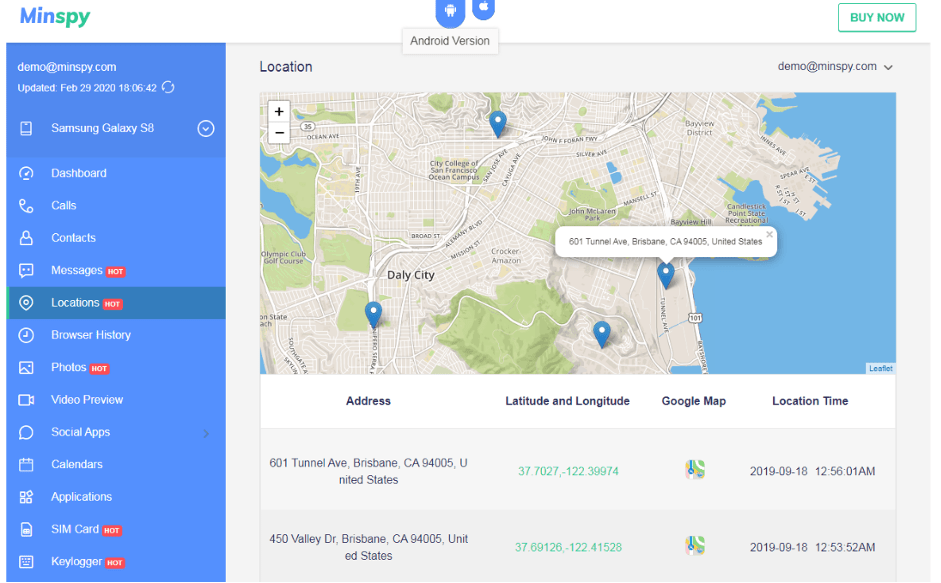 Minspy Phone Tracker
The Minspy phone tracker allows you to track the different activities that the individual is using their phone for. This can include looking through their call log as well as phone messages. You can also access the person's contacts as well as saved files on their device. Things like their photos and videos are also accessible through this function.
Internet Activity Monitoring
With Internet activity monitoring, the Minspy tracker can track a person's browsing activities. If you want to ensure that the person you are tracking is not going to any inappropriate websites or that they aren't using their phone to access inappropriate things, you can use internet activity monitoring to be able to look through their entire browsing iPhone history.
Social Media Tracking
The Social Media Minspy tracker comes in many forms as different social media apps require different things. With the Minspy app, you get access to most of the social apps installed on the tracked device so that you can track each platform individually.
Facebook Messenger
The Facebook Messenger tracking allows you to look through all of the different individual messages and chats that the person using the tracked device is engaging in. This can be perfect for those who want to have access to the other person's conversations for safety reasons.
Snapchat Tracking
Snapchat has for years had the advantage of not retaining any of the data and information you put through it, but with Minspy Snapchat spy app feature, you will be able to look through every single communication as the documents are extracted in real life and then stored in the cloud, allowing you to access past conversations at any given moment.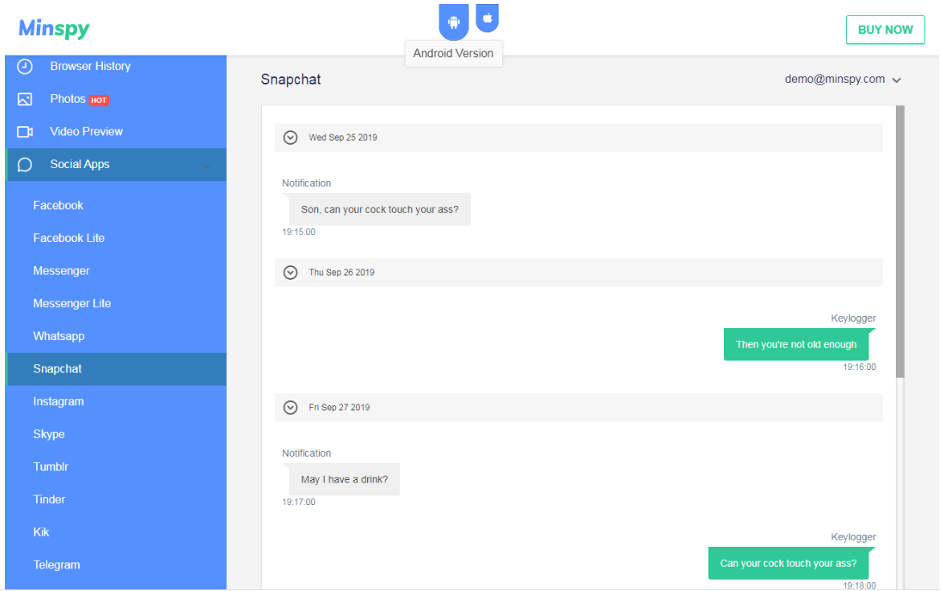 Minspy Instagram Tracker
With Instagram monitoring, you will be able to access the stories, posts, and DM's of the person using the tracked device. All of the data from their communications will be uploaded to the cloud so that you can access it from your Instagram spy dashboard even after it has disappeared from Instagram.
WhatsApp Monitoring
WhatsApp messages are normally encrypted, which is why it is often hard to track them. However, with Minspy, tracking WhatsApp messages in real-time becomes possible. All of the media sent through WhatsApp are also uploaded to the cloud, which allows you to get a full idea of what each WhatsApp chat looks like.
Compatibility
The Minspy app is compatible with most iOS and Android Devices. In terms of compatibility for Android, devices need to be running on Android 4 or higher for Minspy to run smoothly. Most big phone manufacturers, including Samsung, LG, Lenovo, Huawei, and HTC, all make devices that support Minspy. For Apple users discerning whether a device is compatible with Minspy is even simpler as all you will need to do is check whether the iOS device can be linked to an iCloud account. Therefore, most modern smartphone devices are compatible with Minspy.
How to Use Minspy
To use Minspy, you will need to install the app on the device you would like to be able to track. Once the app has been bought and installed through the official Minspy website, you can open and install it on the device. This will include setting up your login details, the ones that you will use to track the device.
Once everything is set up, the app will continue to run invisibly in the background and upload real-time data about the usage of the phone to the cloud. To review the data uploaded, you will have to log in to the Minspy dashboard using your credentials from a different device and monitor the phone usage.
How to Install the Minspy App for Android
To install the Minspy app for Android phones, you will first need to:
Register to Minspy and prepare the device you want to install Minspy on. From the official Minspy website, you can press the sign-up button to create your account.
Once you have registered with the app, the setup will begin. This will prepare your device to be able to monitor the device. As part of the setup, you will also need to select the operating system of the device. For Android, you will then need to go to "settings > Lock Screen and Security" and enable Unknown Sources. You have to also disable the "improve harmful app detection" and "scan device for security threats options.
Then you can click on the Setup Wizard Page and download the APK through the link. Open the APK from the phone for the application to be installed.
How to Install Minspy for iOS
To install Minspy for iOS, you will first need to:
Visit the official Minspy website and register an account with them.
After the account has been registered, you will be able to proceed with the installation of the application onto your device.
From there, open the Setup Wizard and select your phone OS to install the Minspy app for iPhone.
You will then need to add the iCloud ID details, including the password. This will allow you to track the iOS device you want without jailbreak.
Once you have included the iCloud details, you can select the specific device you would like monitored and begin monitoring.
Pricing – How Much Does Minspy Cost?
The Minspy price comes in different packages and versions. The monthly Minspy subscription costs $9.99 for 1 device, while the Family subscription costs $69.99 per month for three different devices. Depending on how many different devices you want to track, you can select the monthly pricing that works best for you.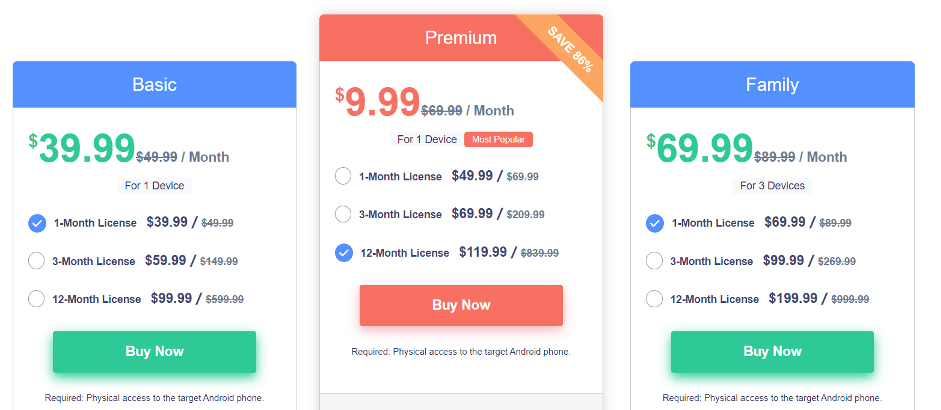 How to Uninstall Minspy
To uninstall Minspy from an Android device, you will need to:
Go to your Phone Settings.
From your Phone Settings, press on Security and then choose the option Device Administrators.
From there, choose the option Update Service and then Deactivate.
Once you have completed this process, go to the Settings menu and then go to the Apps.
You can then uninstall the Minspy app for Android from your device completely. Monitoring of the device will also completely stop.
Customer support
Minspy has a very active customer support team that is there to answer every single inquiry you might have. This is often noted in Minspy reviews as a big plus of the Minspy phone tracker. They have a contact us option directly on their website, which allows you to submit forms and inquiries directly to their team. Their team is available 24/7 to answer all inquiries as well as troubleshoot any problems you might have.
They also have an FAQ and Support Center option, which allows you to find solutions to any problems you might have relating to the Minspy app.
Minspy Compared to Other Apps
| Feature | Minspy | Snoopza | Spyic | Spystealth |
| --- | --- | --- | --- | --- |
| Calls and messages | Yes | Yes | Yes | Yes |
| Social media monitoring | Yes | Yes | Yes | Yes |
| Stealth mode | Yes | No | Yes | Yes |
| IMEI tracker | No | No | Yes | No |
| Keylogger | No | Android only | Yes | No |
FAQ
Is Minspy legit? 
Minspy is a legitimate app that offers excellent monitoring and tracking features that extend from the phone's location to tracking and monitoring the actual phone usage. There are also phone restriction options for greater safety. 
Is Minspy safe?
Minspy is completely safe to use as it allows you to track everything through a carefully designed environment. Everything can be found on their completely secure service, thus allowing you to take full advantage of the tracking capabilities. 
Is Minspy legal? 
Minspy is 100% legal to use. However, depending on the country you are located in, there may be limitations to the spy software you are allowed to use on another person's device. This is why it is important to check your local laws before purchasing. 
Is Minspy free?
Minspy has a subscription cost for the tracking services, which can be paid monthly. There are many different plans available that allow you to choose the best option based on how many devices you want to track. There is also a free download of the demo version available.  
Does Minspy really work? 
Minspy works great for tracking another person's location as well as for monitoring all of the activities on their phone. It allows you to remotely track everything as long as the installation is completed properly. 
Does Minspy notify the other person?
Minspy runs invisibly in the background, which means that the other person won't be able to tell that Minspy is tracking their device. It will also not allow for any notifications on the device of the person being tracked that note Minspy's existence. 
Reviews on Minspy phone tracker all agree that it is an all-around excellent tracking app that takes monitoring devices to a whole new level by allowing users to track both the phone's location and activities. From monitoring call logs to tracking location, everything is accessible remotely through the Minspy cloud for you to take advantage of. 
Reviews on Minspy phone tracker all agree that it is an all-around excellent tracking app that takes monitoring devices to a whole new level by allowing users to track both the phone's location and activities. From monitoring call logs to tracking location, everything is accessible remotely through the Minspy cloud for you to take advantage of.