mSpy App Review 2023
Affiliate Disclaimer: SpyPhone.App may earn a commission from purchases made through our links, at no extra cost to you. Our reviews are unbiased and based on our evaluation of the products and services. Your support through these links helps us maintain our website. Thank you for your support!
The benefits of the internet are undeniable. Yet, it may sometimes leave your children vulnerable to online predators, distract your employee's productivity at work, or shake your relationship with a cheating spouse. mSpy phone tracker offers you an all-in-all monitoring service with the hottest features and affordable prices.
mSpy Review Shortcut
Here is a sneak peek at the essentials of the top-notch mSpy app:
What We Liked in mSpy
We like the mSpy keylogger feature that catches all phone activities through keystrokes and shows which sites are visited and what messages are sent or received. Deleted chats and call logs are also captured. The second-best feature is the keyword alerts which enable parents to set a safe online border for their kid's web activities.
What We Didn't Like in mSpy
While jailbreaking is not required by the app, some fundamental monitoring features such as social media tracking are missing if your iPhone is a non-jailbroken device. Plus, call recording and microphone control are not possible, and the tracker may fail to report call logs deleted within 2 minutes.
What Is mSpy App?
mSpy app is a legit spying software that allows remote control of your kid's, spouse's, and employee's cell phone discreetly. It provides extensive mobile monitoring for business environments that promote social media-free shifts. You can also spy on your spouse's phone without them knowing and get detailed reports on their daily mobile habits.
As one of the best phone spy apps in the market, mSpy offers its users a list of rich features for both iOS and Android devices. Customers can get extensive reports on call logs, contacts, and text messages. Plus, a detailed monitoring service is provided for Instagram, Snapchat, WhatsApp, Facebook Messenger, etc., and all private chats can be viewed.
With the advanced keylogger feature, the software tracks the keystrokes of your child and offers compact parental control on web activities, visited pages, social media DMs, and installed apps. Moreover, harmful keyword alerts can be activated for the target device, and inconvenient apps can be blocked via a functional mSpy dashboard.
The secure app offers doubtful spouses an accurate GPS tracking service along with geofencing, making it easier to know about the whereabouts of your partner and catch them red-handed. In addition, the screen recorder feature captures a screenshot every time your husband's or wife's phone screen changes.
How Does mSpy Work?
mSpy phone tracker helps millions of people around the world for the safety of their loved ones. It also supports businesses for the productivity of the workplaces and helps spouses to bust disloyal partners. But how does it work?
User registration and a completed payment process are required to install mSpy on target phone. After the user grants the necessary permissions, the setup is finalized, and the mSpy app starts running in the background discreetly. A continuous flow of data transfer from the target device begins, and all offline and online phone activities drop on the user control panel.
Supported Devices
mSpy tracking app is compatible with Android cell phones and iOS devices. Rooting is not necessary for Android phones, and one-time physical access initiates the spying process. The installation process does not take more than a couple of minutes, and the user manual on the website provides an easy setup.
For iPhones, both jailbroken and non-jailbroken devices can be tracked successfully. Customers can use iCloud credentials to run the mobile app in the background remotely or get physical access to the cell phone for jailbreaking. However, it should be noted that some features, such as social media monitoring, only apply to jailbroken iOS devices.
App Performance
mSpy features a long list of tracking services for both Android and iOS devices, and the overall app performance is satisfying. This mSpy review investigates the battery consumption, app speed, data synchronization intervals, and updates of the monitoring tool and how it affects the tracking efficiency and user experience.
Is mSpy Safe?
Is mSpy safe to use? Does mSpy work on iPhone and Android OS safely and discreetly? Well, these are only two of the questions you may have in your mind while considering a reliable phone tracker app for your needs.
mSpy phone tracker is a legit cell phone spyware equipped with high-functioning security systems and valid encryption standards. From used network connections to phone hardware and software tools, every step is scanned and updated for a safe data transfer. The app performs spying services with effective online measures and aims to protect user confidentiality. Let us dig deeper and find out how you can use mSpy to safely check on your kids or spy on your spouse's phone without them knowing.
How to Use mSpy
To start using mSpy, you need to choose a subscription package for your mobile device. Once this step is completed, the easy setup process begins.
How to Set Up mSpy
After picking up the mSpy pricing plan you need, you can proceed to the installation stage. The spyware setup does not bother users with long and complicated procedures and requires a few simple steps to use mSpy without target phone. Users are immediately directed to the mSpy login page and can start monitoring through the control panel.
Android and iOS devices come with different installation stages, and mSpy offers spying services for both rooted and non-rooted mobile phones. mSpy is not a spy app for Android without access to target phone, and some useful features, such as geofencing and social media tracking, are only available for jailbroken iPhones.
mSpy App for Android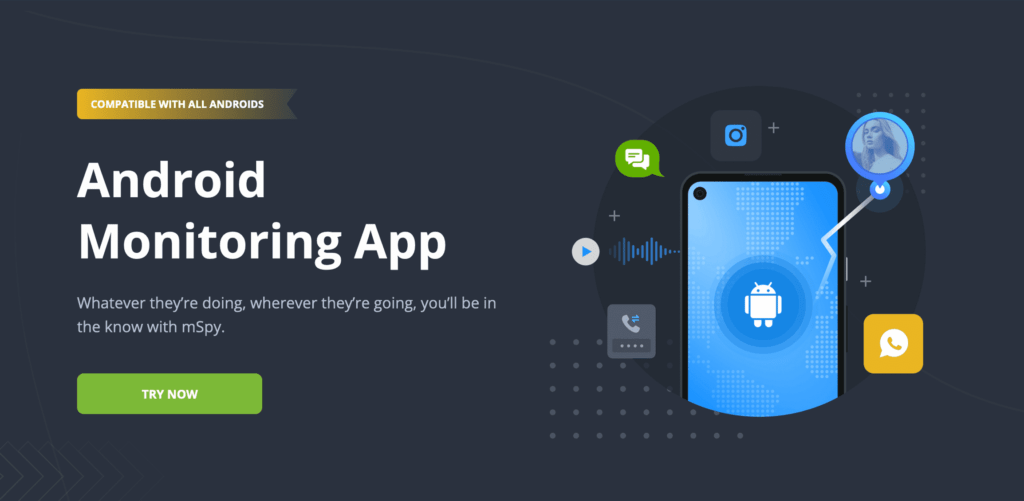 mSpy for Android offers the best mobile tracking features for all the phone activities of your loved ones and employees. After the successful installation, the app remains hidden in the OS and keeps collecting data without any interruption. As it does not show up on the installed apps list in phone settings, it cannot be noticed or removed by the Android owner.
You can check social media posts, private chats, and emails on your Android phone. Mostly contacted names drop on your user panel immediately, and you may easily locate your spouse's location on the map or get an alert if your child exceeds the limits you draw on the neighborhood.
How to Install mSpy on Android
To initiate the Android installation, follow the steps below.
Go to mspy.com and click on "Try Now"
Enter a valid email address and choose the mobile brand you want to track
Pick up your mSpy plan and fill in the necessary information to complete the payment
Get access to the target phone and turn on "Install Unknown Apps" from the phone settings. Also, visit Google Play Store and disable Play Protect
Download mSpy and run the mSpy apk with the URL provided
Enter the registration code from your control panel and start monitoring
mSpy for iPhone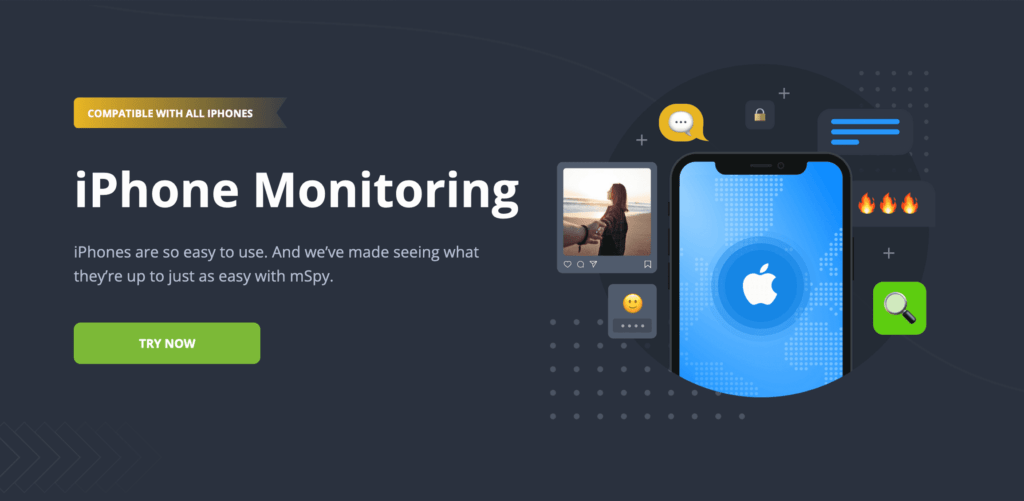 As the world's top-tier phone brand, iPhone is famous for its challenging mobile security systems. Yet, the hardworking mSpy team developed multiple setups for iOS devices, allowing discreet monitoring of offline and online phone activities. Plus, jailbroken iPhones are supported with advanced monitoring tools.
The iCloud credentials of the phone owner are enough to install mSpy remotely on an iPhone or iPad. However, if there is a two-factor authentication, physical access is required. Call logs, SMS messages, web history, calendar appointments, hidden online chats, etc., can be tracked in non-rooted iOS devices, while jailbroken iPhones receive extra monitoring services such as social media tracking.
How to Install mSpy on iPhone Without Jailbreak
For non-jailbroken iPhone installation, mSpy does not necessitate physical access to the target device, and a one-time Wi-Fi sync via your desktop does the work. Once the setup process is completed, you can track calls, SMS messages, address book, and notes. In addition, chats from instant messaging apps such as WhatsApp, Viber, and LINE drop on your mSpy dashboard as long as the iPhone is connected to the same Wi-Fi network.
To start monitoring your kid's or spouse's iPhone without jailbreak, you can follow the stages below.
Visit the mSpy official website and sign in to your user account.
For the first setup, choose "Local Sync".
Install the mStar desktop app for your Windows or Mac.
Use a USB cable to start the sync and connect the iPhone to your computer.
mSpy desktop app will start importing data from the connected iOS device.
When the sync ends, plug off the iPhone from your computer and start monitoring it via the same Wi-Fi hotspot.
How to Install mSpy on iPhone Remotely
Remote mSpy setup steps for iPhone consist of the stages below.
Visit the official website and click on "Solutions" – No jailbreak.
Click "Get Started" and choose one of the mSpy plans offered.
Fill in the necessary forms and complete the registration process.
Click on "Log in My Account" and enter the Apple ID details of the target iPhone.
Check if the backup is on and two-factor authentication is off. If not, get physical access to the device and adjust the settings accordingly.
Follow the instructed setup steps and complete the process.
Go to your dashboard and start monitoring.
mSpy Control Panel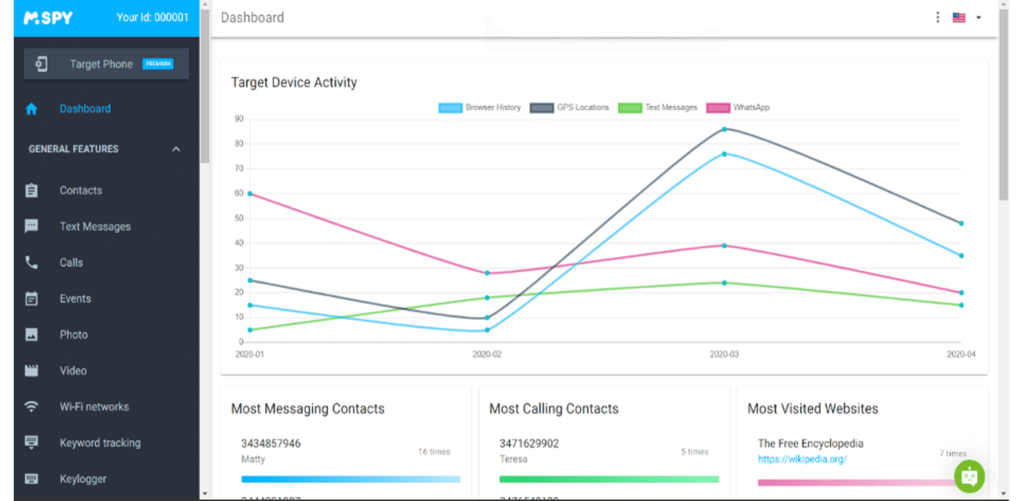 mSpy offers its users an all-in-all and handy control panel where everything you need is listed neatly. The main page consists of essential tracking data you may need, and all other monitoring tools are listed on the left of the screen. The design is eye-pleasing and helps users find what they are looking for easily.
The homepage presents the device activity of the tracked cell phone with a colorful graph. The frequently contacted names are provided in detail, and a zoomable map view is available for location tracking. The IMEI, Wi-Fi connection, operator name, and battery data are also included at the bottom of the page.
mSpy Features
The reliable mobile tracker offers a wide range of monitoring services for Android and iOS devices. From Instagram spying to website blocking, let us discover the details together.
Spying on Messages
Once you install mSpy on iPhone or Android, all text messages, including the ones shared on online apps, become accessible to the user. You can read private chats, social media DMs, and hidden conversations remotely without leaving a trace and protect your child's online safety. Or, you can dig into your partner's secret messages and reveal the truth yourself.
All sent or received SMS messages, WhatsApp chats, Instagram direct messages, and Skype conversations of your kid or spouse drop on your control panel with time and dates. Plus, the screen recording feature also captures real-time screenshots of every new interaction made by the phone owner.
Location Tracking
Are you worried about your kid's whereabouts? Do you feel like your partner is not at the location they told you? Do your employees prolong their lunchtime outside? mSpy is your best agent to find out the truth. Connect to your login page, enter your user panel, and follow them like a shadow.
mSpy phone tracker offers an accurate location tracking service with a quality maps view. The real-time coordinates of the phone owner are presented on your user dashboard, and the GPS data is refreshed in short intervals. The geofencing feature and boundary alerts are also available for mSpy Premium subscriptions and jailbroken/rooted mobile devices.
mSpy Keylogger
Keylogger is one of the most outstanding features of the mobile spying industry as it enables tracking of other phone apps and activities. In simplest words, it records every input made on the target phone and provides a clear picture of passwords, usernames, web searches, messages, and emails.
mSpy keylogger applies to all rooted/jailbroken phones and saves the keystrokes of the mobile device precisely in the user dashboard. Everything typed on the phone screen is recorded along with the deleted texts. In this way, parents can get observe their child's internet usage, and employers can analyze the social media interactions of workers during office hours.
Monitoring Web Activities
The mSpy monitoring tool tracks down the web activities of your spouse and presents detailed data reports on frequently visited online pages and saved bookmarks. Plus, keyword alerts protect your kid from harmful internet sources and allow you to restrict the web pages to be entered.
All browser history is saved in the user dashboard, and screenshots are taken for every new web activity. Moreover, the keylogger feature shows all Internet entries, including the incognito search bar items, and deleted history details can still be found on the saved data reports. Keystroke alerts for harmful content are also available in the My mSpy panel.
mSpy Premium Features
mSpy subscription packages include 2 plans for customers. Basic users benefit from multiple monitoring tools while premium members receive additional features including social media monitoring and app blocking.
Tracking Calls and Contacts
Having phone calls is one of the main functions of modern cell phones, and having an eye on the call history of your loved ones can provide some information about their social connections. mSpy becomes your third eye and shows you who is contacted behind closed doors.
The cell phone tracker spies on all incoming and outgoing calls and prepares a list of the most contacted names. Timestamps, the length of the phone calls, and the frequencies are recorded in the user dashboard along with contact details. Deleted call logs may not be tracked properly, yet the keylogger saves the call entries made by the phone owner.
Managing Apps
Today, it is very difficult to track down the online footprints of your child and the mobile applications they download on their cell phones. However, viewing and controlling the installed apps is now possible with the handy monitoring features of the mSpy tracker.
The installed apps section on the user dashboard lists the applications of the target phone with the relevant app icon next to them. Besides, the most used apps, their frequency, and dates can be viewed from the graph on the control panel, and premium members can restrict the app's usage by blocking them.
Spying on Social Media Accounts
Top social media platforms, instant messaging, and dating apps such as Instagram, Facebook Messenger, Snapchat, Kik, and Tinder can be tracked by the mSpy app. All followed/follower information, as well as posts and chats, are shown in the user panel. Plus, screenshots are sent to the control panel for every new online interaction.
WhatsApp is one of the most popular online messaging apps and uses fully encrypted security systems. With the help of the keylogger and screenshot features, the mSpy WhatsApp spy app tracks WhatsApp conversations successfully. The name of the contacts, duration, frequency, and time of the messages are recorded in the dashboard.
Highly popular among teenagers, Snapchat allows individuals to send and receive time-restricted images and messages. However, it is also the perfect place for online abusers. mSpy Snapchat spy app helps parents control their kid's Snapchat usage by providing names and screenshots of chats and shared media files.
mSpy Instagram tracker grants full access to online posts, stories, and videos shared by the account holder. Plus, app data regarding the usernames, direct messages with timestamps, shared website links, images, and other media sources is saved in the dashboard with the help of keylogger and screen recording features.
mSpy Basic vs. Premium
mSpy offers its users Basic and Premium packages for 1-month, 3-month, and 12-month subscriptions. While general features apply to both packages, the extent of the advanced monitoring services provided varies according to the plan you choose.
Which package is better for you depends on your needs. However, Premium plans help you save more money with extensive features. Here are the details:
| Tracking Feature | mSpy Basic | mSpy Premium |
| --- | --- | --- |
| Calls and Contacts | ✅ | ✅ |
| SMS Messages | ✅ | ✅ |
| Emails | ✅ | ✅ |
| Calendar | ✅ | ✅ |
| Media Files | ✅ | ✅ |
| Keylogger | ❌ | ✅ |
| Social Media Platforms | ❌ | ✅ |
| Online Messaging Apps | ❌ | ✅ |
| Web and Bookmark History | ✅ | ✅ |
| GPS Tracking | ✅ | ✅ |
| Geofencing | ❌ | ✅ |
| Screen Recorder | ❌ | ✅ |
| Installed Apps | ✅ | ✅ |
| App and Website Blocking | ❌ | ✅ |
| Keyword Alerts | ✅ | ✅ |
| Wi-Fi Networks | ✅ | ✅ |
mSpy Lite App
mSpy Lite is a phone tracker app called that helps families pin down the exact location of their kids in minutes. It also allows you to set safe zones on the map and activate boundary alerts. Parents can listen to the surroundings of the target phone, check the contact list, and go through the installed apps. An alarm button is also available for an emergency.
The app can be found on both App Store and Google Play Store, and both free and charged versions are offered. A free trial is also available for newcomers who want to have a sneak peek at the useful features.
mSpy Price: How Much Does mSpy Cost?
mSpy subscriptions come with affordable fees and grant users extensive tracking tools for both Android devices and iPhones. Plus, exclusive discounts await new members. Single-device tracking is available for all plans, and a new subscription is required for a second device.
Both Basic and Premium packages track call logs, messages, emails, browser activities, and GPS. Call recording is not a part of mSpy services, but detailed reports on calls and contacts are provided with timestamps. Advanced trackers such as geofencing and keylogger features are offered for rooted/jailbroken iPhones, and no extra fees are required.
mSpy spyware offers 3 subscription plans for its users. The monthly plan charges customers $48.99 while paying quarterly and annually saves you more than 30% – $28.00 and $11.67 per month. In case of an unfixed issue, you can cancel subscription and benefit from a 14-day money-back refund policy.
mSpy Payment Methods
mSpy offers various subscription plans for their services, and the payment methods they accept include credit/debit cards. They commonly accept major credit cards like Visa, MasterCard, American Express, and Discover.
Also, as mention on their site, they also accept:
Apple Pay
Google Pay
Sofort
Boleto Bancario
iDeal
Keep in mind that some payment options may vary based on the user's location.
mSpy Free Trial
Does mSpy have a free trial? Apparently No. But mSpy app for iPhone and Android has a demo version that briefly features the most well-known monitoring tools of the top-tier phone tracker. Before completing the payment process, you can have a glance at the user dashboard and controls and check out the best mSpy tracking features that suit your needs best.
mSpy Customer Service
mSpy app has a dedicated support team 7/24 available for all kinds of customer needs. From sign-up to monitoring tools availability, all kinds of problems are addressed professionally. You can get active assistance by clicking on the live chat bubble on the mSpy homepage or by visiting the Contact Us section for an email.
The issues reported via emails are replied to within a short time, and useful solutions are provided even for the most complex situations. Most of the mSpy reviews and customer comments are satisfied with the successful mSpy team and their guidance.
mSpy Removal
Removing mSpy is not a big deal. Users can use a malware detection app, uninstall the tracker manually from phone settings, or simply perform a factory reset.
How to Cancel mSpy Subscription
The well-known spying software offers its customers a 14-day money-back guarantee if they fail to fix a problem caused by mSpy itself. However, not every cancellation request is processed unless the condition above exists firsthand. Users who purchased a plan for an incompatible mobile device or lost the encryption key provided, for instance, are rejected.
Expert customer services provide online help for all kinds of problems throughout the process and do their best to satisfy customer needs. If the 14 days are not exceeded, and an unresolved issue remains, on the other hand, they initiate and ensure the safe refund process for the users.
How to Remove mSpy from Android
Customers can visit Google Play Store and download a malware detection tool to uninstall the mSpy app from Android devices. However, if you do not want to install another app for it, you can go to phone settings – Apps and find Update Settings. This is the app name mSpy uses to disguise. Click on "Uninstall", and the task is accomplished.
If all these stages seem complicated to you, simply reset your phone to factory settings. This will remove all spyware apps on the target Android cell phone and quit the monitoring operations immediately. However, keep in mind that all three options require one-time physical access and cannot be completed remotely.
How to Remove mSpy from iPhone
As mSpy is designed to hide itself in the OS, it will not appear in the installed apps list. Thus, removing the app from the iOS device will not be possible unless you use a third-party malware app to detect it or perform a manual uninstalling process.
To remove mSpy from iPhone manually, users first need physical access to the target device. A trustworthy spyware detection tool obtained from the App Store may locate mSpy in minutes and solve the problem easily. Or, you can simply activate two-factor authentication from settings and change the iCloud password. If those do not work, you can admit to factory reset and uninstall mSpy forever.
mSpy Strengths and Weaknesses
mSpy phone tracker has a fine reputation among customers and review authors. However, like other spyware apps, it has pros and cons. While mSpy works on iPhone and Android phones successfully, the tracking services provided vary according to the subscription plans and the rooting/jailbreaking option. Here are the best and worst features the monitoring app promotes:
Strengths:
100% stealth mode
A long list of social media apps can be tracked
Comprehensive keylogger feature
Tracks deleted messages
Keyword alerts
Accurate GPS tracker and Geofencing
14-day mSpy refund policy
Weaknesses:
Some advanced features do not apply to non-jailbroken iPhones
Call recording is not available
Subscription packs do not support multiple-device tracking
Final Verdict: Is mSpy Legit?
mSpy
There are plenty of spying apps in the market, and finding a reliable spying tool for your loved ones is not an easy task. Security and confidentiality are the key factors to be considered before investing money in third-party spyware and providing all your data. mSpy cell phone tracking app promises all and more with affordable prices. In conclusion, the top-notch features and the legit and discreet policies of the app make mSpy worth your money. Plus, a demo version awaits you on the official website if you need more information about the monitoring services provided. Visit mspy.com now and decide for yourself!
There are plenty of spying apps in the market, and finding a reliable spying tool for your loved ones is not an easy task. Security and confidentiality are the key factors to be considered before investing money in third-party spyware and providing all your data. mSpy cell phone tracking app promises all and more with affordable prices. In conclusion, the top-notch features and the legit and discreet policies of the app make mSpy worth your money. Plus, a demo version awaits you on the official website if you need more information about the monitoring services provided. Visit mspy.com now and decide for yourself!