TheOneSpy App Review
Affiliate Disclaimer: SpyPhone.App may earn a commission from purchases made through our links, at no extra cost to you. Our reviews are unbiased and based on our evaluation of the products and services. Your support through these links helps us maintain our website. Thank you for your support!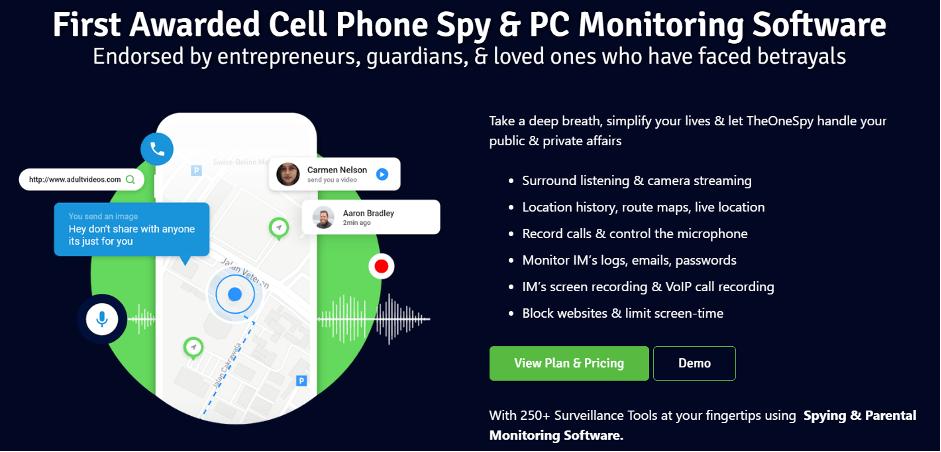 The American Heart Association estimates that children between the ages of 8 and 18 spend an average of 7 hours a day staring at screens. When seen on a 24-hour scale, that number may appear healthy. However, in reality, that should be a frightening revelation as it can affect the child in many ways. There are many monitoring products on the market, but can they work efficiently as parental control tools?
Concerned parents have considered methods to limit their children's screen usage, and all solutions lead to parental control applications. In this post, we will make an extensive TheOneSpy review and its essential features in detail. We will also consider its price, benefits, and downsides.
General Information
What Is TheOneSpy App?
Parents and employers use the TheOneSpy tracking app to monitor their kids' or staff's phone and computer activity. Once launched on a targeted device, it collects data such as text messages, phone conversations, and GPS positions. This system can also track time-bound social media actions on Snapchat, Instagram, Whatsapp, and other platforms. The person who wants to spy on another person's phone will have access to a summary of these actions via a web portal.
Parents may feel more secure about the welfare of their children thanks to TheOneSpy's recording and live streaming features. It will also be possible for employers to foil any workplace misconduct, intellectual property theft, and fraud efforts. The TheOneSpy phone app will make it much easier to track a device and keep its activities in check remotely.
The spy phone app developers tout the program as one of the best phone trackers on the market today. TheOneSpy dashboard is quite straightforward to use, and you can get a lot of information from here. Furthermore, the dashboard may be shown in various languages, including French, English, Spanish, Portuguese, Chinese, Italian, and others.
How TheOneSpy App Works
The full phone info is transferred to our cloud after using TheOneSpy app. If you have solid internet access, it just takes 5 minutes the first time. Following that, all data and records are uploaded in real-time. Your whole set of settings and preferences, as well as the data from the target phone, are preserved in the cloud. It collects all data from the target device and uploads it whenever there is new device activity.

By logging in to TheOneSpy Console/Dashboard, you may see all monitoring data, including logs and details, at any time.
The best aspect of the TheOneSpy app is that you may control the target phone by sending orders from the member area, such as bugging, backup, starting or stopping applications, etc. Furthermore, all of your preferred preferences and settings are logged onto the centralized, safe cloud for it to work following your supplied instruction. Your orders are redirected by the servers to be carried out on the target phone.
Most people find it intriguing that users may remotely transmit commands from the TheOneSpy tracking app to the target devices and perform and enjoy its excellent surveillance with over 150 functions.
Pros and Cons
The advantages of TheOneSpy monitoring software are surely one of the reasons why most people consider the app a viable alternative to other top phone tracking apps such as uMobix. Some of its advantages are as follows:
It is simple to set up.
It is inconspicuous.
It provides users with peace of mind and security.
It is correct.
It operates 100% covertly.
However, the drawbacks are something you can't easily ignore. Some of its cons are:
It is expensive.
You need to root or jailbreak to be able to access all features.
TheOneSpy Tracking App Features
Following this TheOneSpy review, it is safe to say the remarkable capabilities of the app place it among the top spy apps for iPhone and Android on the market. Some of the more intriguing or noticeable aspects of the TheOneSpy tracking app are as follows:
Phone Spy
The TheOneSpy monitoring software is a good choice if you need a reliable phone spy. The TheOneSpy dashboard allows you to watch everything occurring around the targeted user in crystal-clear graphics after the spyware is fully configured on a target device. The TheOneSpy app controls the target device's front and back cameras to provide real-time video and audio surveillance.
Similarly, this software has "360 Live Surround Listening" capability, which allows you to remotely control the phone MIC of the targeted device. The phone tracking app enables the target device's microphone and lets you listen to real-time phone calls. So you can spy on someone's phone without them knowing or suspecting that you were there.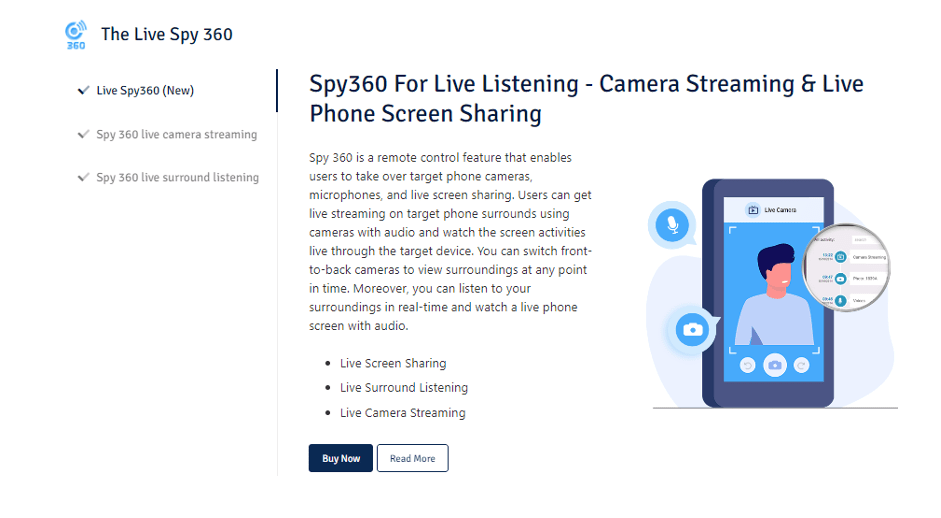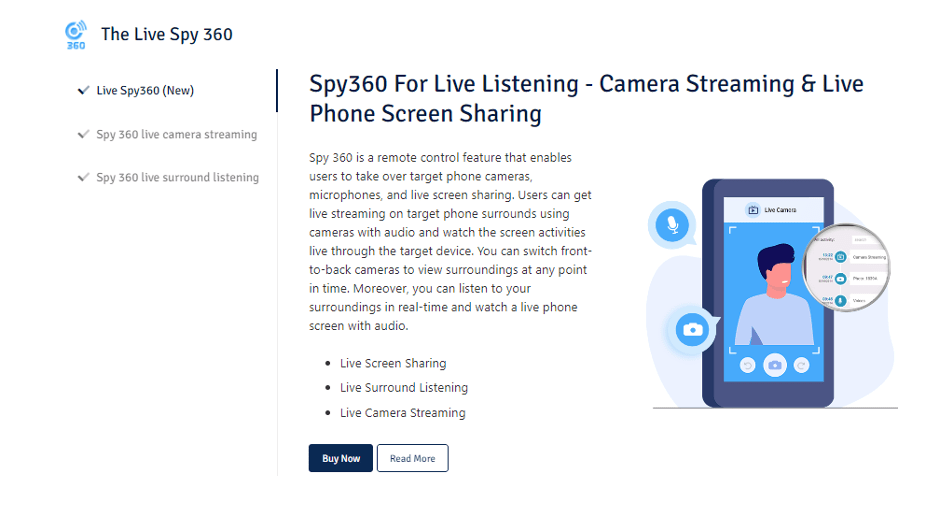 Messages
Texting is regarded as a feasible communications alternative because of the TheOneSpy app's reasonably inconspicuous function. Many of the hazards and uncertainties we face in our daily lives have shifted into cyberspace. Most youngsters can no longer use the internet safely, and adulterous couples now have more options to cheat on their better half. All of these hazards are eliminated with the use of TheOneSpy's message monitoring capability.
You may use the program to monitor sent and received texts on a certain device easily. The most intriguing aspect is that even if the user receives the message and deletes it from their inbox, you will still be able to view it from your TheOneSpy dashboard whenever you want.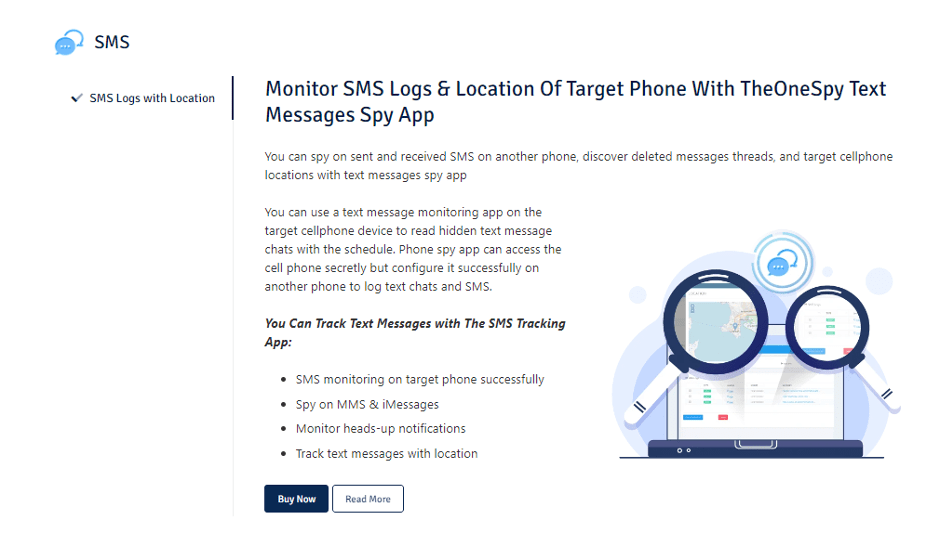 Social Media Spy
The TheOneSpy surveillance program allows you to monitor the social media activities of certain people. Instagram, Snapchat, Viber, WhatsApp, Line, Hike, Tinder, IMO, and Tumblr are the social media networks supported by the app.
TheOneSpy software allows you to follow various actions on the supported social media platforms, including live record messaging screens, message screenshots, spy on Snapchat chat conversations, track messages logs, shared images, and more. The best thing is that even if you delete the messages, you can still read them on your TheOneSpy dashboard. It is the ideal spyware to spy on someone's phone without them knowing.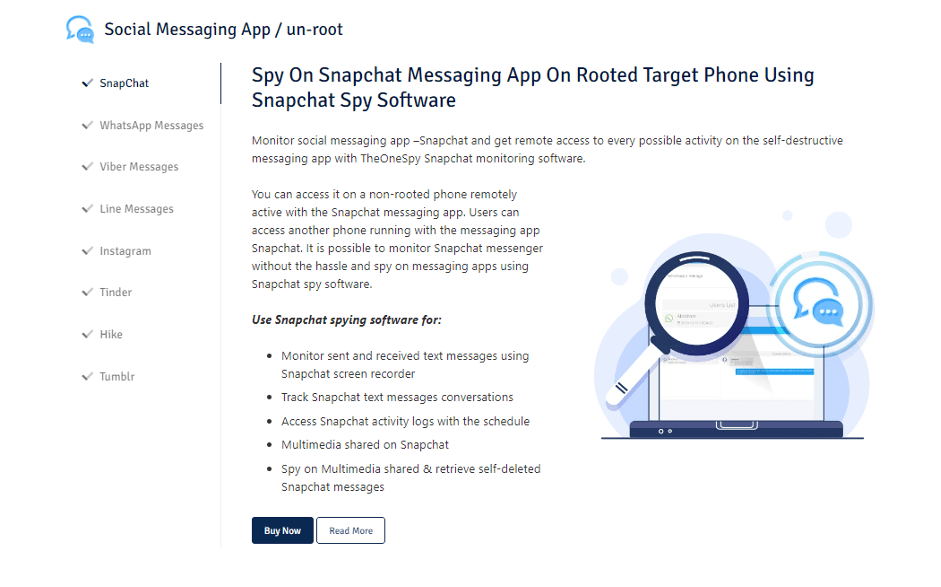 Keylogger
Many phone monitoring software on the market have lost relevance due to a lack of keylogging features. This keylogging tool allows parents to keep track of any adjustments their children make to prevent access to their phones or computer. This monitoring app, interestingly, offers keylogging and lets you record messaging keystrokes, WhatsApp keystrokes, and password keystrokes.
This keylogger capability performs admirably and does not necessitate root or jailbreaking the targeted device. It also works on the targeted device for SMS, emails, and instant messages. It relieves the burden of having to guess the individual's device passwords.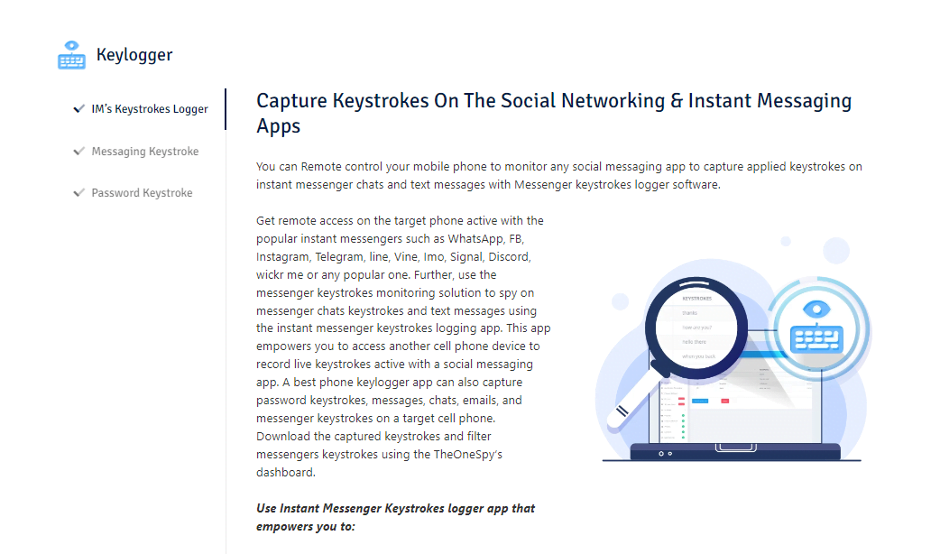 Location Tracking
Are you concerned that your children may be exposed to risky activities at their new school and want to keep track of their whereabouts? Then TheOneSpy is the tracking app for you. This is a dependable option for anyone who wishes to discover someone's GPS position in real-time and without difficulty.
TheOneSpy tracking app lets you remotely view your loved one's cell phone location from the TheOneSpy console without asking for the user's consent. With this capability, if you suspect they are in danger, you may swiftly dispatch assistance and keep one step ahead of the problem.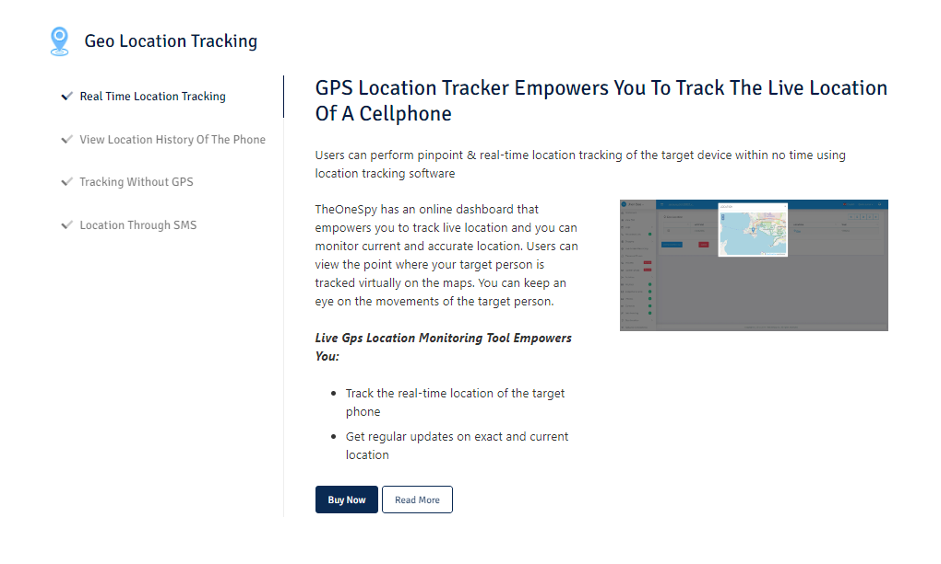 Device Control
Have you considered what it might be like to control a gadget from afar? It will undoubtedly be a useful ability to have. Fortunately, the TheOneSpy app is designed to provide you with that ability.
You may remotely view the applications that your loved one has loaded on their phone if you have this app installed on their phone. You can block the app and restrict its use if you believe it is inappropriate. As a result, among hidden spy apps for Android and iPhone, TheOneSpy is considered one of the best ones available.
Compatibility
The TheOneSpy tracking app is compatible with iPhone and Android smartphones and Windows and Mac computers. Other phone types and models may also be supported, including Sony, Nokia, Samsung, and Motorola. It is also meant to function on iPhone devices; however, it is likely best recognized for its role in Android device tracking.
However, for the program to operate properly on Android or iPhone, you may need to root or jailbreak the device. If the phone is not rooted, it will still operate, but with restricted capability.
TheOneSpy App Installation
It's worth noting that installing this application on a device is as simple as scrolling through your contact list. Follow the instructions below to install the TheOneSpy tracking app on a device.
How to Install TheOneSpy on iPhone
After you've downloaded the app to your iPhone, you may use the instructions below to install it.
Choose from the different packages based on their cost and features.
After purchasing a membership, the end user will receive TheOneSpy login credentials to access the online dashboard.
After you have logged into TheOneSpy, the end user must locate the installation guide.
Physically get access to the target device.
Now, proceed with the installation instructions.
You are now ready to snoop on your intended iPhone user. The software will not appear in the menu and will operate in the background, undetected.
How to Install TheOneSpy on Android
Installing the TheOneSpy tracking app on Android is a breeze. To do this, you must:
Allow yourself a few minutes of access to the target user's device.
Turn on "Installing from unknown sources," which is usually found in phone settings > security > unknown sources. By enabling "Unknown Sources," you will be able to install apps downloaded from sources other than Google Play.
Visit theonespy.com's download area, download TheOneSpy apk file, install it on the target device and activate the software.
That's it; the target device may now be dropped. TheOneSpy for Android doesn't show up in the app drawer. Therefore, the monitored user won't be aware that a new app was installed.
How to Install TheOneSpy on MacOS
You can follow the Mac machine but must install strong Mac monitoring software. After you have obtained a subscription and credentials, the installation process involves physical access to the laptop and desktop device.
On the target Mac device, begin the installation procedure and turn on the computer tracking program.
You must now take the next step and gain access to sophisticated Mac features.
You may fully utilize the capabilities to track a user's Mac computer devices via an internet dashboard.
The tracking application notifies you of activities on Mac in real-time, with a timestamp.
How to Install TheOneSpy on Windows
You first need to go to the web on your computer and then go to TheOneSpy's official website. You must also subscribe to the window tracking app. Then you'll get credentials in the form of a passcode ID.
Acquire physical access to the target device.
Perform login TheOneSpy on the PC.
Obtain control panel access.
When you have finished all the procedures, you will be able to monitor every single activity the target user has conducted on their laptop or desktop computer.
TheOneSpy Cost
For each type of device, including iPhone, Android, Mac, and Windows-based PC, the TheOneSpy tracking app provides subscription plans at any wallet.
| TheOneSpy for iPhone and Mac | TheOneSpy for Android | TheOneSpy for Windows |
| --- | --- | --- |
| $55 per month | TOS XLite Edition costs $25 per month and $75 per year | $40 per month |
| $105 for 3 months | TOS Premium Edition costs $40 per month and $120 per year | $60 for 3 months |
| $125 for 6 months | | $80 for 6 months |
| $165 per year | | $110 per year |
Customer Support
TheOneSpy app supports ethical monitoring and encourages parental control of children's digital well-being. They understand the risk of too much screen time and have made it easy for parents to control their kids' screen time. Employers can monitor their staff to improve corporate safety and productivity.
The app's helpful support crew is available 24 hours a day, 7 days a week. The support staff is only a few clicks away from addressing your queries, from "how to buy" to "how to install" via email or an application form on the site. According to TheOneSpy reviews, some users find the FAQ section convenient.
FAQ
Does TheOneSpy really work?
Yes, TheOneSpy app is very effective. The phone tracking app is built to meet the new era standard in the phone tracking community. The app gives you access to activities in real time. Furthermore, you can view sent and received messages on chat and SMS even if the user has deleted them from their phone.
Is TheOneSpy safe?
After several TheOneSpy reviews, it goes without saying that the phone tracking app is safe. This is because each user is provided with private login and password that only they can access. Furthermore, the online account employs AES/PKI encryption and HTTPS encryption to ensure the entire security of your online data.
Is TheOneSpy legal?
The app's legality is determined by the purpose for which it is used. If you wish to install it on someone else's device, it is usual to obtain their permission or approval before proceeding. To avoid legal conflicts, you may consult your country's legislation for further assurance.
If you've been looking for a helpful solution to guarantee your children or workers' mobile phone and online activities are safe, login TheOneSpy may be an alternative to explore. However, finalizing this TheOneSpy review, the major significant concern is the costly subscription plans, but everything good has a cost. It is far safer to use it than a cheaper tracker, which may include viruses and expose you to various internet risks.
If you've been looking for a helpful solution to guarantee your children or workers' mobile phone and online activities are safe, login TheOneSpy may be an alternative to explore. However, finalizing this TheOneSpy review, the major significant concern is the costly subscription plans, but everything good has a cost. It is far safer to use it than a cheaper tracker, which may include viruses and expose you to various internet risks.