How to Spy on Your Girlfriend's Text Messages Without Being Caught
Affiliate Disclaimer: SpyPhone.App may earn a commission from purchases made through our links, at no extra cost to you. Our reviews are unbiased and based on our evaluation of the products and services. Your support through these links helps us maintain our website. Thank you for your support!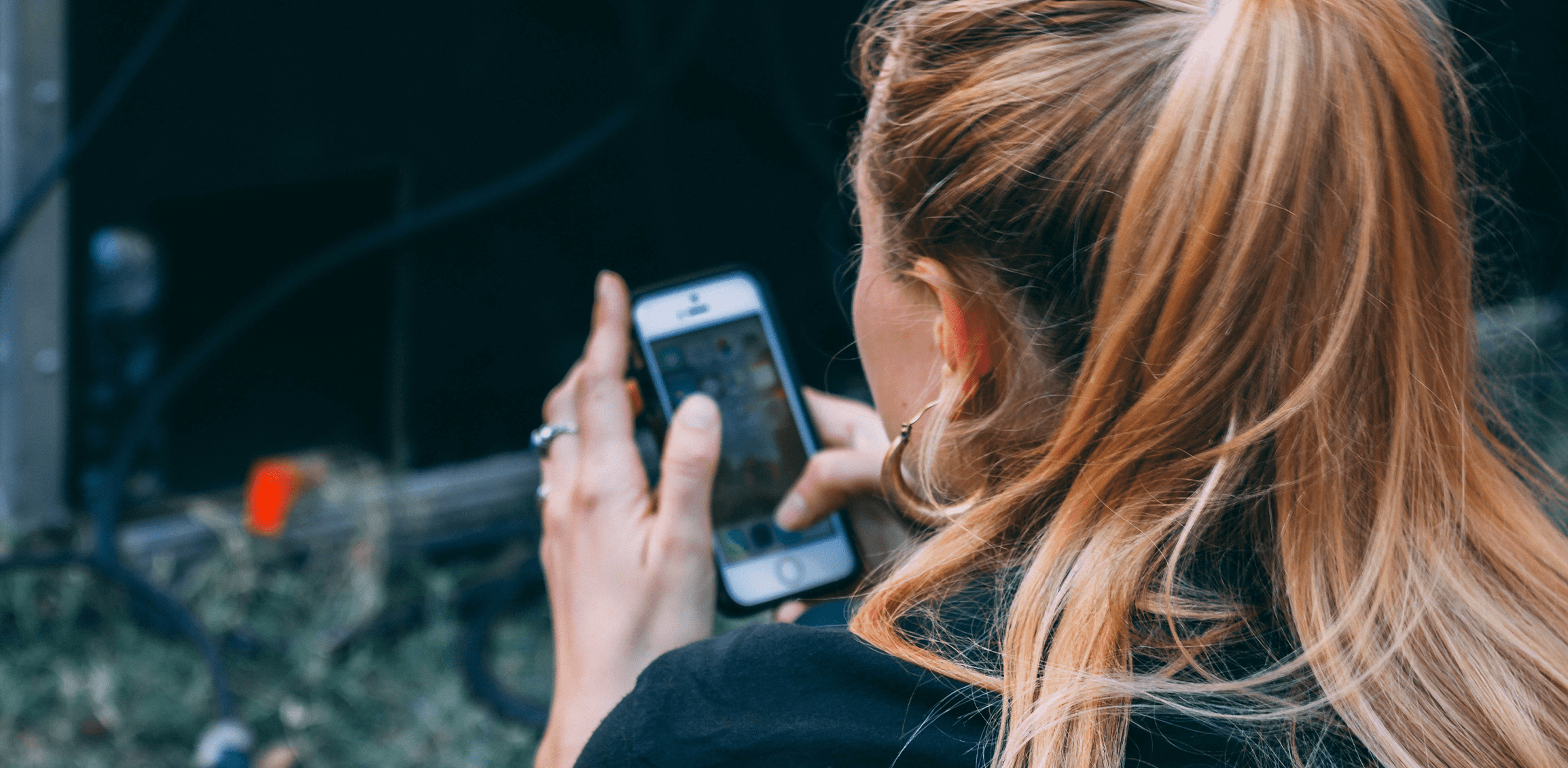 Does your girlfriend spend all day with a phone in her hands, typing something without rest? Such behavior looks suspicious, doesn't it? Luckily there are ways to check on your girlfriend's text messages without her knowing. Keep reading our article to learn more.
Why Would You Spy on Your Girlfriend's Text Messages
Who has never been tempted to glance at the unlocked smartphone of a partner? When you see your girlfriend texting non-stop on Messenger, it unintentionally raises insecurity. However, is snooping on the phone always a bad thing?
Respect for correspondence and trust is the basis of a perfect relationship. However, many couples do not live in Disneyland to have such. Everyone may face communication problems caused by infidelity or jealousy. So, the main reasons to spy on your girlfriend's text messages may be suspicious behavior, constant messaging during the day and night, keeping distance in everyday communication, and many more. Sometimes, the only way to reveal infidelity is to monitor your girlfriend's text messages.
Ways to View Your Girlfriend's Text Messages Secretly
Using cell phone spy apps is one of the most effective ways to get access to your girlfriend's text messages. But don't worry. In our article, we will deliberate on other spying tricks as well.
Top Apps to Spy on Girlfriend's Text Messages
We want to outline the five most known and effective apps to monitor your girlfriend's text messages. We will describe their features, prices, pros and cons, and many more. Get familiar with them to learn about their peculiarities and features, so you can choose your perfect spy app to read text messages.
Best App to Monitor Your Girlfriend's Text Messages – uMobix
uMobix is one of the best-known spy apps available on the market, with excellent mobile tracking and monitoring capabilities. Using uMobix can be a great option to snoop on your girlfriend's text messages.
uMobix spyware is simple to use and does not require complicated installation. It takes 5 to 10 minutes to install and configure uMobix on the target device. To get started, you may either check a demo version of the app or choose a suitable subscription plan and install spy software. Please note that a one-month full-pack subscription plan costs $49.99.
Features:
Monitoring of call records and SMS messages;
Social media and instant messaging monitoring;
GPS location tracking;
Recording everything the user types;
Restricting access to applications and websites;
View calls, contacts, and deleted messages.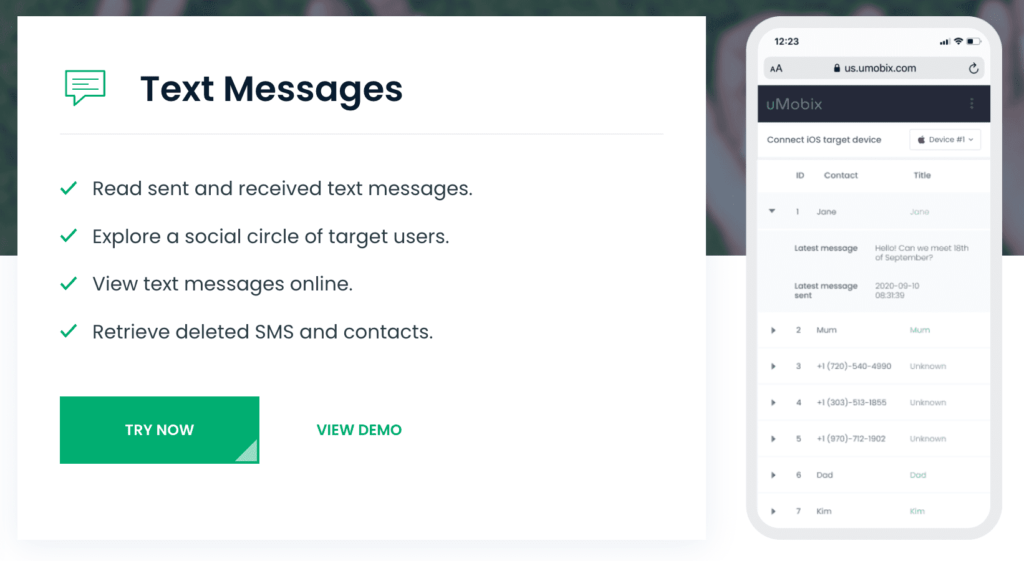 Pros:
Wide range of spying opportunities;
User-friendly interface with an intuitive dashboard;
Easy installation.
Cons:
Keylogger is available only for Android devices;
Activating the search function via GPS consumes a lot of battery.
iKeyMonitor: Free Spying App for Text Messages
The multifunctional and sufficient spy app iKeyMonitor is one of the most popular hidden spy apps for Android and iOS devices. It is compatible with both operating systems, so you may choose any most suitable device to spy on your girlfriend's text messages. Moreover, it is relatively affordable as the one-month subscription plans for mobile devices will cost you only $16.66, and actually, a free plan is offered for an unlimited period (it is limited in terms of features).
Features:
Reading and monitoring messages on WhatsApp, Facebook or Snapchat, and more;
Accessing all incoming and outgoing media files as well as contacts;
Monitoring all incoming and outgoing calls and SMS;
Allowing taking real-time screenshots;
Keylogger feature is available: log any texts your girlfriend types;
Geo-fencing feature;
Viewing the visited websites.
👉🏻 Read full iKeyMonitor review to see the full list of its features.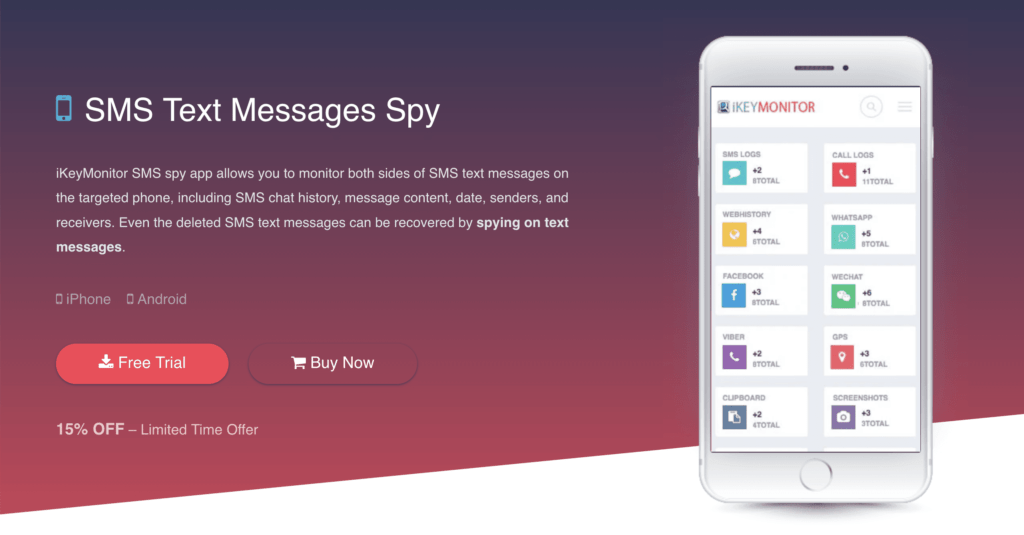 Pros:
A free trial;
A 30-day money-back guarantee;
24/7 customer support is responsive;
The app offers a wide range of features for any need.
Cons:
Additional costs for getting add-on features;
Limited opportunities for non-rooted or jailbroken devices.
View Text Without Access to Her Phone with SpyBubble
SpyBubble is an advanced, user-friendly mobile spy software. You will see that the app offers the most functional and applicable real-life features. With SpyBubble, you won't need everyday access to your girlfriend's phone. However, you might need to find a chance to hold it in your hands for 5 minutes to install and set up the app. After you've done it, you can read your girlfriend's phone like an open book. Please note that the 1-month subscription plan with a 15% discount costs $42.49 only.
Features:
Track your girlfriend's communication on WhatsApp, Snapchat, or Facebook;
GPS location tracker to check on the whereabouts of your girlfriend;
Getting access to all text messages;
Monitoring all incoming and outgoing call logs;
The Keylogger can record every click on the phone, including passwords or messages.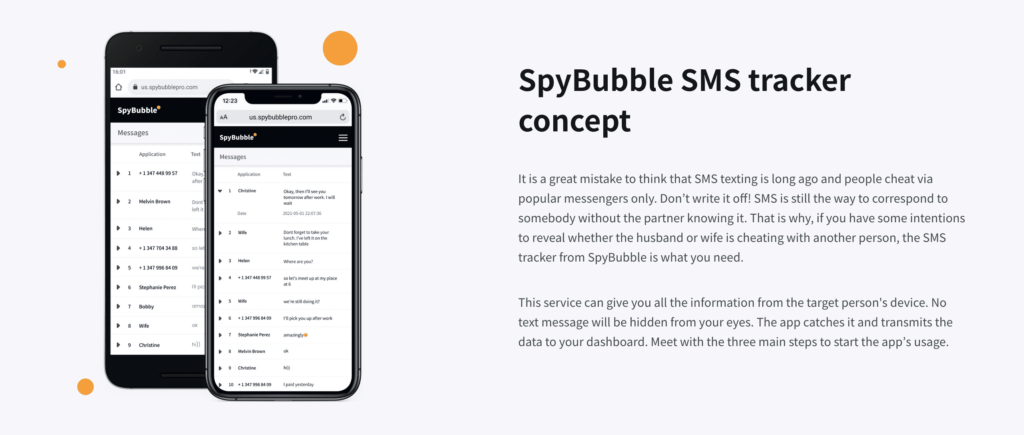 Pros:
24/7 responsive customer support in live chat;
Understandable and user-friendly interface;
Rooting or jailbreaking is not required;
Real-time data synchronization.
Cons:
Not all features available for Android are present for iOS devices;
The spyware doesn't offer geo-fencing.
Cocospy: Tracking App for iOS and Android Devices
Cocospy is one of the top-rated spy apps one can only dream about! This multifunctional app has a stylish yet simple user interface, making your monitoring process easy and enjoyable. It is standardly available for Android and iOS devices. After installing it on a targeted device, you may record and view all its activities directly from your smartphone. Sounds convenient, doesn't it? Moreover, it offers tempting premium pricing plans for both operational systems: $10.83 for iOS and $9.99 for Android as part of a monthly payment in a yearly subscription plan.
Features:
Checking detailed call logs, timestamps, and contact information;
Allowing you to read the target's incoming and outgoing text messages;
Monitoring the location of the target phone using the built-in GPS tracker;
Keystroke logger is available;
Call recording, as well as monitoring its total number and duration.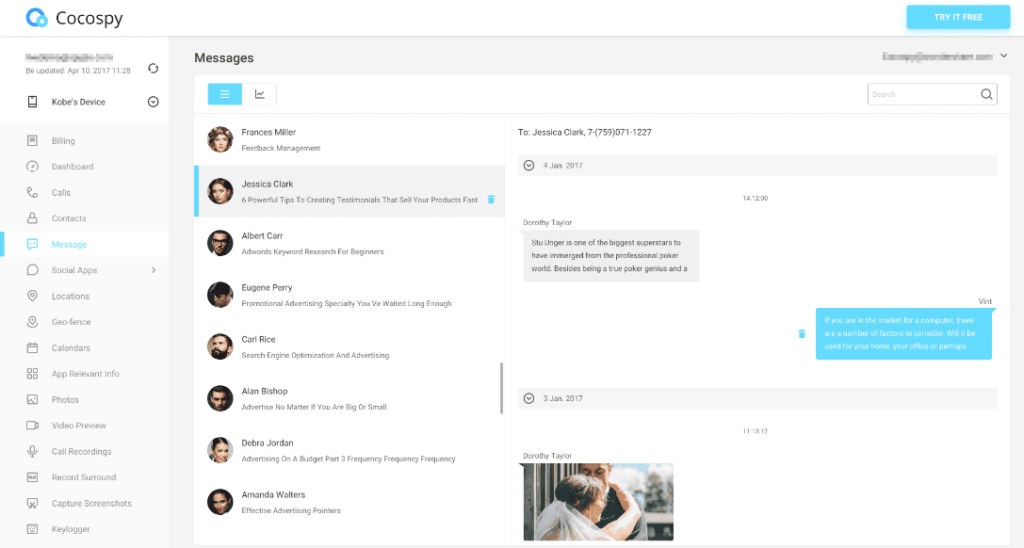 Pros:
It offers a variety of functions for a reasonable price;
Easy signing up process;
Allows to track multiple devices in 1 subscription.
Cons:
No free trial is available;
Features differ in terms of the operating systems one may target.
Hoverwatch for Your Private Spying Needs
If you want to monitor your girlfriend's devices, Hoverwatch is the solution, as it offers numerous features one might find very useful in solving relationship needs. It can help you get access not only to your beloved girlfriend's text messages but also to many other phone data. Moreover, it doesn't cost much: a one-month personal pricing plan is $24.95. So, keep reading the article to learn more about Hoverwatch's features.
Features:
Recording information about all websites visited by the phone user;
Viewing and recording all incoming and outgoing calls;
Spying on text messages in stealth mode;
Monitoring all well-known social media and messengers: Facebook, Snapchat, Viber, or WhatsApp;
Defining where the targeted phone is thanks to the GPS tracker;
Allowing taking screenshots.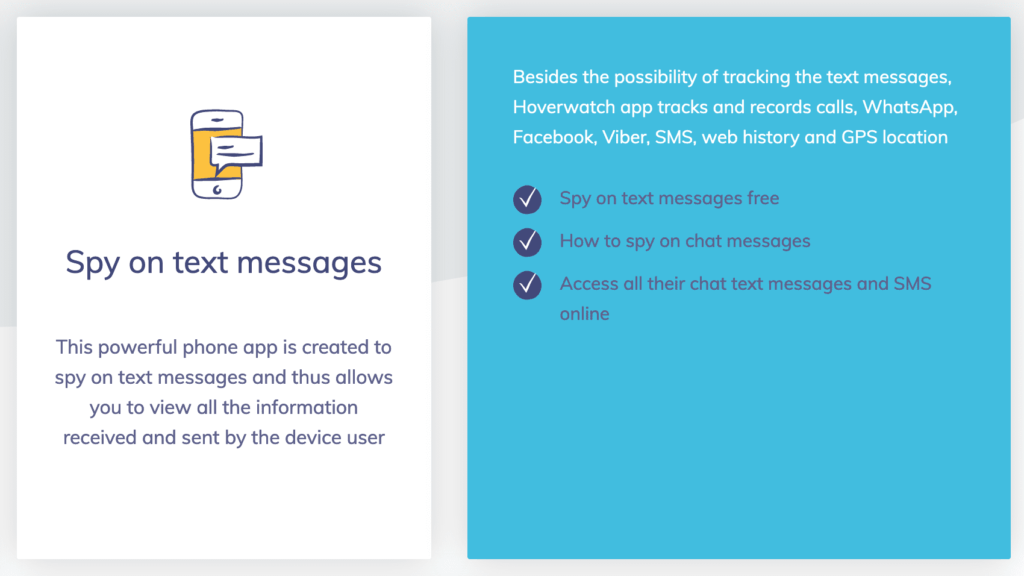 Pros:
Different subscription plans are available for any needs;
The tracking and recording process is intuitive and easy.
Cons:
Not compatible with iPhone;
Based on user reviews, client support could be more responsive.
How to Spy on Your Girlfriend's Texts with uMobix Tracking App
If you want to spy on your girlfriend's text messages and more, choose a reliable and multifunctional tracking app. In our article, we want to focus on such an app in detail.
As you previously read, uMobix is one of the most modern, reliable, and multifunctional tracking apps one can find. To start using this spyware, you should do the following steps:
Go to the official uMobix website and create an account (there is a "try it now" button in the upper right corner).
After clicking on it, you should input your email address to finish the account creation process.
After logging into your account, you should choose the type of monitored device. Select "Android Phone or Tablet" or "iOS iPhone, iPad." You may need to pick a subscription plan depending on the type of device you want to spy.
After logging into your account, you will see all the instructions and a registration code.
The installation process on an Android device requires one-time access to your girlfriend's smartphone. Remember to disable Play Protection and give permission to install applications from unknown sources. After you've installed the app and finished the registration, the monitoring will begin.
The installation process on iOS is different. If your girlfriend uses iPhone, you can read her text messages without installing on her phone anything. All you need is data to log into her iCloud account: a username and password. Please note that you should disable two-factor authentication and enable an iCloud backup. And voila, you are ready to monitor everything via your online dashboard, accessible through any browser!
How to Spy on Your Girlfriend's Text Messages Free
At this point, you might think: Well, how am I supposed to spy on my girlfriend's messages if installing spyware is not an option, or I don't have her iCloud credentials? Don't worry! Message forwarding can be an alternative for you.
For iPhone users: go to the settings of your partner's phone, choose "Messages," and then go to "Text message forwarding." You will see a list of devices you might choose to send or receive text messages.
For Android users: choose a text message or conversation you want to forward and select the recipient's phone number.
With message forwarding, you may spy on your girlfriend's text messages free and without any apps installed.
Final Word
Whether you need to spy on your girlfriend's text messages free or with a reliable tracking app, there is always an opportunity to choose your best monitoring method. And we hope this article helps you make a decision.
We recommend you use the uMobix spying app. It is an app where you can get plenty of features, affordable pricing plans, and an excellent user experience. Many people have different opinions about such tracking methods, calling them unethical or too risky. However, for some people, text message viewing is the only possible way to reveal infidelity or make sure your partner is loyal.
👉🏻 You may also like: