TheWiSpy Review: A Monitoring Solution for Modern Users
Affiliate Disclaimer: SpyPhone.App may earn a commission from purchases made through our links, at no extra cost to you. Our reviews are unbiased and based on our evaluation of the products and services. Your support through these links helps us maintain our website. Thank you for your support!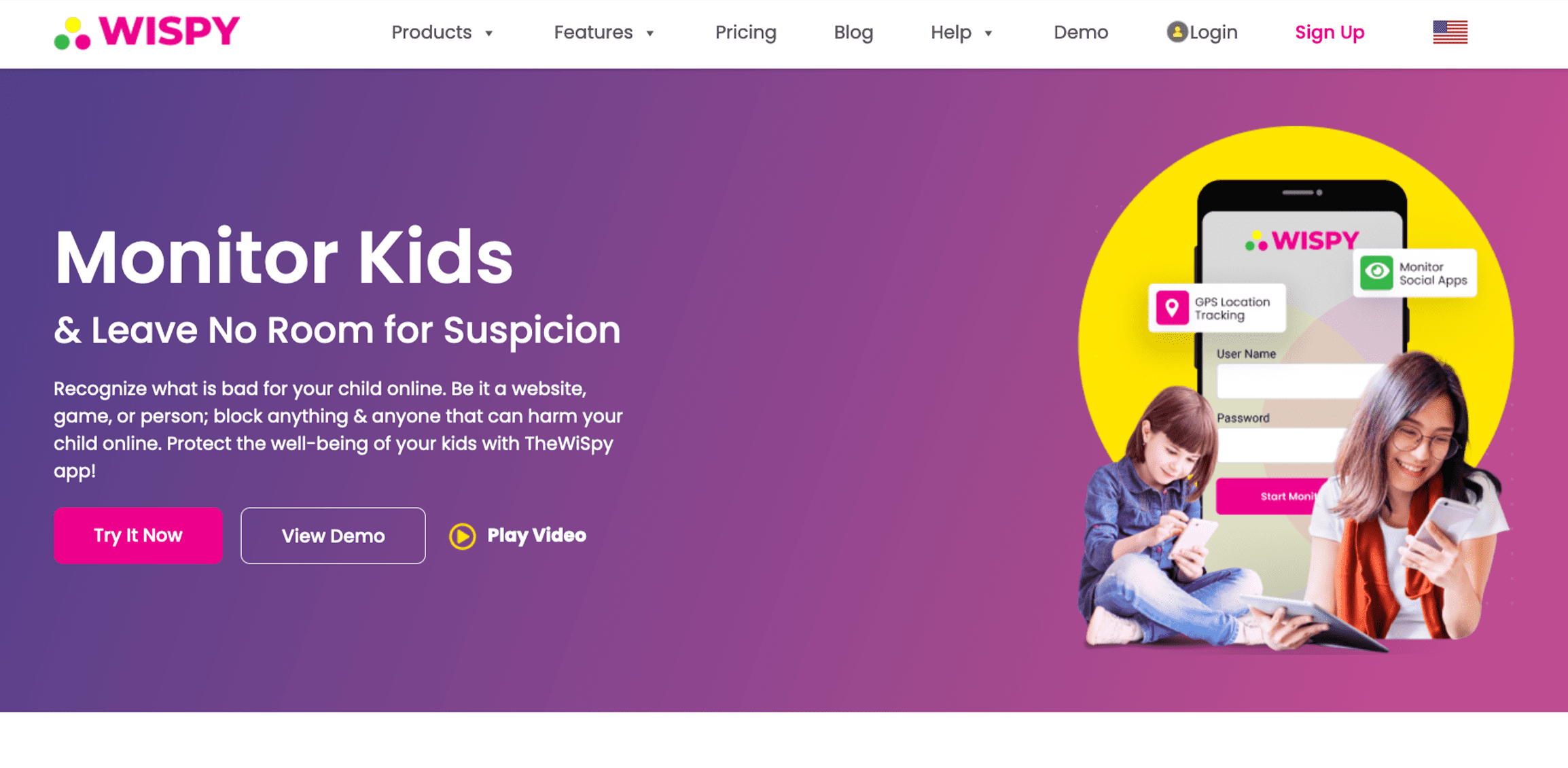 Parents are ready to go to great lengths to be 100% sure that their children are safe; married people want to make sure that they are sharing a roof with loving spouses instead of sneaky liars; in fact, you can find plenty of reasons why monitoring software is massively growing in popularity these days. Let's take a look at TheWiSpy app, an up-and-coming online tracking product, straight away.
TheWiSpy belongs to the programs that independently retrieve and update information once placed on the target gadget. The only thing that needs to be taken into account before starting the subscription – and reading this TheWiSpy review, in general – is the fact that this spy app is intended only for tracking Android devices (behold, dear Apple owners). Other than that, you would need to be able to spend some time with the device to install and configure the app right on it.
General Information About the Monitoring Software
TheWiSpy Features to My Liking
TheWiSpy Android spy app has an important forte desirable in monitoring applications, namely the ability to hide the presence of the program on the tracked device. Secondly, you can't overlook such a significant feature as geofencing, which allows the application to do its job of location tracking but at the same time instantly notify you when a person leaves certain boundaries set by you. In addition, you may count on the TheWiSpy app to capture screenshots, photos, and videos of a person's surroundings and important events, which might be of great help at some point.
What I Dislike About TheWiSpy Android Spy App
As of the time of writing this TheWiSpy review, there's no free trial offer on the table for the new clientele – however, their free demo version provided on the website might be somehow useful, too. Also, although presented as a solution for employee monitoring, among other things, TheWiSpy does not deliver for computer systems, let alone iPhones.
Who TheWiSpy App Is Intended For
Put simply, TheWiSpy is an application for tech-savvy and not-very-users to track the activity on the gadget and trace the traces of their loved ones on the map throughout the day. Designed to run stealthy, TheWiSpy mobile app doesn't interfere with the usual device's activities but manages to capture the hidden side of the lives of your kids, lovers, employees, etc, and deliver it to you on a silver plate. To do this most efficiently, the phone tracker requires some conditions to be met by the user.
How Does TheWiSpy Work?
One of the fundamental prerequisites for the operation of this monitoring app is the presence of the Internet: on the device of the person who is monitoring to receive timely updates and access them on TheWiSpy dashboard and on the target gadget so that the program can collect and transmit data to the dashboard. This is an intuitive online program that gets installed directly on the Android device and requires one-time access to initiate the tracking process. TheWiSpy installation consists mainly of granting the necessary permissions and following the instructions received after purchasing the subscription.
Compatibility Analysis
As mentioned, TheWiSpy will not spill the beans for you if you want to monitor an iOS device. However, if the target device runs on Android OS 4.0 or the latest Android version, this solution is for you (check for compatibility on the site for up-to-date check). After the installation process, which is called gadget rooting for Android spying, the user gets access to all the features presented by the developers – their scope will depend only on the subscription you choose. However, if the basic package caters to your needs, you won't need to root the phone.
TheWiSpy App for Android
You may ask why TheWiSpy is an app to monitor Android devices only. The thing is that there is no "one size fits all" solution for different operating systems, so different approaches are being developed, and the fact that tracking iOS devices is largely tied to remote monitoring of iCloud, which in most cases is not very informative unless a jailbreak is used (a process similar to rooting, only for iPhones and other gadgets from the iOS ecosystem). Developing such a functional path requires separate efforts and is often found in advanced monitoring solutions like uMobix.
TheWiSpy Installation on Android
To download TheWiSpy and get started, you first need to register on the website and purchase a subscription:
Click on Sign Up in the upper right corner.
Enter your email and create a strong password.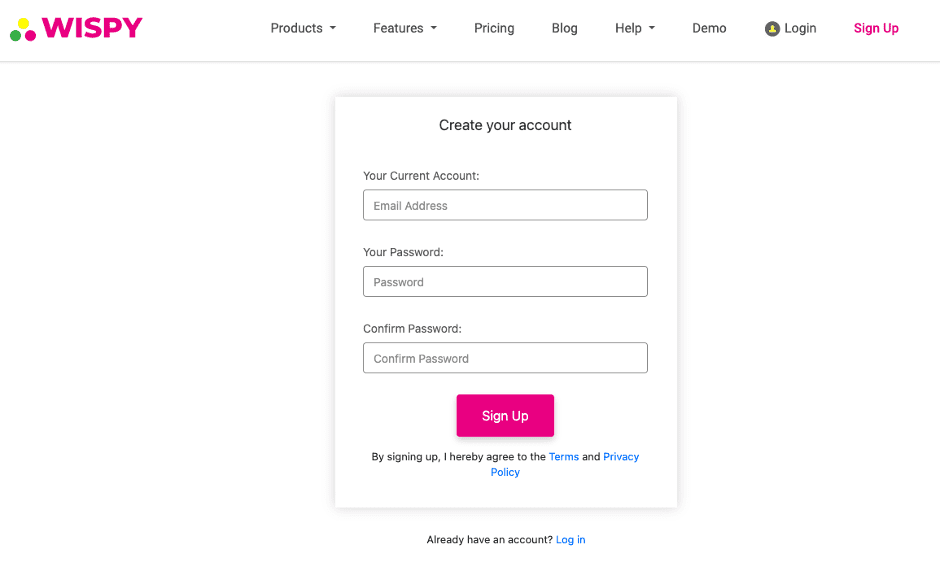 Choose the most suitable subscription option by duration (1, 3, or 6 months) and a plan with a certain range of features.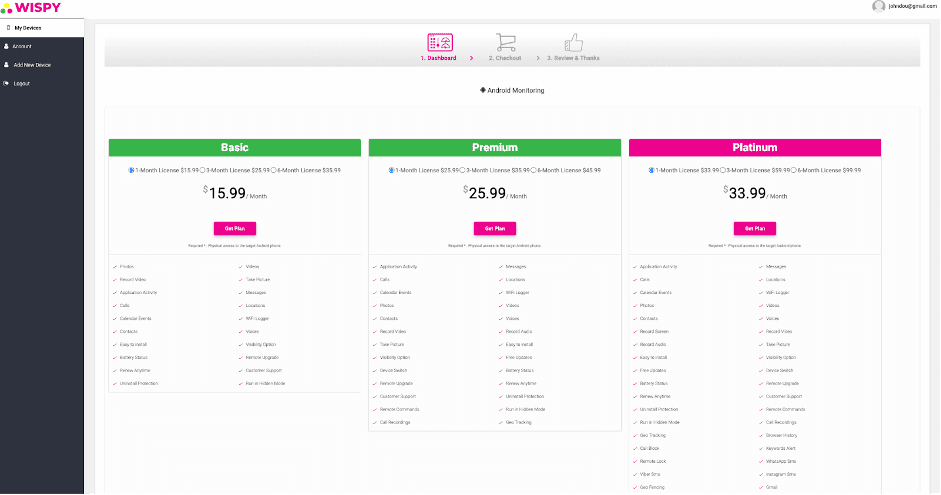 Finalize your purchase and await the confirmation email with your TheWiSpy login credentials any time soon.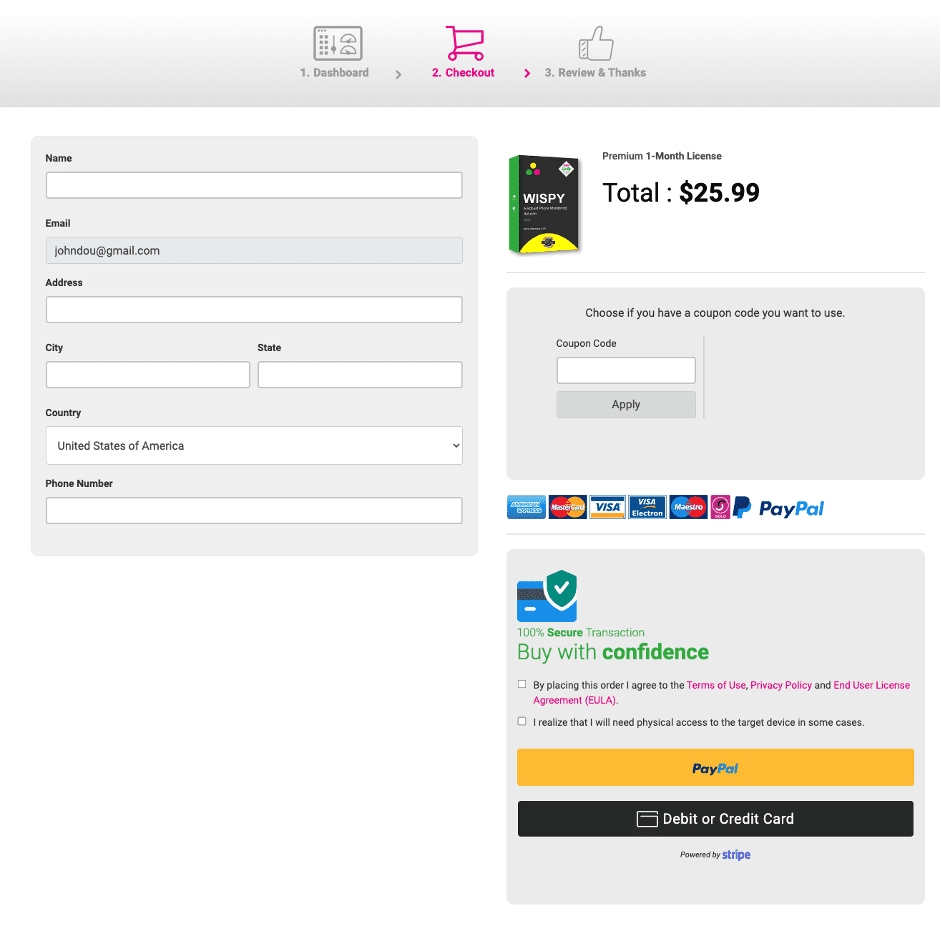 As soon as you log into your account, you can safely proceed to set up the device target for parental controls:
Copy and send the received link (or find it in your account) to the target smartphone or tablet. Next, you will be redirected to download the APK file.
Confirm the download and installation of this software. You will find the license key you need to enter in your account during the process.
Next, the program will ask you to enter the name and age of the child and continue the installation process.
Allow the permissions requested by the program to be activated and grant admin rights.
Lastly, put the toggle off next to notifications from the application on the tracked device and provide permission to be able to track the location.
Click Finish and restart the gadget to monitor kids or digital activities of employees.
What the Dashboard Looks Like
To familiarize yourself with all the photos and images that TheWiSpy will retrieve for you, as well as manage cell phones and tablets you might add to your account (based on the principle "one device – one subscription"), you need to visit the dashboard that will become available to you immediately after registration. This web-based panel has sections like on a smartphone (messages, calls, etc.), allowing you to see all possible information about the target phone in one click. Now, going to certain sections, such as App Block, will enable you to change certain settings apart from just looking at incoming data.
Visit https://www.thewispy.com/ to log into your account from any computer or smartphone you own.
TheWiSpy Features That Stand Out
The presence of features that can tame modern phone applications is especially valuable in tracking programs. TheWiSpy is rich in them – however, efficiency is also important, which we will discuss later. Let us lay it out for you!
Calls and Contacts
Nowadays, a lot of communication is carried out in writing, but oddly enough, the opportunity to talk instead of constantly typing is still praised by many. Moreover, phone calls leave much smaller footprints compared to chats. Or at least that's what regular users think. TheWiSpy offers the opportunity not only to see and analyze incoming and outgoing call logs, that is, call duration, time, and contact name, but also to automatically record phone calls and save them to the cloud, which is certainly one of the advanced features of the application.
This way, for example, you may listen to a call recording to find out in a timely manner that some scammers are trying to gain the trust of your child and extract confidential information from them. Unfortunately, telephone databases are often leaked these days, so being informed means being armed.
Messages
Text messages are yet another category of smartphone communication frequently overlooked by many. TheWiSpy allows you to intercept text messages without target phone and get an understanding of what kind of newsletter your loved one is receiving. Although most modern people prefer to chat with friends for free in online messengers, a significant amount of information, including spam, continues to come through SMS. What's more, TheWiSpy app captures any text message sent and received, kept or deleted for some reason.
Location
Using this tracker app to monitor location, it is possible to kill two birds with one stone, which means you will be able to view the location history at any time and the live location of a given Android phone. Both of these features are valuable in certain circumstances – you can easily confirm that your child got to tennis class safely or that they were at school yesterday rather than hanging out with friends at the diner.
In addition, it is possible to set certain safe geofencing boundaries for a person's movement (excluding unsafe areas, undesirable places for entertainment, etc.) and find out whether someone's phone has crossed these boundaries using alerts from TheWiSpy.
Media
In addition to text messages, smartphones and tablets can also provide the ability to capture, post, and share visual content, photos, and videos. With TheWiSpy software at hand, one can easily make sure that employees' chats do not contain inappropriate content and that employees are generally engaged in work and not constantly sending memes to each other.
Also, photos and videos can often serve as a tool for cyberbullying or blackmail, from which everyone is not immune, regardless of age and status. If your loved one receives threats or is perhaps involved in this type of activity, you will be made aware of this ASAP.
Apps
Needless to say, the presence of some applications may be inappropriate for the kid's age or simply distract them from their studies. TheWiSpy app is a comprehensive solution that not only allows all installed applications on the gadget but also permanently blocks them. In addition, in the Application Activities tab, a parent or employer can see how much time a person spends on a particular application and will be able to correct this behavior remotely from their TheWiSpy dashboard.
Wi-Fi Log
Perhaps monitoring Wi-Fi logs is not the first thing that comes to mind when it comes to monitoring features, but still, it is a very useful tool that, based on the name of the network, can tell you the name of the establishment or location where the person you are interested in was spending their time. This way, you connect the dots and get a more complete picture of their doings. Unfortunately, TheWiSpy does not offer the ability to block access to specific networks or Wi-Fi access in general.
Remote Access
In all truth, the spying features of this application are not complete in terms of remote control of the gadget. There is a Remote Lock feature available for users, which allows you to lock the gadget in case of loss, for example, or in case of the need to focus the child's attention on studying instead of notifications from social media apps. All control of the target device is concentrated in the Settings tab – here, you can activate and deactivate certain toggles and also:
carry out a remote upgrade
switch to Hidden Mode
uninstall protection software
update installed applications, etc.
Alerts
To avoid unnecessary fuss and not attract too much attention, TheWiSpy app will not send you alerts about any new update on your device. Instead, you will have to open the app yourself from time to time and check for new uploads. However, some of the most important events are still coupled with notifications to you.
For example, you have the opportunity to create a list of so-called banned words or keywords, which, if recognized in messages, will be shown to you by this Android spy app. For example, it could be swearing or slang related to prohibited substances, you get the idea. Also, as mentioned earlier in this TheWiSpy review, you will be notified if certain geo-borders are crossed.
Social Media and Messengers
The juiciest information to track with TheWiSpy probably falls into the category of social media and messengers. In your clear view, there will be:
Snapchat
Whatsapp
Facebook
Instagram
Viber
Telegram
Tinder
YouTube, etc.
Although TheWiSpy does not provide full access to the news feed, for example, it saves all multimedia content featured in messages and takes screenshots. Let's break things down on the example of 3 popular social media:
The software operates as an IG spy, providing insights into a person's virtual life. This includes the ability to read Instagram DMs, even deleted ones, and see the time and username of the person or group name your loved one is communicating. However, viewing screenshots and the ability to record the gadget screen adds options to your basket.
TheWiSpy allows you to hack Kik account on Android device and see chats in the corresponding Kik SMS section. Although it is not the most popular messenger these days, the cell phone spy software leaves no chance of hiding any information from your view.
Snapchat is interesting to young people, not so much for the ability to chat as for filming content, applying filters, and having casual communication with strangers. Also, the exchange of fast-disappearing snaps may contain inappropriate gestures and appearances, so the fact that TheWiSpy allows you to monitor such lightning-fast content is a big plus.
TheWiSpy Overall Performance & Utility
TheWiSpy is an Android monitoring app that works in the background and does not particularly bring any visible inconvenience to the monitored device holder, but here, factors such as the memory and the model of the device also come into play. Depending on which features one is eager to use, the need for rooting arises – so if you use a basic package without rooting, this will have an easier impact on the target gadget and, in turn, if you opt for a Premium or Platinum package where energy-consuming features are included like voice or video recording, this may to some extent affect the tracked device.
In addition to being a non-intrusive solution, TheWiSpy is also a non-detectable program, the visibility of which is managed by the person who installed the application. Like any modern application or program, TheWiSpy receives regular updates to keep up with the times. As follows from the FAQ on the website, you will need to reinstall the software on the target device to use the newest version of the application. Of course, you will receive notification of this opportunity in advance and will be able to upgrade at a time convenient for you.
Although the program allows you to record the screen and environment, as well as track time spent on calls and some other activities, its performance suffers to some extent from the inability to set filters on websites, lock applications after a certain amount of time, and record any text string using a keylogger, as it is available in certain tracking products – for instance, uMobix. Besides, many users who have tried this service cite issues such as slow syncing or inability to sync at all – note that the first sync usually takes a longer time and generally relies on a stable internet connection and the monitored phone being switched on.
How It Is Used for Employee Monitoring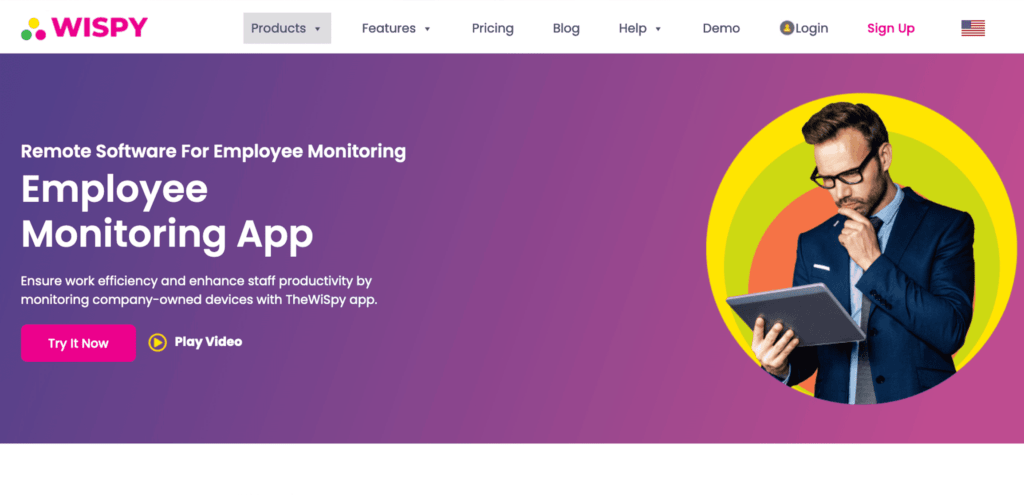 According to online sources, TheWiSpy intends to expand its services to other operating systems besides Android any time soon, but comparatively, the rooting method available for Android helps to achieve the best results when it comes to being as informed as possible.
Taking into account the fact that many companies provide their employees with mobile gadgets for corporate use, employee monitoring software is indispensable to ensure the transparency of staff and confidence in their integrity. While this may raise questions about privacy, some businesses even offer to sign contracts where employees agree to the processing of their work data, correspondence, and other things for the sake of avoiding information leaks and ensuring maximum productivity in the workplace.
In addition, knowing about the possibility of certain surveillance, employees may think twice before indulging in scrolling social networks or chatting for hours on the phone instead of working, which undoubtedly benefits focus and better results, both individual and team.
Is TheWiSpy a Safe Program and Parental Control App?
Starting its activities in 2019, TheWiSpy has been around us for several years, so we can draw certain conclusions.
You can find different TheWiSpy reviews on the Internet – for some, the application works like a clock, and some complain about poor functionality and the non-delivery of some of the stated features. With modern kids massively engaging with digital technologies, resorting to a high-quality parental control app is a way out. It is worth noting that online tracking applications require compliance with many criteria, such as correct installation without interruptions and provision of stated permissions, as well as (ideally) a constant Internet connection and backups, based on which data appears on the dashboard.
The website itself looks legitimate and has important sections with legal information for users – EULA, Privacy Policy, and Terms of Use, but there is no mention of 256-bit SSL encryption or similar technologies that allow secure financial interactions with the website and encryption when exchanging personal information data. In addition, user reviews suggest that you can only cancel your subscription through a support agent on the site, but common practice is that they take a long time or do not respond to user requests at all.
Pricing Plans
Our review of TheWiSpy wouldn't be complete without highlighting the app's cost. There are 3 pricing plans for those who want to track their target devices using TheWiSpy. In addition to being loaded with different amount of features, the plans differ in duration and are designed so that longer packages are cheaper overall than a 1-month package. However, it appears that canceling your subscription may not always be easy, so the choice is up to the customer.
Your TheWiSpy subscription is not auto-renewed and will cease to operate as soon as the subscription period expires.
| | | | |
| --- | --- | --- | --- |
| Subscription | Basic | Premium | Platinum |
| For 1 Month | $15.99 | $25.99 | $33.99 |
| For 3 Months | $25.99 | $35.99 | $59.99 |
| For 6 Months | $35.99 | $45.99 | $99.99 |
In addition, TheWiSpy offers refunds, the terms of which can be found on the app's website – let's cut to the chase: you won't be able to simply cancel your subscription because you just don't like the service.
A Few Words About Customer Support
Customer support seems like a tough bird to catch, although this is already indicated by the lack of live chat on TheWiSpy website and, in addition, an extremely unresponsive customer support phone line. You might also want to try your luck using their "send us an email" form.
Use +1 845-557-7778 to get in contact with TheWiSpy support team.
Pros and Cons
Pros:
outstanding live recording features (calls, video, screen activities)
delivery of deleted data, such as text messages
geofencing
offensive keywords alert
remote screen lock to protect the phone from third-party access
current location display
Cons:
absence of a keylogger
only for Android
many say it does a mediocre job of tracking phone activities
FAQ
Is TheWiSpy free?
No, the application is not free and doesn't offer a free trial; TheWiSpy pricing depends on the duration of the package and the scope of features. For example, one month of basic services costs $15.99 per month, while 6 months costs $35.99.
Does TheWiSpy record calls?
Yes, TheWiSpy offers to track call with its duration and contact name and as well as saves the records of call logs onto your dashboard. Plus, you get access to the contact book and do it all completely secretly.
Is TheWiSpy safe?
TheWiSpy is safe to use, but it is more about how effective the application is for your needs, as you can find real online reviews from people who have used this application sharing their negative experiences.
What can be stressed at the end of this review is the rich range of features of TheWiSpy. It really is enough if you are a novice user, or perhaps even a little too much – in this case, the app offers a basic package of services that do not require rooting. To ensure that your search efforts for an employee or parental control app come to fruition, you should check the target device compatibility on the website and also familiarize yourself with what TheWiSpy features each subscription supports. The big disadvantage is that TheWiSpy app is not intended for popular computer and mobile platforms other than Android and has many negative reviews about the support service and functionality in general on Google.
What can be stressed at the end of this review is the rich range of features of TheWiSpy. It really is enough if you are a novice user, or perhaps even a little too much – in this case, the app offers a basic package of services that do not require rooting. To ensure that your search efforts for an employee or parental control app come to fruition, you should check the target device compatibility on the website and also familiarize yourself with what TheWiSpy features each subscription supports. The big disadvantage is that TheWiSpy app is not intended for popular computer and mobile platforms other than Android and has many negative reviews about the support service and functionality in general on Google.