Spyrix Keylogger Review
Affiliate Disclaimer: SpyPhone.App may earn a commission from purchases made through our links, at no extra cost to you. Our reviews are unbiased and based on our evaluation of the products and services. Your support through these links helps us maintain our website. Thank you for your support!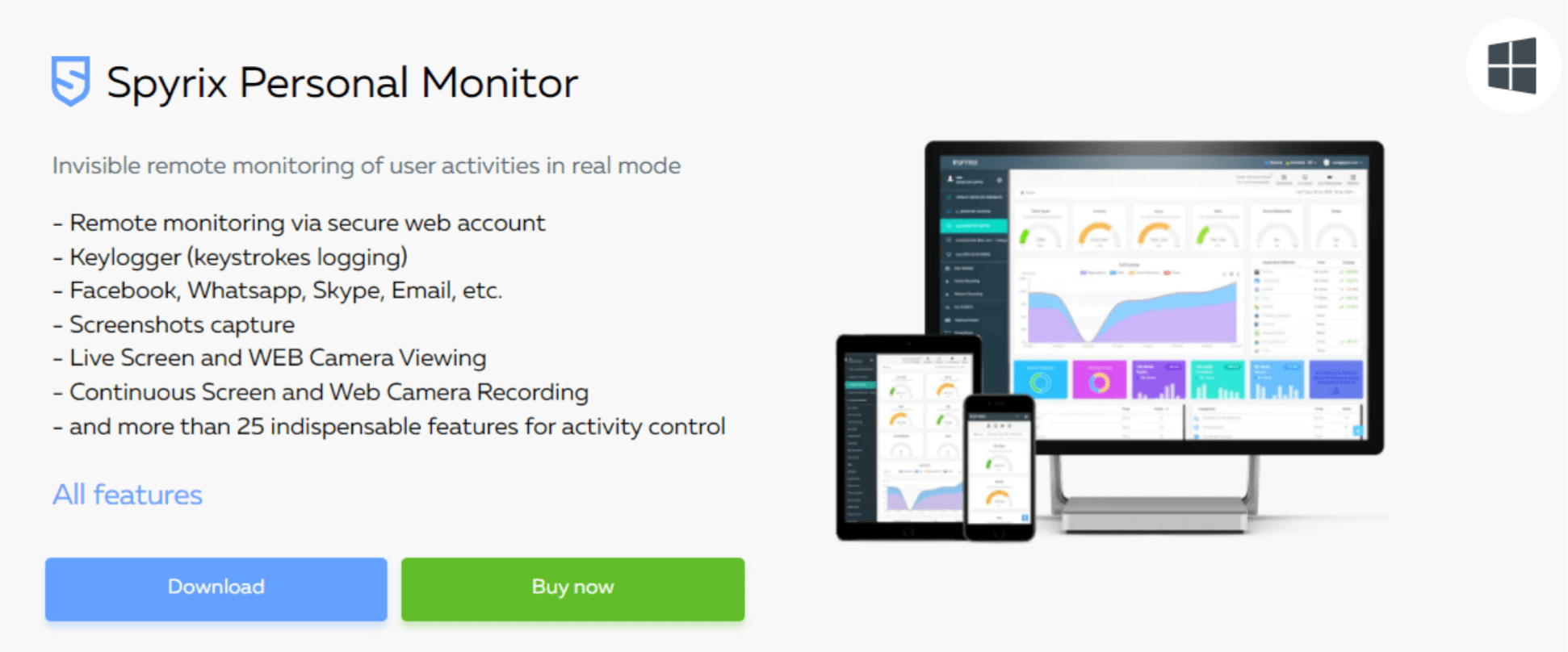 Spyrix free keylogger is the app to use when you want to monitor what your children, partner, or employee does on their computers. It is compatible with Windows and Mac devices, and even employers can install it on employees' computers to monitor their activities using webcams, microphones, and much more. It does not require jailbreaking or rooting the target device to use it. It comes with a 14-day free trial with all parental control and employee monitoring features.
Spyrix enables administrators to remotely view activity logs, control devices, and receive notifications of attempts to visit restricted websites upon installation. Also, administrators can use the app to maintain a keystrokes log, visualize data in charts and graphs, and track application access. This Spyrix review explains what this app is, how to use Spyrix keylogger, and its pros and cons.
Quick Look on Spyrix Keylogger
Why Do We Recommend Spyrix?
Spyrix is a solid option when it comes to PC monitoring. Everything is laid out in a straightforward design, making it a perfect fit even for beginner users. Just a few clicks, and you get to see what screenshots Spyrix keylogger captured. In addition, it offers a generous free trial that doesn't compromise on features. This is a huge bonus for everyone who hasn't used such software before and wants to see it in action at no cost.
Why Don't We Recommend Spyrix?
The first downside is that you need to purchase a subscription in order to have a keylogger icon invisible. Otherwise, the target person will most likely notice it on their computer. Another drawback is that Spyrix was mostly designed with PC users in mind. So if you wish to track a cell phone, you need to pay for an extra plan. Also, it is not available for iPhones.
What Is Spyrix?
Spyrix is a keylogger program for macOS and Windows. This program's primary purpose is to enable parents to monitor internet access and app usage to keep families and children safe. It's a powerful solution that lets parents know what their children do on home computers. It records keystrokes while taking screenshots based on events like URL changes and words that the device user types. Also, Spyrix snags what the device user copies to the clipboard. The user can read reports that the program sorts by date and keywords. It tracks everything the user types on a computer, and they don't know that it records their keystrokes secretly. Therefore, it enables you to get the passwords that children use when playing video games or accessing social media like Instagram or Snapchat.
Additionally, parents can use Spyrix keylogger to monitor children's conversations online. That way, parents can ensure that nobody is cyberbullying their kids and that they are in good standing with friends. This parental control app can do other things, including remotely removing apps from the computer and delivering log files to dropbox, FTP, or Google Drive. Nevertheless, this monitoring app has a fantastic online control panel.
Its interface supports 12 languages with several features to help you control several activities on the target computer, including online Google searches, chats, and website activity. It provides control by combining screenshots and texts. Also, the app allows you to activate the hidden monitoring mode to ensure that the target person doesn't know that you're tracking their activity.
How Does Spyrix Keylogger Work?
As hinted, Spyrix keylogger is a free trial spy appp that you can download from the internet and install on your target computer. After installing and activating, Spyrix tracks the keystrokes that the computer user makes on the keyboard while capturing screenshots.
Since the app records screenshots and computer key logs on an online dashboard, you can remotely monitor what the target person does on the computer. You can hide the program on your child's, spouse's, or employee's computer and receive all the recordings remotely on your Spyrix account or email.
Upon signing up for the premium package, this program enables you to monitor various activities the target person performs on their device via the dashboard. Nevertheless, installing this spy software requires you to temporarily disable the computer's antivirus.
Most Windows computers have active Windows Defender that may prevent you from installing the Spyrix activity monitoring app. Also, the app will require you to disable third-party antivirus for it to work. Once you've disabled the antivirus, add Spyrix software to the antivirus program list to ensure that the computer's antivirus doesn't detect and remove it in the future.
Spyrix free keylogger doesn't cost anything to download. However, the full version has more advanced monitoring features that make it ideal for employee monitoring and parental control.
Pros & Cons of Spyrix Keylogger
Spyrix free keylogger is a helpful employees' or parental monitoring app that enables you to track employees' or children's activities on their devices. While it is free, the trial version has limited features. Therefore, you must sign up for the full version to use all the features of this PC monitoring app.
Pros:
Easy to use
Free
Effective keylogging
Multi-lingual
Cons:
Compatible with Windows and Mac devices only
No mobile version
Limited storage space
It's crucial to note that Spyrix activity monitoring doesn't stop kids from participating in or viewing illicit or inappropriate content. That's because it doesn't implement any filtering process. Perhaps, you're now wondering, how does Spyrix keylogger work? Well, let's discuss the basics before explaining how it works.
How to Use Spyrix Keylogger: Spyrix Software Features
Spyrix free version has a keylogger that you can use to monitor someone's activity on a computer. You can download Spyrix keylogger and use it for remote monitoring. After installing the program on the computer, you can enjoy using the following features.
Keystrokes
Screenshot capture
Apps activity
Printer monitoring
Removable drive control
Reports/analytics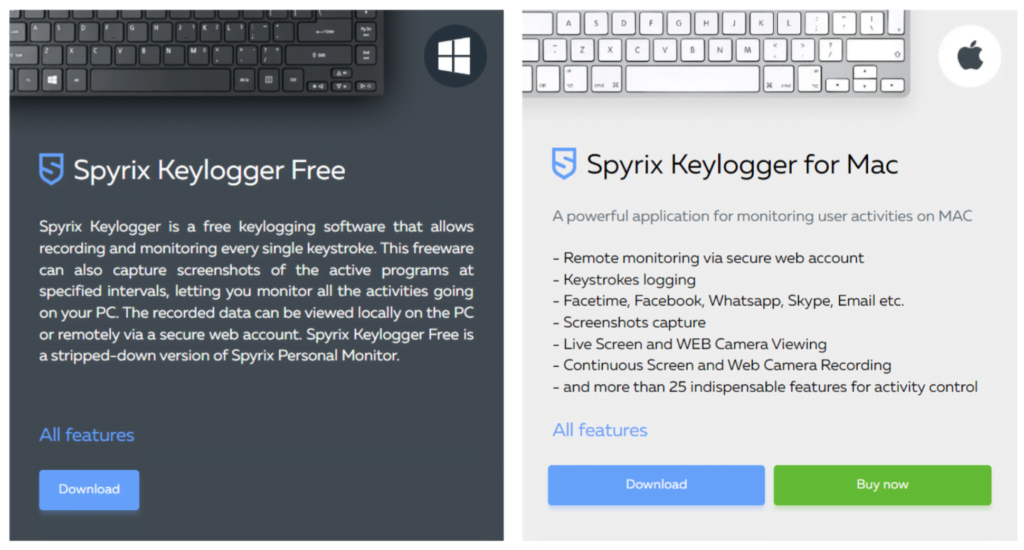 Spyrix Personal Monitor
Spyrix personal monitor is a robust multi-functional program for detailed, complete monitoring of the target user's activity. The program is ideal for employee monitoring and parental control. It enables you to monitor the target person's activity on the computer, including their social media interactions.
Using this program enables you to record all activities of the user. Therefore, you can use it to monitor your children without them knowing. Parents can use this program to understand what their children do on personal computers.
Similarly, employers can monitor their employees to prevent corporate secrets leakage. Today, small and medium enterprises can't afford software that costs a lot of money. Spyrix personal monitor comes with a reasonable price, and it's an effective tool for monitoring employees' activities and solving the information leakage problems.
This tool is easy to use because you download Spyrix free keylogger, install it on the target computer, use the personal monitor registration key to complete setup, and choose how to receive logs. After that, you can monitor the target device anywhere, anytime. Your web account allows you to monitor the target person's activity on the computer remotely. It captures screenshots, keystrokes, email, WhatsApp, Facebook, and Skype activities.
Spyrix Free Keylogger
Spyrix free keylogger is compatible with Windows computers. After downloading and installing this Spyrix version, you can access the personal monitor's dashboard on a different device. Spyrix free keylogger dashboard is versatile with several options. For instance, it can record messaging apps and webcam videos.
While the program is free, it performs well when recording keystrokes. Quick data sync is an exciting aspect of this program because it updates the dashboard with the information every minute. But the target computer should have a stable internet to upload data faster. Also, your device should have an excellent internet to access the information.
Some of the keyboard events that Spyrix records include:
Key logs timestamps
Open program's title and description
Log file location and name
Perhaps, the breakdown of keys instead of the alphabet is the most exciting aspect of this program. Thus, it provides details like Backspace and Enters to ensure that you know what the target person was writing, whether they typed on Skype or note. This free spyware beats other free spy apps because it doesn't have annoying upsells and ads. Also, the accurate keystroke logs make it ideal for employee monitoring, parental control, spying on your spouse's phone.
Spyrix Keylogger for Mac
Spyrix for Mac enables you to monitor user activity, including online and offline activity. This program is ideal for employee control and parental monitoring due to features like a secure online account, screenshots, keylogger, clipboard control, URLs, invisibility, and email log delivery.
Antivirus can't detect this program, and you get detailed information of what the target person does on the Mac computer without missing a thing. This program provides detailed reports of the employees, children, or spouses' activity on the target Mac computer remotely in real-time.
This program allows you to set up screenshots by activity change or timer to ensure that you don't miss anything important upon installation. Also, it records the visited websites to allow you to review online activity from the target computer.
Spyrix keylogger for mark can help a company prevent losses by monitoring the duration employees spend on work and unnecessary activities, such as chatting on social networks and playing computer games. Also, a company can use this app to monitor employees and know the information they send to others using the organization's computers.
This program enables parents or guardians to protect their children from different online threats by knowing their online activity and website visits.
Spyrix Employee Monitoring
Do you suspect that some of your employees spend more time doing unnecessary things on the company's computers? Maybe you think some of your workers are disclosing company secrets to your competitors. In that case, Spyrix could be your ideal solution.
Employees may perform their duties and provide some results. However, their managers might not know how much time they spend on other activities such as chatting on social media and playing computer games. Therefore, a company can lose a significant amount of money due to inefficient employees.
Spyrix employee monitoring enables companies to control their workers' activity on personal computers, meaning employers can access all their employees' correspondence using IM and social networks. This program allows employers to identify workers who share commercial information with competitors quickly.
Also, this software protects a company from external threats that may arise from visiting dangerous websites or installing hazardous software on the firm's computer. Also, the software is an excellent option for storing and transferring corporate data.
If your company loses corporate data accidentally, Spyrix can help it recover without expenses. That's because you can find the information on the recorded data on your online account. Thus, the program enables you to do more than monitor the employees.
Spyrix for Android
If you are looking for a free keylogger for Android, you shouldn't go anywhere else. In the upper menu, you will spot a section for Android that will take you to Evaspy – a special Spyrix tool for cell phone tracking. This instrument records information on the cell phone remotely and transfers it to your dashboard. In other words, you can monitor your child's or employee's Android distantly and stay completely invisible.
Evaspy is enhanced with a broad array of features, including access to calls, SMS text messages, multimedia files, social media platforms, geolocation, and so much more. Do you want to spy on query history? Or, maybe, restrict access to harmful applications and websites or block calls from dangerous contacts? Evaspy will handle these tasks without a hitch.
What really sets Evaspy apart from the competition, though, is its sheer attention to keylogging functionality. The app doesn't only record the screen but also tracks every keystroke, displaying everything that a target person types. This makes it perfect for social media monitoring which also doesn't lag behind competitors. Using Evaspy from Spyrix, you can watch over a dozen popular networks such as WhatsApp, Snapchat, Messenger, Instagram, Tinder, Hangouts, and many more.
Compatibility
Microsoft releases new component updates for Windows 10 versions regularly. Since these updates fix bugs, improve performance, and add new features, some keyloggers can stop functioning correctly after the latest updates. However, Sprix free keylogger and personal monitor are compatible with all Windows OS versions, including the latest.
Therefore, installing this spy program allows you to control the target computer even after the user installs new updates. And you can view keystroke records even after the device removes them, capture screenshots, see the running applications, and track printer activity and removable drives. Provided the target device has a stable internet connection, the program will record and store all the information in the online dashboard, where you can access it at any time.
How to Set Up Spyrix on the Target Computer
To start using Spyrix, you should first double-check whether it's compatible with the device you need to spy on. If you are going to deal with Windows or Mac, you shouldn't have trouble setting up the keylogger. Follow the steps described below to install Spyrix.
How to Install Spyrix on Mac
To get Spyrix keylogger up and running on Mac, you need to access the device for a little while to download a file. This won't take much, and by sticking to our instructions, you will nail it in a few minutes. Here's what you need to do:
Head to the official website and pay for the most fitting plan if you want a more inclusive experience.
Download the file to Mac (it will show up as sk_mac.mpkg.zip) and unzip it.

Open the downloaded file to begin the installation process. Make sure you right-click to bypass any unidentified developer warnings. If you do it right, the following window will pop up. Tap 'Open' to install the package.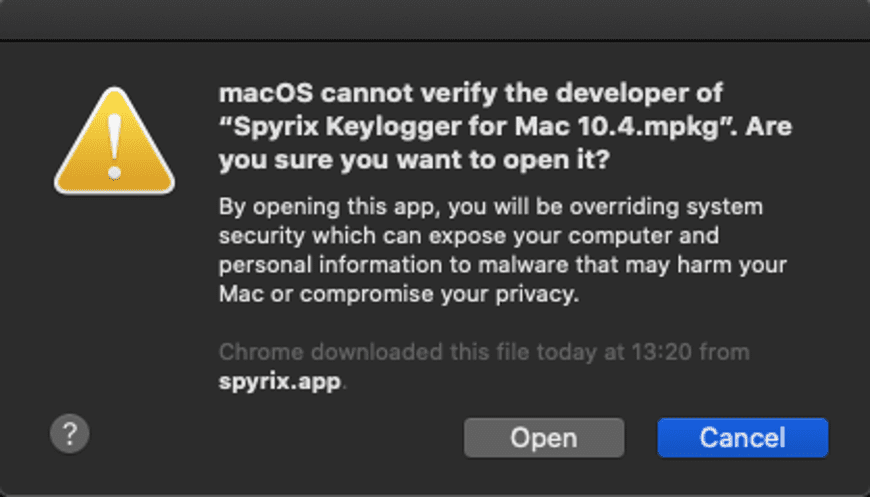 Carefully read the Disclaimer and proceed further
Once you click 'Install,' you will be asked to provide your admin password. Don't forget to erase the file from Mac upon completion.
Launch the program and choose a free trial or input your license code for registration.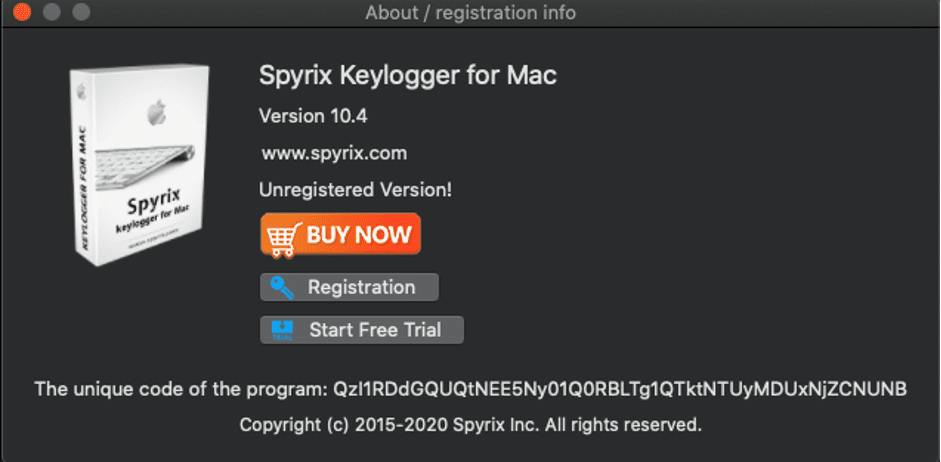 Follow the setup Wizard to customize options like hotkeys, passwords, media preferences, and other monitoring settings.
To enable tracking, grant the required access privileges by clicking 'System Preferences' and then 'Security and Privacy.' Select 'skm' in 'Accessibility' to allow the program to control Mac. Select monitoring options that you want to be added, including Camera, Microphone, Geolocation, Screen Capture, and Automation.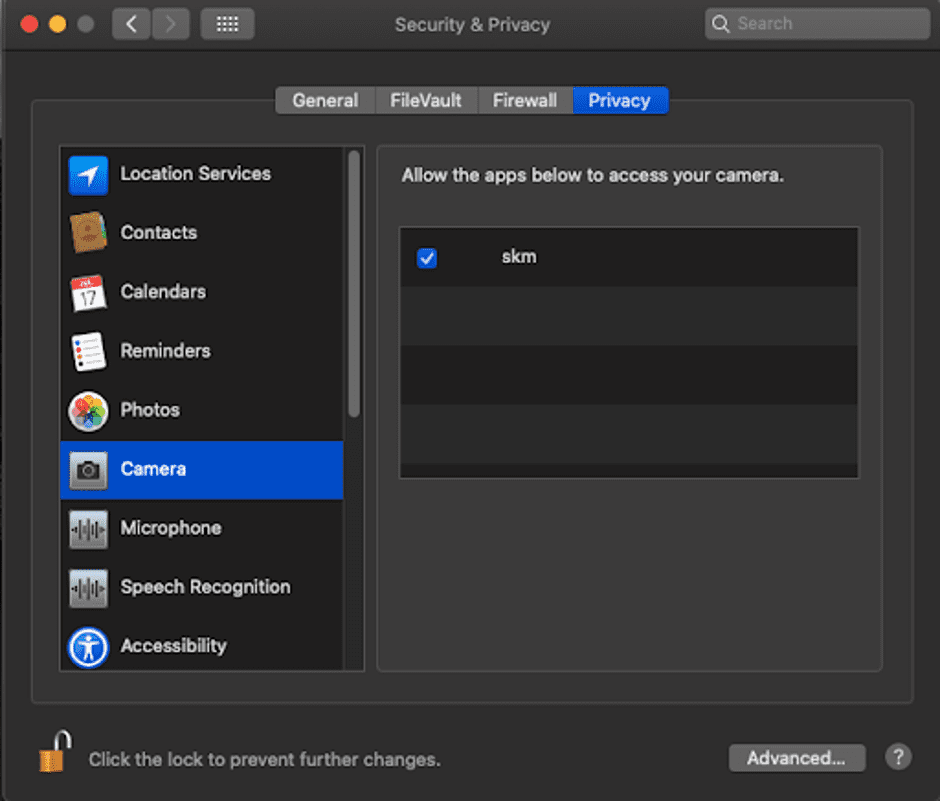 How to Install Spyrix on Windows
The installation process for Windows is straightforward. Here's how to set up Spyrix on Windows:
Go to the Spyrix website and click 'Download' in the upper menu. Select 'Windows' and press 'Download.'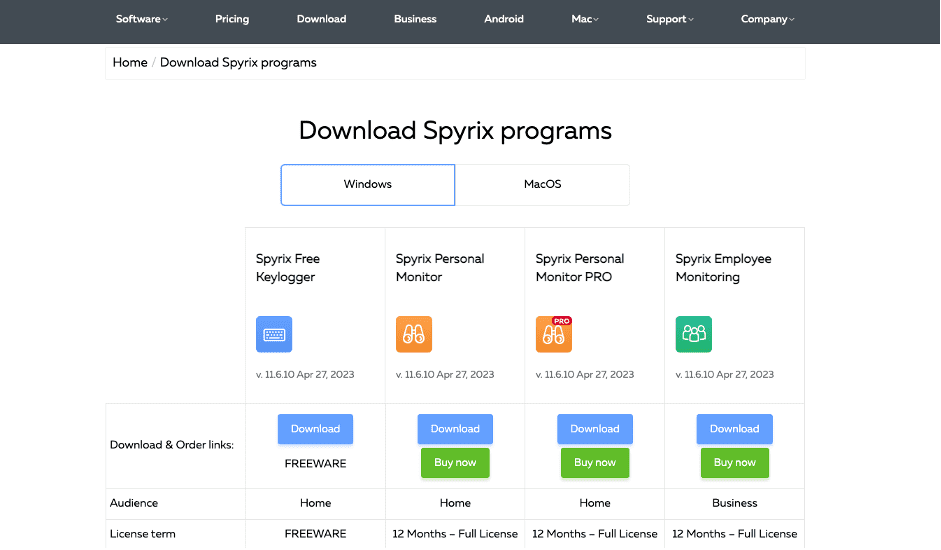 Run the downloaded file and choose 'Yes' to begin the installation process.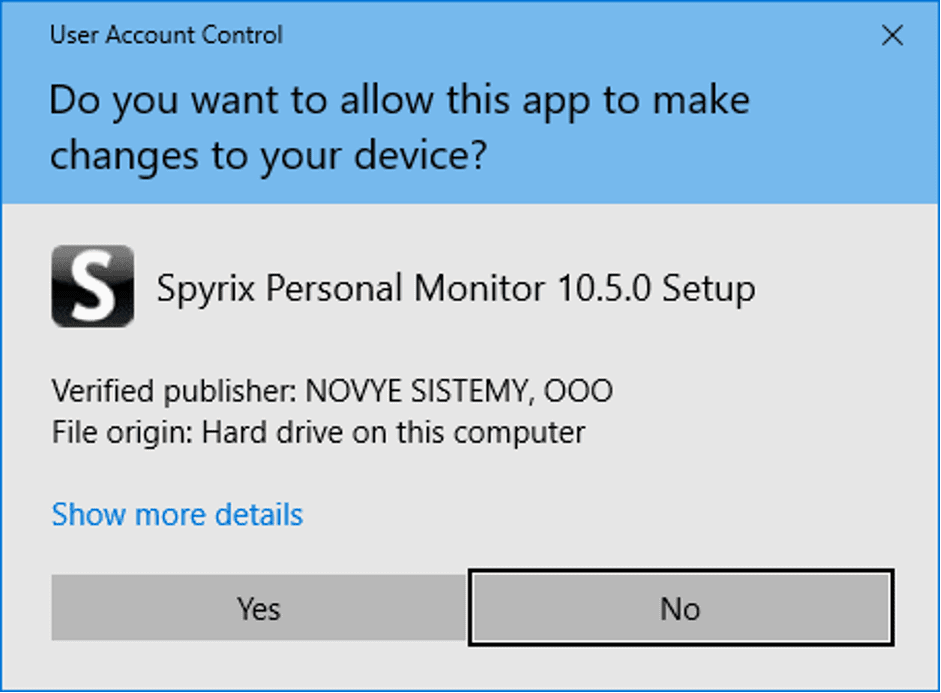 Select the preferred language and confirm your approval of the License Agreement.
Install the program and press 'Finish' when ready. The program will launch automatically.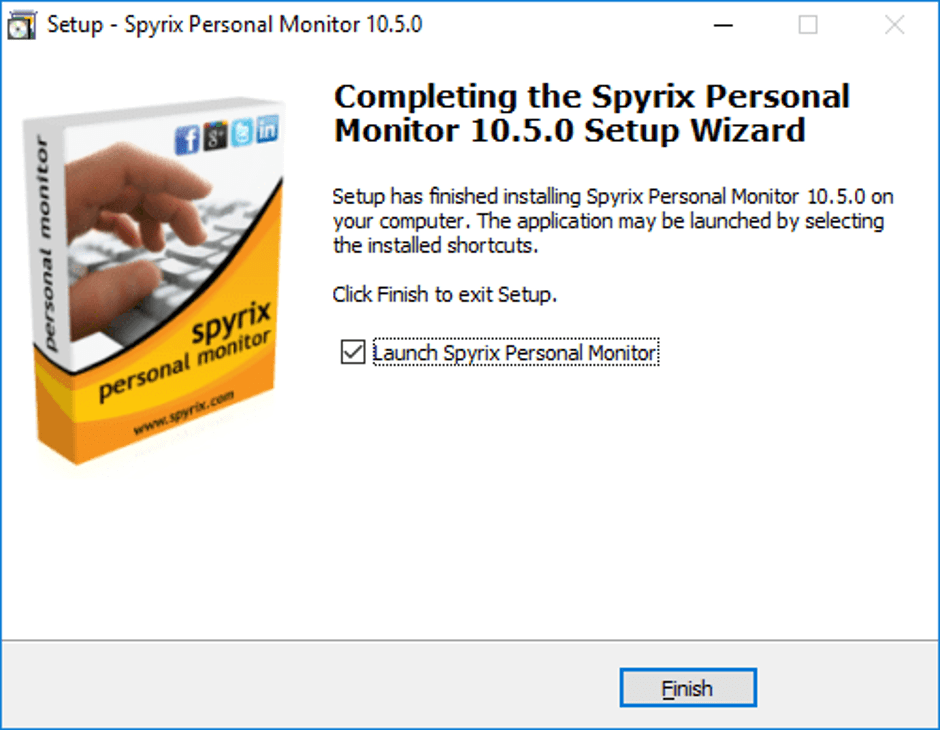 Follow the Wizard to configure settings. Do not skip this step.
Enable online monitoring in the pop-up window.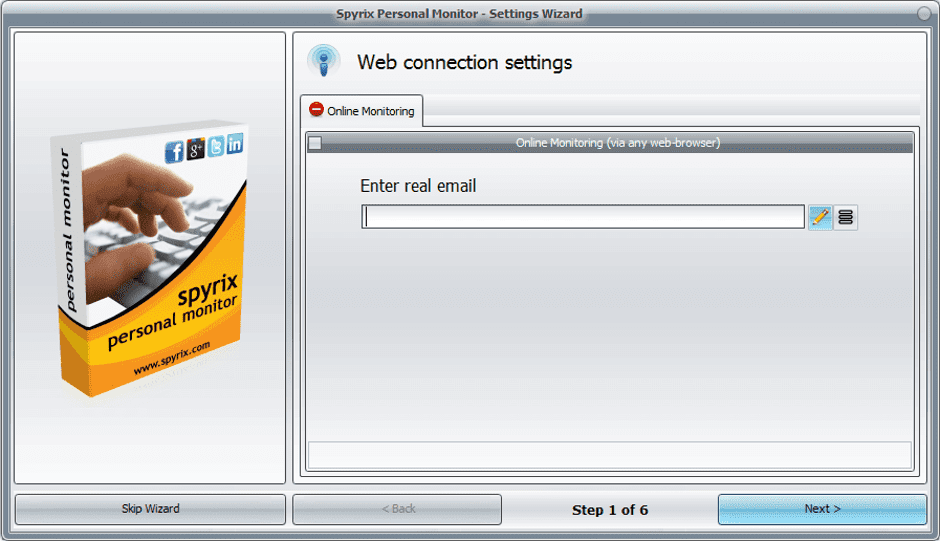 Type your email address in the provided field, create your account, and activate it.
To get the best out of Spyrix keylogger, choose hotkeys, set screenshot quality and timing, select websites, and customize other important processes. Remember to configure invisibility options and choose users to monitor.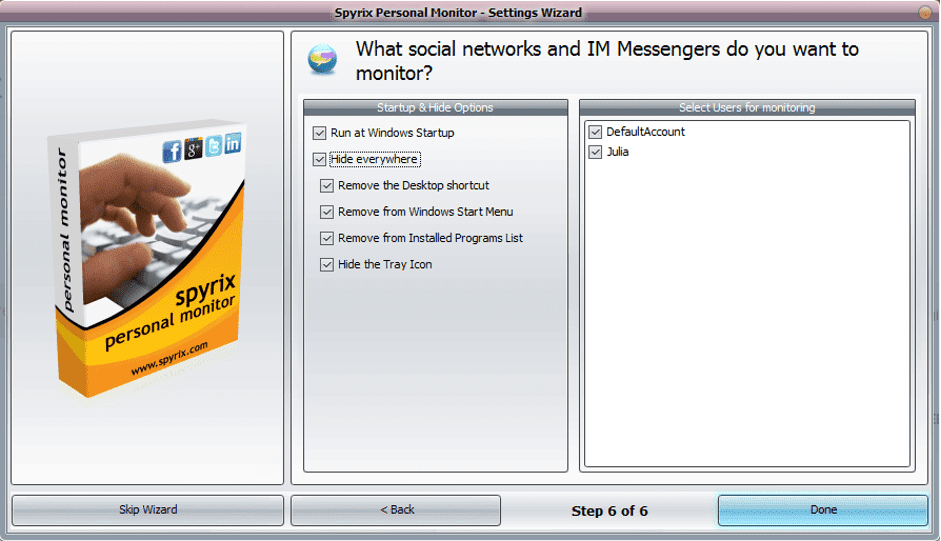 Pricing
Spyrix provides different pricing for various devices. This program can monitor Mac, Windows, and Android/iOS devices. Its prices vary depending on the number of computers you want to watch. For instance, you will pay $59 to monitor one Windows computer, $65 for 3 Windows PCs, and $85 for 5 Windows PCs. Adding extra features to the program, such as call recording, screen recording, and webcam recording, will increase the price. But based on the functionalities that this Spyrix keylogger review has highlighted, the program is worth the amount.
Windows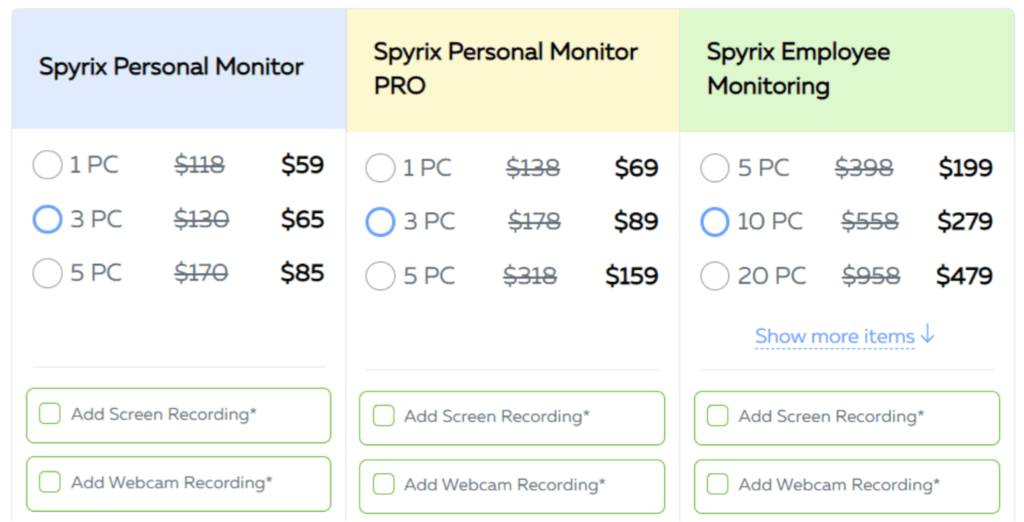 MacOS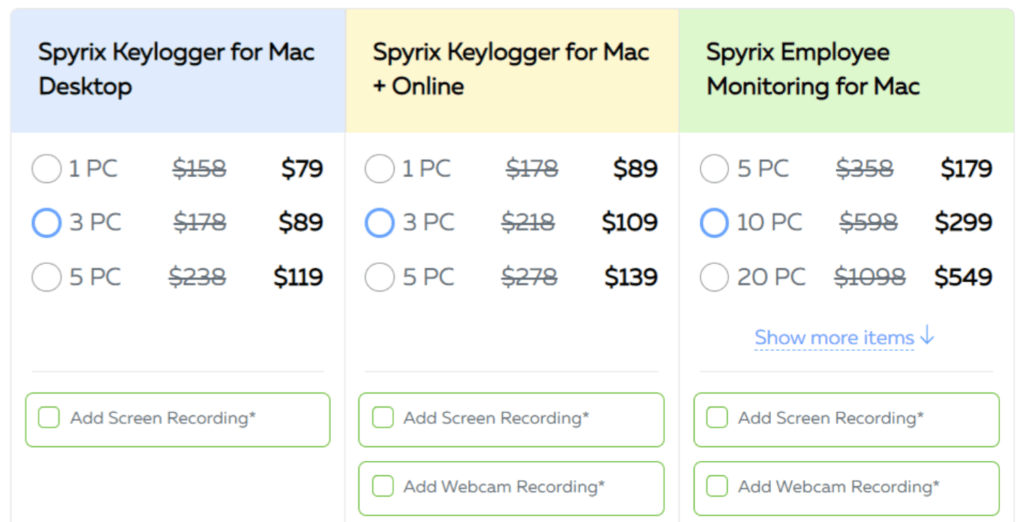 While the free version is sufficient for essential monitoring, the paid version has more advanced features. Thus, you may want to install it if you want more efficient and detailed reports of the target person's activity on their computer. Therefore, the spy app pays off, especially if you suspect that someone is using the company's computer to disclose secrets to your competitors.
Customer Support
The people who run Spyrix know users may need support at some point. Therefore, it provides direct customer support via email, the preferred communication means for people that like remote monitoring. Once you open a ticket on the Spyrix website, you receive an email response within 48 hours. Each support request gets a unique identifier that enables the customer to track responses or progress.
What's more, Spyrix has an FAQ page on the company's website. This page is an extensive guide for the users, answering questions that most users have when considering the program. However, Spyrix doesn't offer telephone support and live chat.
FAQ
Is Spyrix safe?
Yes. Spyrix is a safe computer monitoring program. Many users recommend it as a safe and effective parental control app. It provides helpful information for individuals that want to monitor employees, spouses, and children without them knowing. The program has a consumer rating of 3.53 stars after 19 reviews, showing that customers are satisfied with it.
Is there any Spyrix keylogger for Android?
Yes. There's a Spyrix keylogger spy app for Android. EvaSpy is an example of a keylogger that monitors GPS locations, text messages, Facebook, photos, call details, web activity, and WhatsApp. It's an easy-to-use and intelligent application for monitoring activity on all Android mobile devices. The app runs in stealth mode and takes up 230kbs of the device.
How to unhide Spyrix?
You hide the program in your desired area, such as the desktop, task manager, tray icons, or program files. The next step lets you select the keyboard keys combination for showing the program's interface or unhide it because it's completely hidden. However, you need a method for accessing its interface and viewing reports or changing the settings. Therefore, you can use the keyboard key combinations to open Spyrix when hidden and unhide it or set a password for accessing it.
How to uninstall Spyrix?
To remove Spyrix keylogger, open the start menu and search for Apps and Features. Find Spyrix Free Keylogger from the list and click on it. Select Uninstall to initiate its removal. The installation folder might have the uninst000.exe or uninstall.exe. And this means you must execute the file to start its removal.
Is there any Spyrix keylogger for iPhone?
Yes. You can use Spyrix Viewer for iOS devices. This application allows you to view logs on the app using a mobile device. Upon installation, the app will enable you to view records of the target computer without visiting the website. Thus, this iPhone spy app is user-friendly and convenient, and you can change its settings.
Spyrix free keylogger is an affordable and effective computer monitoring app. Its features enable users to do many things with it, including recording keystrokes on the target device and capturing screenshots at regular intervals. Therefore, this spyware allows a user to monitor what the target person does on their computer accurately. The free Spyrix version is sufficient if you need it for essential monitoring. However, you will need the paid version for detailed monitoring. Overall, Spyrix is ideal for anybody that wants to track another person's activity on their PC without them knowing. It's suitable for parents, employers, and spouses who suspect their partners are cheating.
Spyrix free keylogger is an affordable and effective computer monitoring app. Its features enable users to do many things with it, including recording keystrokes on the target device and capturing screenshots at regular intervals. Therefore, this spyware allows a user to monitor what the target person does on their computer accurately. The free Spyrix version is sufficient if you need it for essential monitoring. However, you will need the paid version for detailed monitoring. Overall, Spyrix is ideal for anybody that wants to track another person's activity on their PC without them knowing. It's suitable for parents, employers, and spouses who suspect their partners are cheating.