Spyzie Review: High-Rated Parental App for Mobile Phone Tracking in 2023
Affiliate Disclaimer: SpyPhone.App may earn a commission from purchases made through our links, at no extra cost to you. Our reviews are unbiased and based on our evaluation of the products and services. Your support through these links helps us maintain our website. Thank you for your support!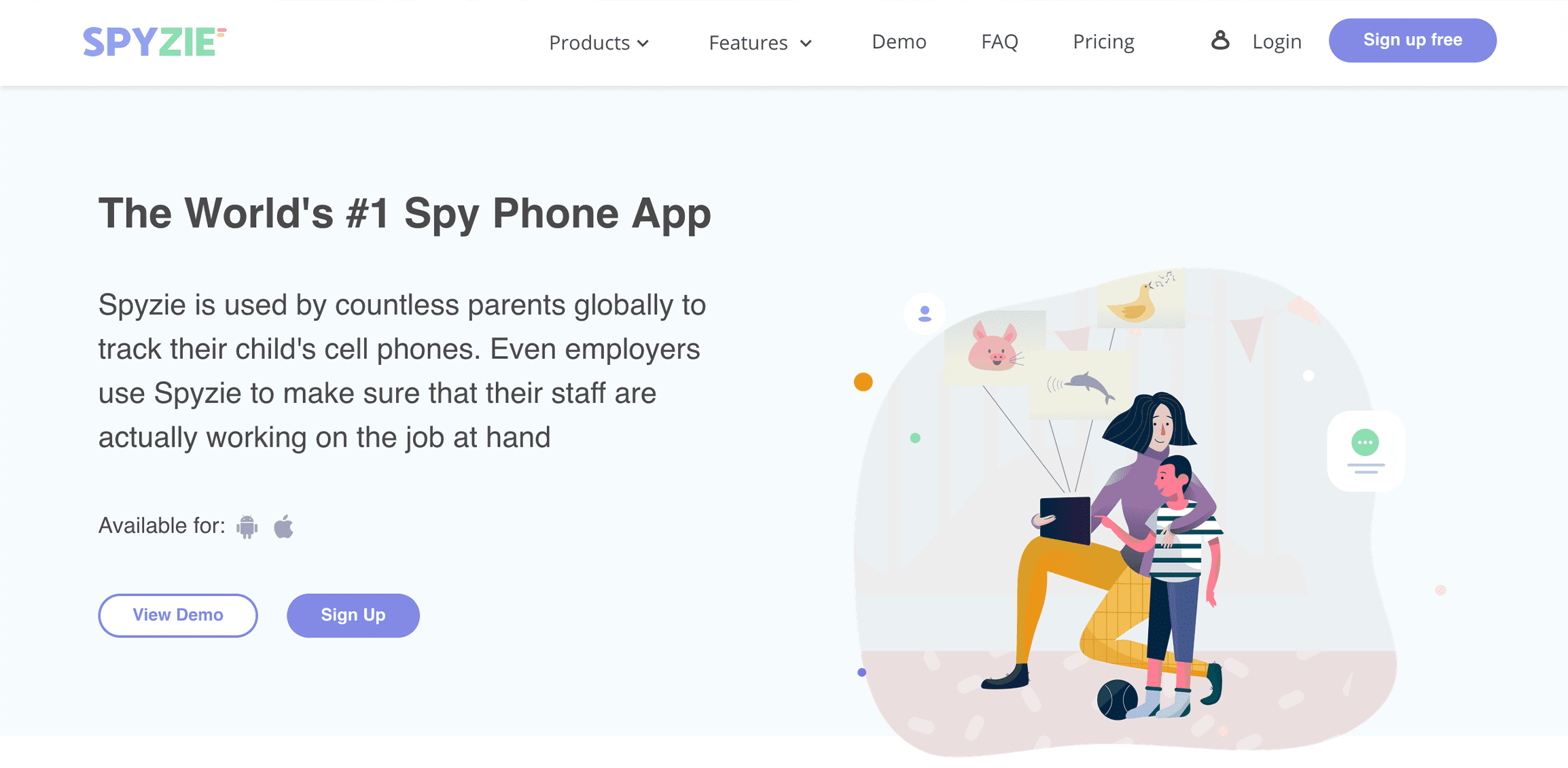 The rapid growth of privacy behind screens has increased the dangers and doubts lingering in online environments. Thus, ensuring peace of mind in the digital world is now a challenge for many parents and spouses. However, the Spyzie phone monitoring app makes tracking your kid's safety or your partner's phone activities easier than ever.
Spyzie App Overview
What I Liked Most About Spyzie Monitoring App
One of the best sides of the Spyzie tracker is the simple setup process. Besides, extensive monitoring tools with affordable prices and multiple device tracking features distinguish the spy app from its counterparts. Lastly, extensive social media tracking and geofencing services serve as efficient parental control functions and boost customer satisfaction.
What I Didn't Like About Spyzie
The data sync process is slow and affects the overall data import. Shorter update intervals drain the battery and trigger spyware system errors. Plus, phone conversations cannot be recorded simultaneously, and saved video files cannot be played in the user dashboard. Lastly, there is no Spyzie free trial for Android and iOS phones.
What Is Spyzie App?
Spyzie is a hidden phone spy app designed to monitor the offline and online activities in your family or relationship. It is programmed to spy on Android and iPhones without leaving a trace and provide information on call history, text messages, private chats, internet usage, and social media interactions.
The app possesses a user-friendly interface and an all-in-one dashboard view. It is easy to find what you are looking for, and quick updates refresh your account's main page with new phone activities, including location data. Keep reading our all-inclusive Spyzie review and find out more about the hidden spy app.
How Does Spyzie Work?
Spyzie for iPhone and Android tracks down the mobile activities of your children or partner without them knowing. It initiates remote cell phone tracking with a quick setup and becomes your best agent in monitoring the lives of your loved ones.
The logic behind all spy apps is the same. What matters is the spyware quality for accurate mobile tracking. Spyzie offers it to you with an ease of use and 100% anonymity.
Apart from phone activities, including visited websites and chats, Spyzie anonymously spies on the GPS signals of the target phone and conducts real-time location tracking with regular updates.
Spyzie Device Compatibility
The remote phone tracker is suitable for Android phones or tablets running on Android 4.0 and up and all iPhones and iPads, regardless of version, and does not necessitate complex and long rooting or jailbreaking processes. One-time physical access in Android devices is enough for overall setup, while the details of the iCloud account start remote monitoring in iPhones and iPads.
Despite the eye-catching spying features of the app, such as geofencing, SIM card tracking, and social media monitoring, most of the Spyzie services lack iOS compatibility. For a deeper investigation on your kid's or spouse's iPhone, uMobix offers more powerful tracking options on device information, online status, and virtual platforms such as Facebook and Instagram.
Spyzie for Android Phones
Spyzie for Android offers users a broad monitoring pack with convenient tracking options. The developers of the app have successfully integrated spyware operations with Android 4.0 and up, hacking mobile OS discreetly and remotely. Android users can benefit from all tracking services without rooting and can install Spyzie on the device they want to monitor with an easy manual.
The hidden app can efficiently hide itself in the background and conduct intense spying on your child's Android phone. You can hide the app icon by adjusting the settings and keep an eye on your loved ones without causing any disturbance.
How to Install Spyzie on Android Devices
Visit spyzie.io and register on the website.

Enter a valid email address and password.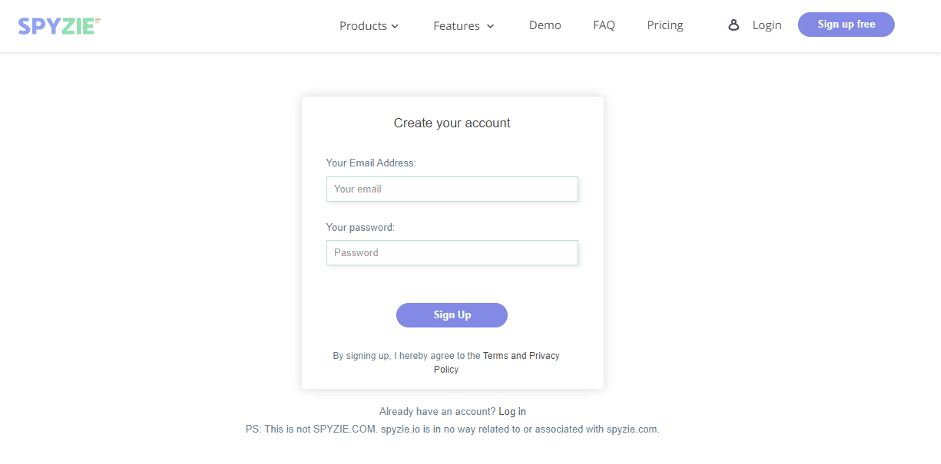 Select Android and complete the payment.

Fill in the necessary information and click on "Proceed" to start the Android setup.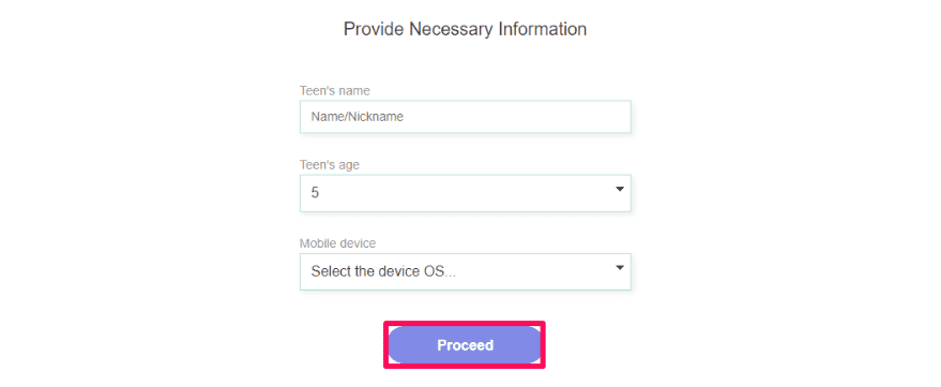 Get physical access to the aimed phone and disable Google Play Protect from Play Store settings; turn off "Improve harmful app detection" and "Scan device for security threats".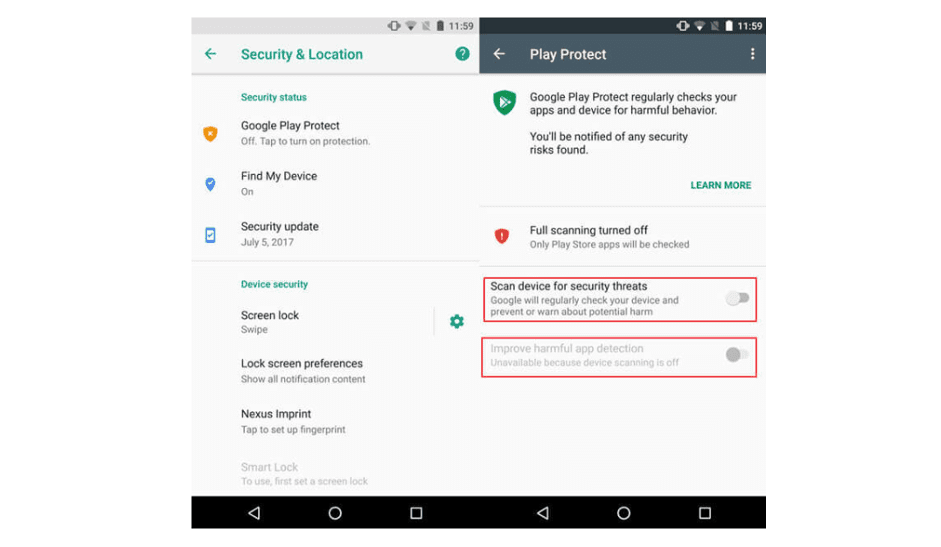 Go to phone settings and turn on "Install apps from unknown sources".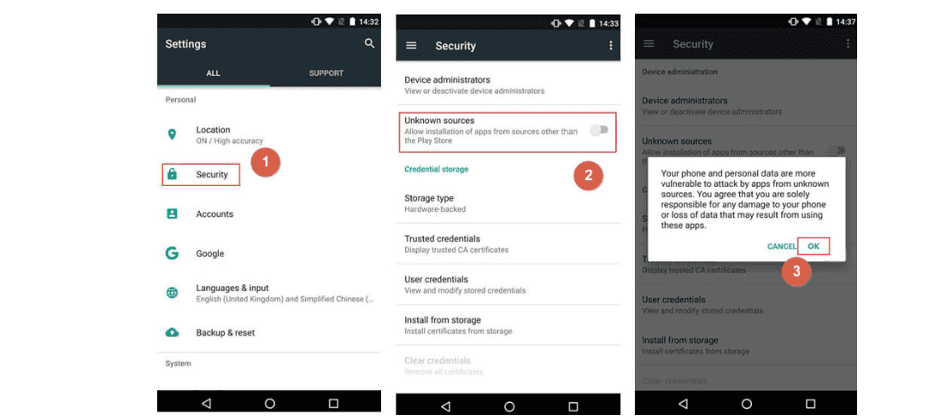 Copy the Spyzie download link and paste it to the mobile browser of the target Android. Click on "Install".
Sign in to your Spyzie account and grant the necessary permissions.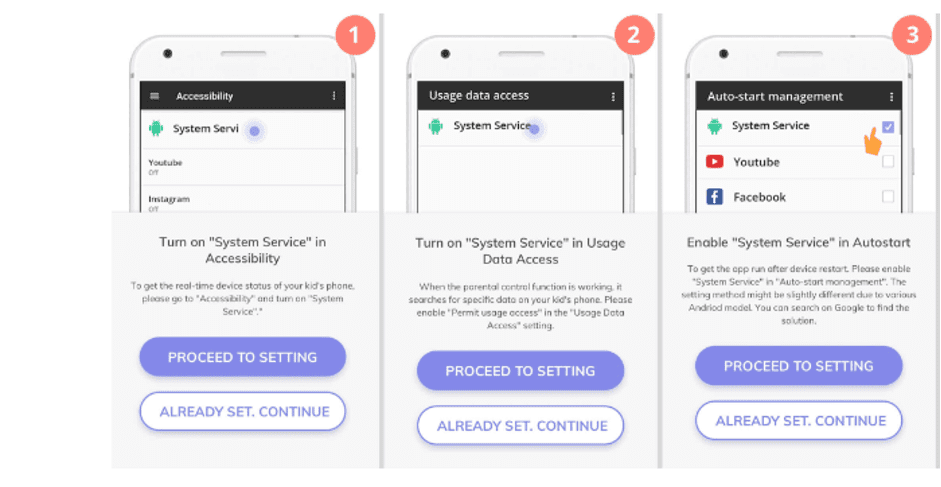 Hide the app icon to activate full stealth mode.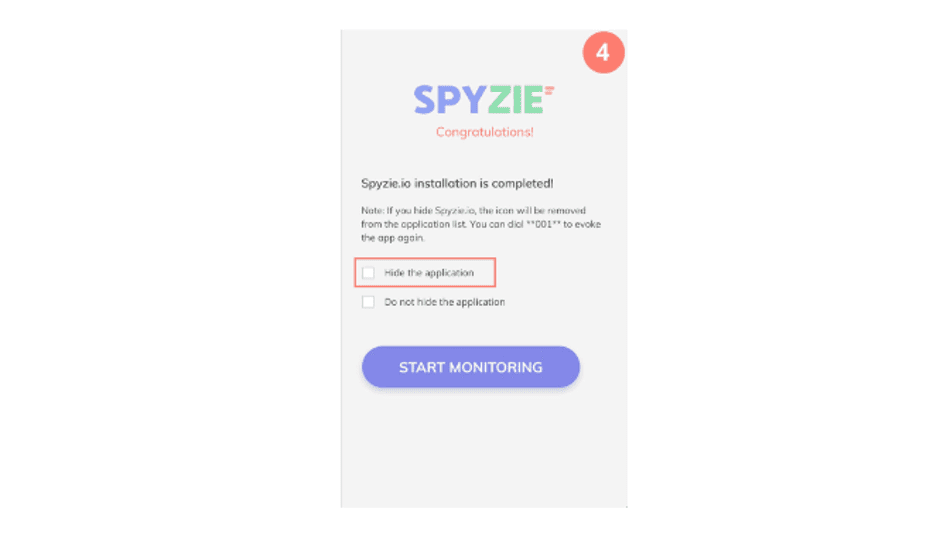 Go to the Spyzie login page through your computer or mobile browser and track the Android phone discreetly.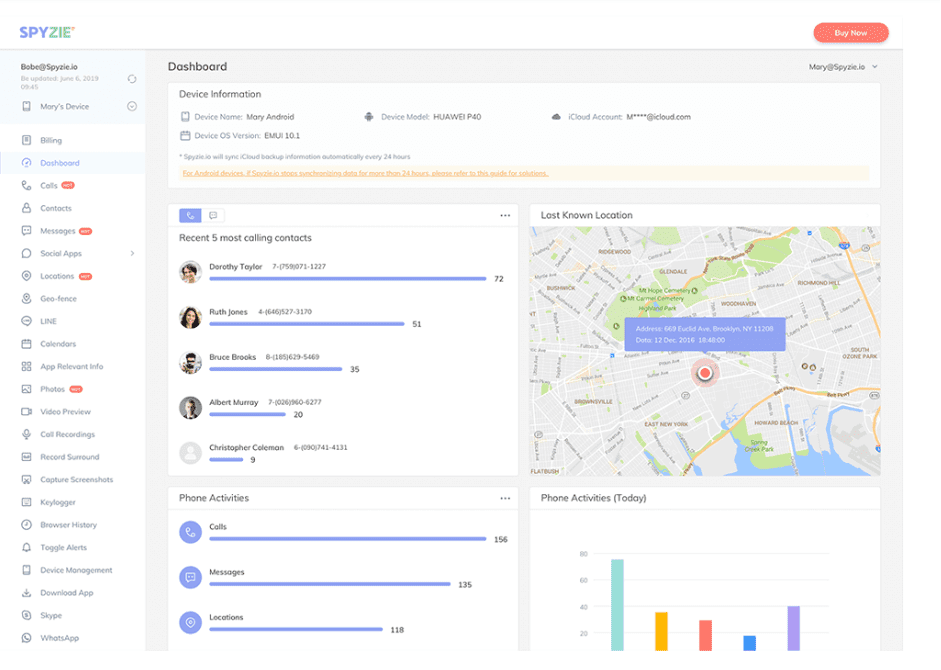 Spyzie for iPhone
A recent study revealed that up-to-date security walls of Apple iPhones are vulnerable against secret and efficient mobile spyware hacking systems. Spyzie hidden app, on the other hand, can successfully snoop into the unbreakable safety systems of iOS devices and view the real-time phone activities of the device holder secretly.
Different from Android tracking, Spyzie for iPhone and iPad spying is possible through iCloud backup. Users do not need to install Spyzie on the target iOS device, and entering the iCloud login details is enough to start remote monitoring.
How to Install Spyzie on iOS Devices
Go to Spyzie's official page and create an account by clicking on "Sign up free".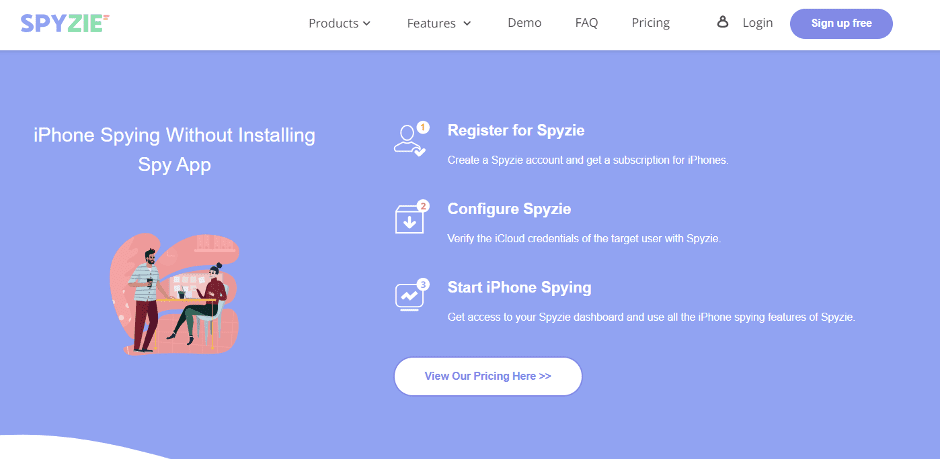 Choose your subscription pack and enter the name, age, and mobile device of the phone holder.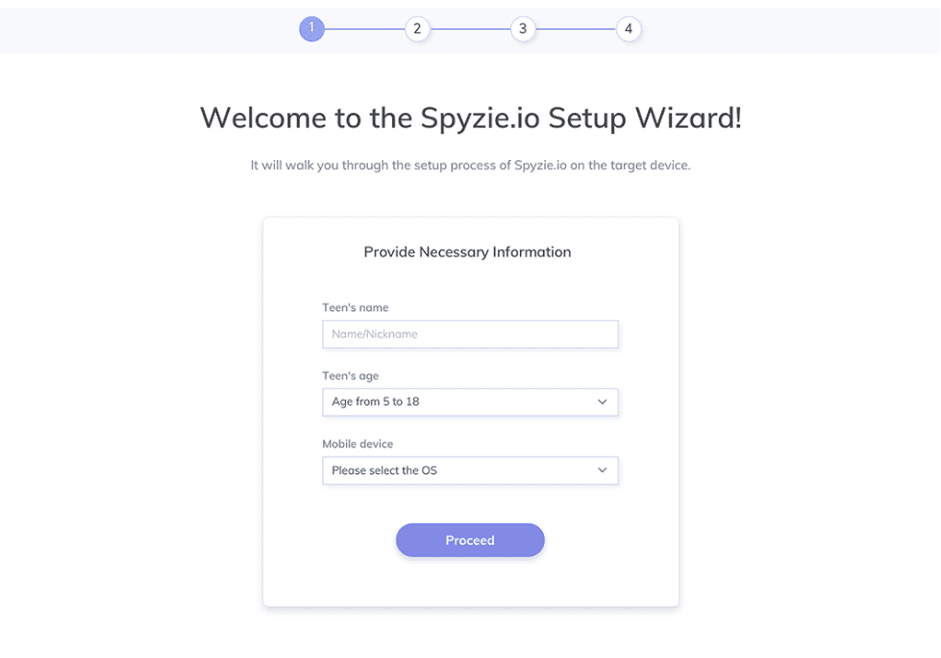 Go to your mailbox and click on the "Start Monitoring" link to be redirected to the Spyzie iOS setup page. Enter the iCloud credentials of the phone owner. (Make sure you turned on iCloud backup and disabled two-factor authentication on the target iPhone before the app setup).
Select the iOS device you want to track and click on "Next".
Finalize the setup process and click on "Start".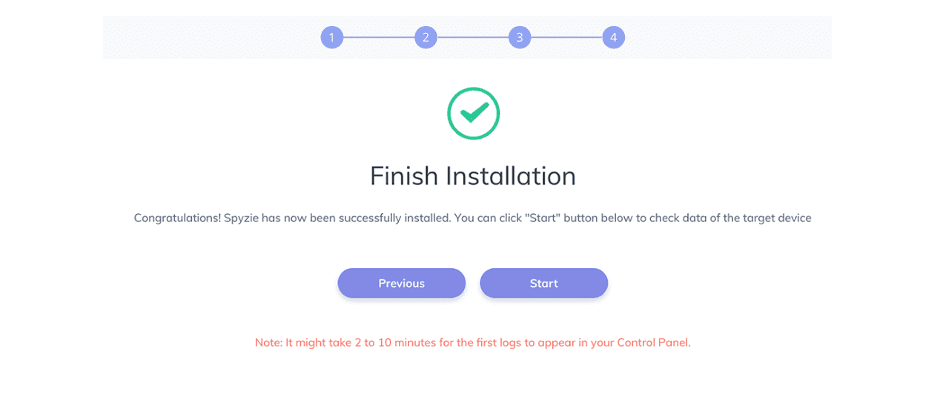 Log in to your Spyzie control panel and wait for the initial data sync. Use Spyzie and spy on the iPhone remotely.
User Control Panel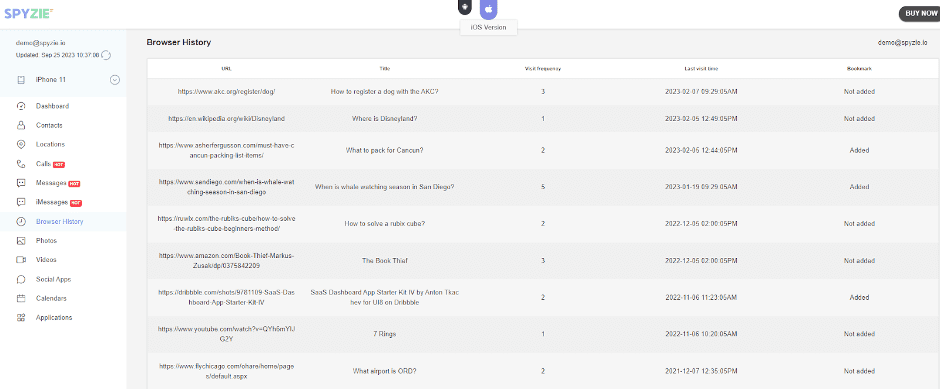 One of the fundamentals of a fine spy app is the simple but functional design of the control panel that allows persons find what they are looking for easily.
The Android and iPhone user panels of the app provide a clear and simple tracking page after completing the iCloud setup or Android installation of Spyzie. The device info and the last sync time can be found on the homepage.
All monitoring features are listed neatly on the left, and clicking on each extends the page with detailed data logs. Media files can be previewed, and social media direct messages can be read with timestamps.
App Features
My Spyzie offers users the most functional tracking features for parental control and more. From social media monitoring to location tracking, the app hacks all kinds of phone activities discreetly.
Call Logs and Address Book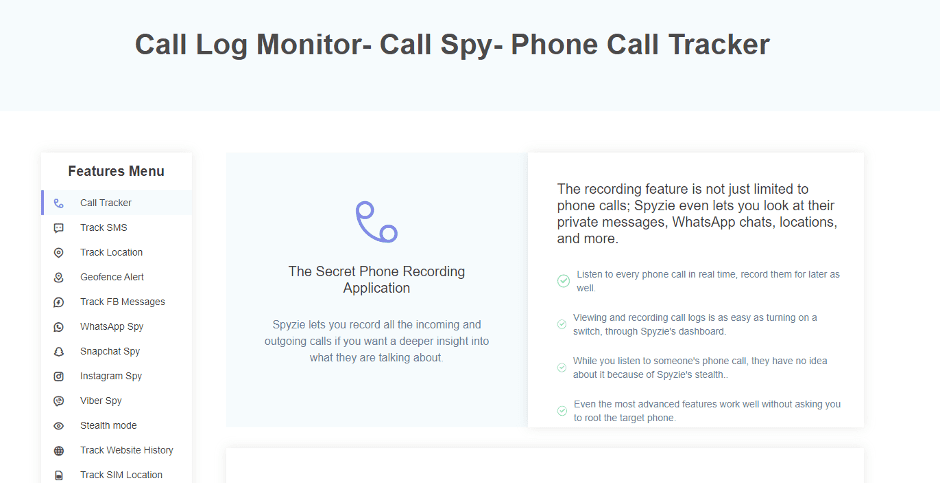 While viewing call history and contact lists is an efficient monitoring option for online control, recording phone conversations simultaneously can help you pin down harmful connections faster.
The parental control app provides families with full insight into their kid's phone conversations. It saves call logs with real-time updates. With Spyzie, users can view the address book without rooting or jailbreak. The names your child or spouse contacted the most are reported in your control panel in full stealth mode.
Text Messages

Cell phone spyware can successfully hack the SMS messages and private chats of instant messaging apps such as WhatsApp, Facebook, and Kik without being detected. The content of iMessages and iPhones, as well as the pictures and videos shared in chat boxes, are recorded in the dashboard.
Similar to the uMobix phone app, Spyzie tracks not only sent or received messages but also deleted conversations. The number of messages is shown in the user panel with the names contacted, helping parents and spouses detect any kind of danger or adultery easily.
Geolocation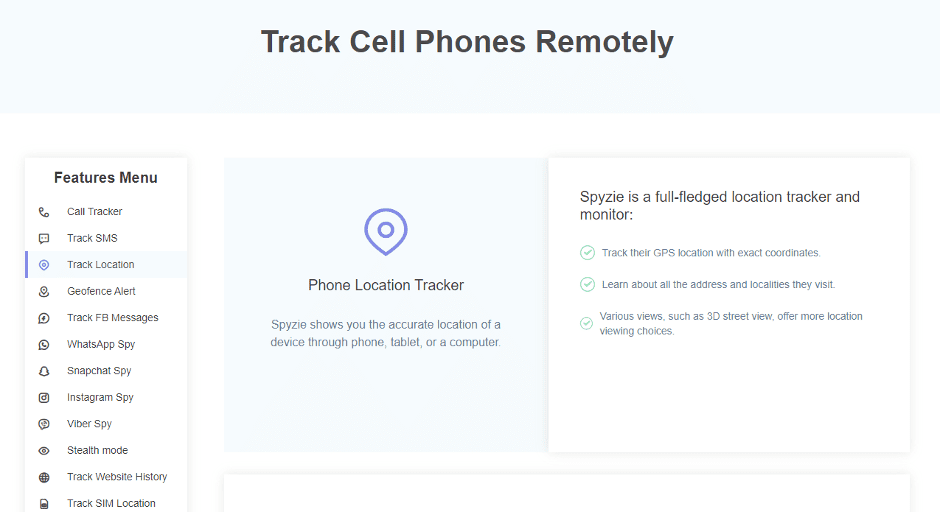 It is not always possible to be informed about the whereabouts of your kid or partner, and relying on their words may not always relieve your heart. Spyzie lets you monitor their current location remotely without leaving a trace behind.
The spy app tracks the coordinates of the phones and tablets with precise geolocation and shows the addresses visited on the map. Plus, a quality street view through your mobile device or computer is available for deeper investigation. To use this feature, it is enough to connect to your Spyzie.io user panel and click on "Locations".
Social Media Platforms
Social media apps can sometimes pose dangers to young individuals and turn them into targets. Plus, the contradictions on what counts as cheating on online platforms can turn into a problem among couples. With the Spyzie app, you can track the most popular social media accounts, including Snapchat, Instagram, and Viber, easily and remotely.
If you need an app to spy on Snapchathidden phone spy app, Spyzie offers far-reaching tracking features for your mobile device: access Snapchat profile and contacts, photos and videos shared on the online platform, private/deleted chats with timestamps, and get notifications for any sent/received Snapchat messages.
Spyzie Instagram tracker is an efficient tool for most Android devices. For deeper iOS social media monitoring, you can try uMobix, which is one of the most powerful apps to spy on Instagram. Among the functionalities of Spyzie are spying on Instagram profiles and posts remotely, viewing sent/received direct messages, monitoring follower/followed lists, and receiving alerts for comments.
My Spyzie can hack Viber and give you a glance at your child's or cheating partner's social interactions, warning you against unwanted situations, such as viewing chat history and names, tracking deleted messages and media files remotely, accessing private conversations and groups, and getting notified of new messages.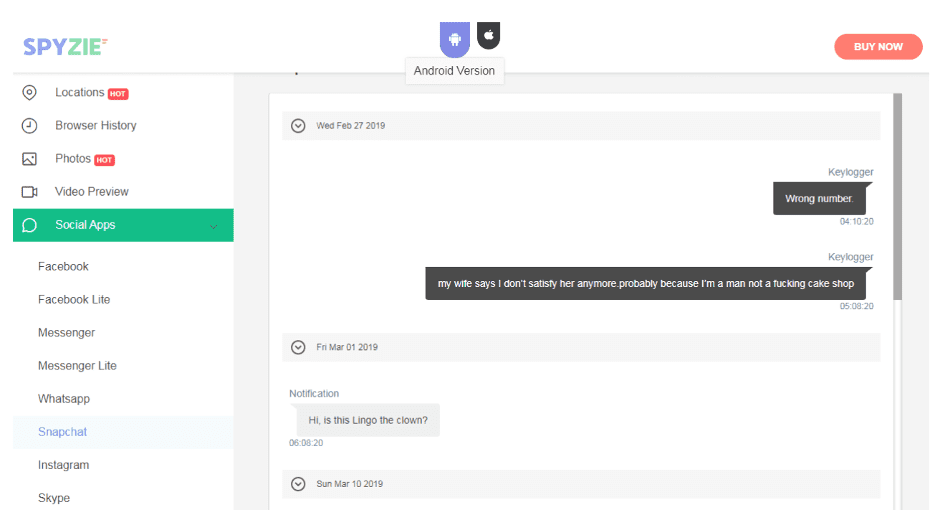 Social media and instant messaging app monitoring is the number one element of a quality spy app. Either for parental control or spouse tracking, digging into these virtual worlds can reveal more than you think.
Web History

Spyzie's well-developed software and keylogger feature collects the browser history of the smartphone anonymously. Once you install the app, the internet usage, frequency, etc., of the target Android or iOS device drops on your Spyzie dashboard immediately, allowing you to collect information on the following:
View the list of websites visited by your kid or spouse
Monitor the internet usage and frequency discreetly
See the saved bookmarks and web pages
Track search bar entries
Get informed about the website content
Pictures and Videos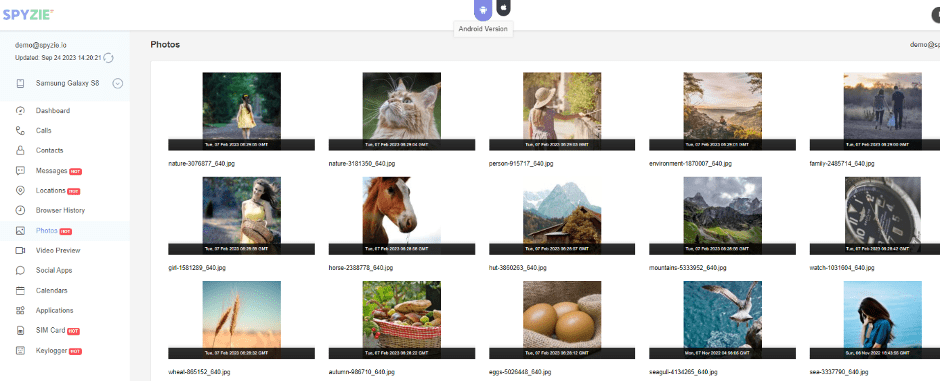 Sometimes, a picture or video in the gallery of your child or partner may warn you against a threatening situation or an act of betrayal. In this case, using a spy app may be the best solution to put an end to your doubts.
The Spyzie monitoring app successfully invades the media storage of the target phone and shows you the content below in minutes:
Review sent/received media files from social media and instant messaging apps
View inappropriate content saved in the phone gallery
Access pictures and videos anonymously
See the date and time media files were obtained
Monitor the online content-sharing activities of your child or spouse simultaneously
Phone Applications

The Internet is a vast world of endless sources, and sometimes, it can be a challenge to protect your children from adult applications or content. The fact that access to the App Store and Play Market is free makes things more challenging than ever. Luckily, the Spyzie app works in the background and shows you the full list of apps on the target device. You can:
View in-built and installed apps on the mobile phone
Track most performed phone activities on popular apps
Monitor app usage and frequency on the dashboard homepage
Access username and password details of apps via keylogger
Get notified about newly installed apps
Geofence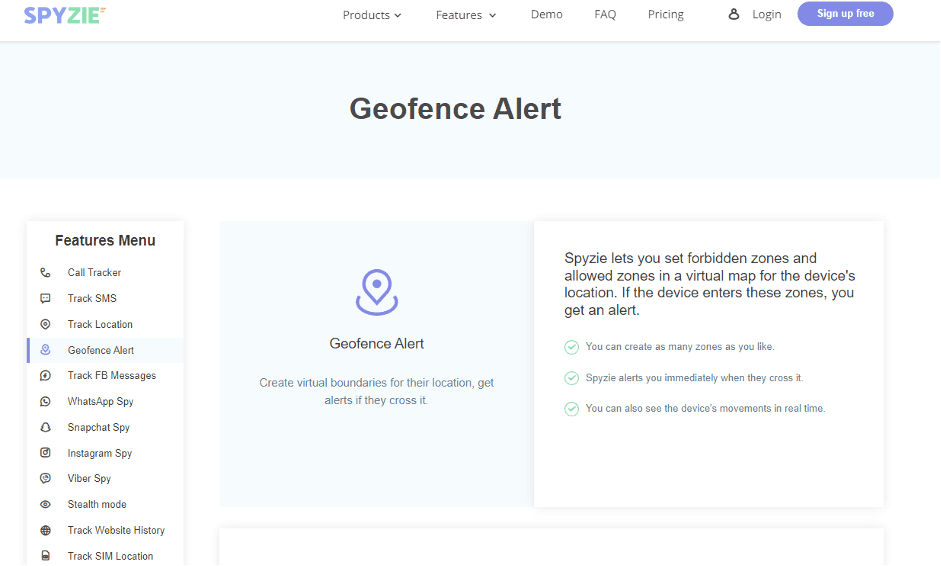 Geofencing is a highly efficient monitoring service enhanced with high-tech GPS tracking systems that allow users to draw borders on the map and get alerts for any violation. Spyzie parental control app not only shows families the exact coordinates of their loved ones but also informs them of any unwanted movements in the neighborhood. With Spyzie geofencing feature, it is possible to:
Track the real-time location of your child's iOS or Android device
Monitor the routes taken to a destination
View the visited places and GPS history with timestamps
Create multiple allowed zones on an HD-quality map
Get instant alerts for any trespass
SIM Card Tracking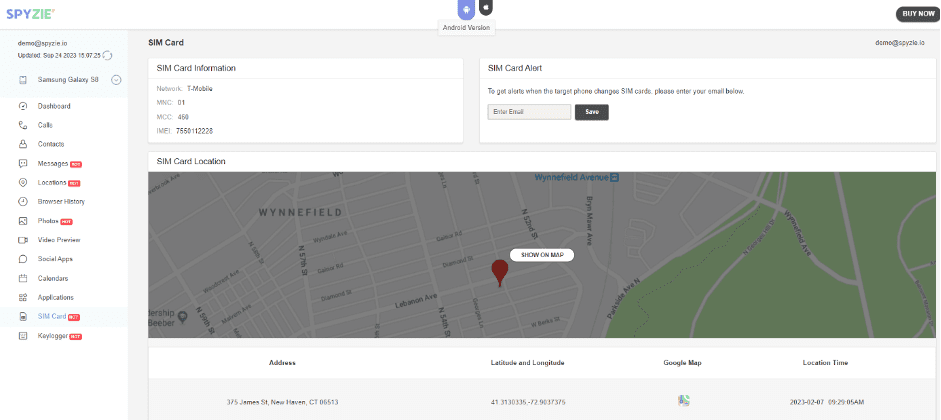 The Spyzie app does not only monitor the phone activities but also tracks the SIM card of the aimed device. The spy software runs in full stealth mode and retrieves the phone number, mobile network, and device information of the Android or iPhone within minutes. Plus, it tracks the cell phone location via the SIM card tracking feature. Spyzie allows users:
Track SIM card data from mobile devices or computers
View IMEI, phone number, and carrier
Spy on the mobile network or Wi-Fi
Get notified of any SIM card replacements
Track the location of the phone via network and SIM card information
Keylogger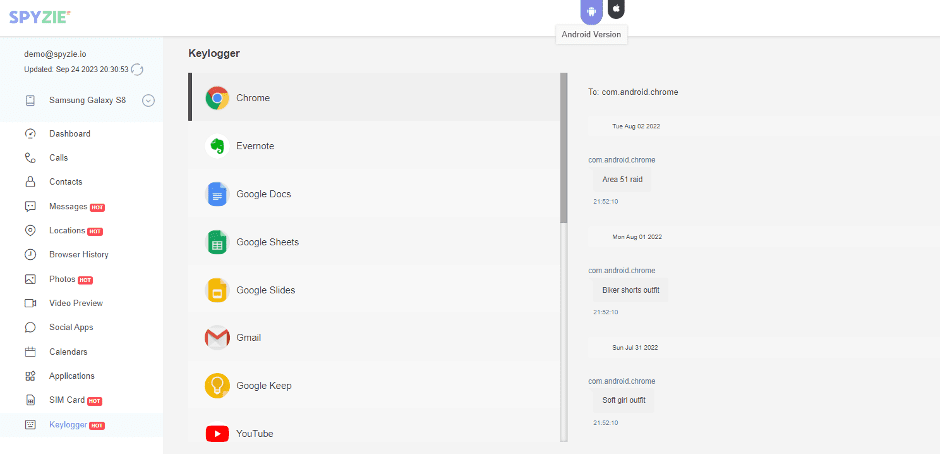 With a keylogger, you can monitor every single phone activity, from web entries to app login details, easily. Android users can benefit from the Spyzie keylogger feature, while more improvements are needed for iOS users. For an accurate iPhone keylogger app, you can try mSpy and save the digital fingerprints of your child or partner remotely (jailbreak will be required). With Spyzie keylogger, you can:
View internet search bar entries with timestamps
Scan through sent/received emails
Monitor Microsoft Excell documents and written content
Track app usernames and passwords
Spy on notes and calendars
Spyzie App Performance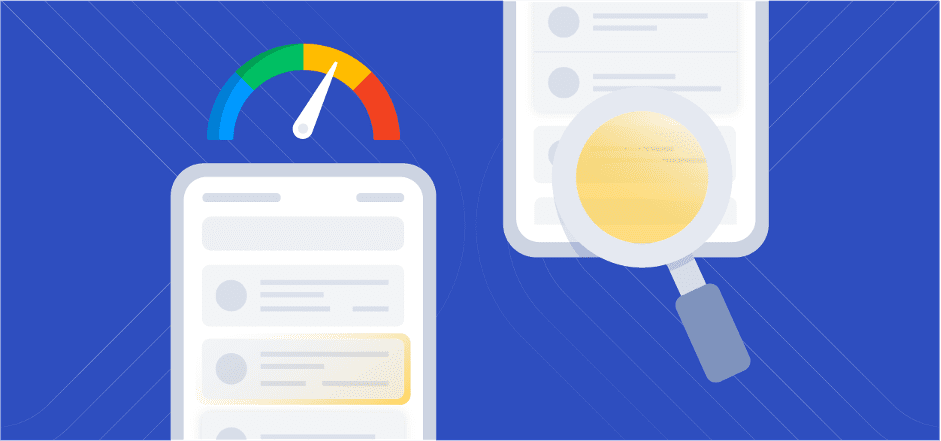 Spyzie phone tracker does not need any rooting procedures, and users can install Spyzie on Android devices as a 2MB app. Similarly, iOS configuration does not involve any jailbreaking or downloading processes, and iCloud backup and credentials are enough for the remote monitoring of the smartphone.
The practical and smart setup options of the spyware contribute to the battery life and speed of the spying services. In this Spyzie review, we investigated the overall app performance of the spying tool and highlighted the best details.
Battery Consumption
Like other spy apps such as mSpy or uMobix, the battery drainage of Spyzie mainly depends on the frequency of the data sync. The spyware automatically updates the tracking info of the target phone every 20-30 minutes, providing the optimal time for a balanced battery consumption. If you need location tracking, however, the app uses real-time GPS updates and drains the battery more than usual.
Speed
The speed of a spy app is determined by the successful implementation of the spyware in the OS. Spyzie effectively hacks the phone settings and hides itself in the background while constantly collecting data from the aimed phone. Plus, the stability of the internet connection affects the app speed and the frequency of the updates. After you install Spyzie on an Android phone or initiate remote monitoring via iCloud backup, the spying tool repeats fast and accurate data transfers in short intervals.
Data Sync & Updates
Spyzie data sync and updates take place every half an hour, and location tracking services shorten this time for real-time coordinate detection. The hidden spyware also provides a sync refresh button on the dashboard and shows the latest update time of the imported phone data. However, increasing the sync frequency may reduce the battery life and create glitches in the target device, posing a risk to your anonymity.
Is Spyzie a Safe Phone Tracker?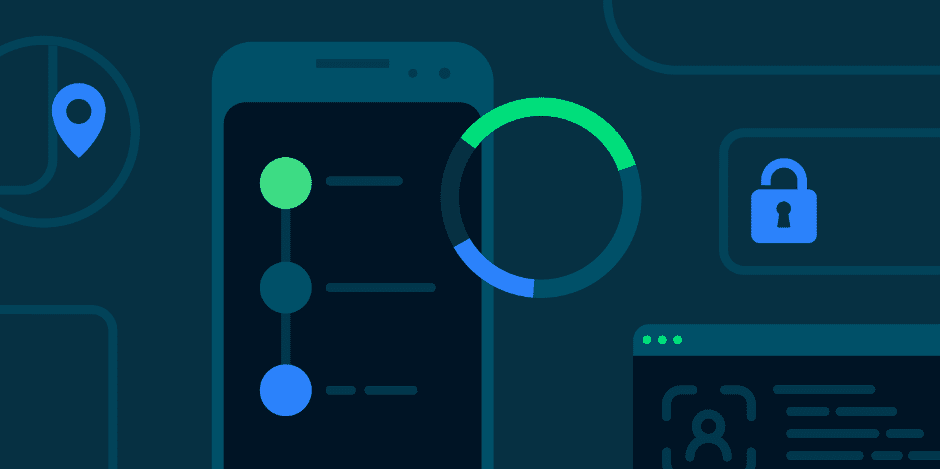 One of the crucial points to be considered before purchasing a phone tracker is the extent of the safety and privacy measures taken regarding customer rights. Spyzie policies abide by legal regulations and promise a secure monitoring experience.
When we say spying, the first thing that comes to our minds is the privacy of our user identity and the security of our data in the virtual world. The Spyzie app offers you both the most well-known safety systems.
Security
Spyzie is a legitimate cell phone tracking app offering useful monitoring services for all mobile brands. It has a good reputation among customer comments and high-rated scores in online Spyzie reviews. Reliable customer support, refund, and privacy policies open to public view, and money transfers conducted with safe payment methods prove the powerful safety walls of the spying app and boost user trust.
Privacy
Like other phone apps, the Spyzie mobile tracker collects personal information upon registration. These data include your demographic information, location, email, and card details. The top-tier monitoring tool safeguards all these personal data with strict privacy policies and does not share any information with third-party apps.
GDPR & HTTPS/LTS
General Data Protection Regulation (GDPR) aims to secure your data while using the app. These regulations protect your confidentiality through legal rights and avoid any kind of personal violation. HTTPS/LTS protocols, on the other hand, are used to encrypt these data and prevent potential hacking operations targeting your card details or password. Spyzie provides efficient monitoring services through secure data processing and ensures user anonymity.
Encryption
The data you enter on Spyzie databases are encrypted with high-tech algorithms. Firewalls limit access to unwanted breaks against your account and protect your login details. When you want to enter the Spyzie website again, secure protocols apply the process, and the same data gets decrypted for your access.
Spyzie Cost
For iOS devices, Spyzie offers Premium, Family, and Business subscription packs with an 87% discount. The premium plan tracks 1 device for $49.99/mo while the family plan monitors up to 5 devices for $99.99/mo. If you need spying solutions for more phones, try the business plan and track 25 iOS devices for $399.99/mo.
Spyzie for Android monitoring includes 3 payment plans: Basic, Premium, and Family. The basic plan lacks some advanced tracking features, such as social media and installed apps monitoring, and it tracks 1 device for $39.99/mo. Similarly, the premium plan tracks 1 Android device but offers more spying options for $49.99/mo. Lastly, the full-fledged family pack monitors up to 3 mobile phones for $69.99/mo.
Customer Service
For any questions, Spyzie users can send an email to [email protected]. An experienced customer team responds to your inquiry in 48 hours and provides solutions for any kind of problem. However, for a monitoring tool with quicker solutions, you can prefer mSpy and uMobix live chat options that are available 24/7.
Spyzie App Pros and Cons
This Spyzie app review is prepared to ease your spy app research for the best tool addressing your needs. For this, here is our table for the best and worst sides of the Spyzie phone tracker in 2023.
Pros:
Discreet and remote phone monitoring for an affordable Spyzie price
Works well with Android and iPhones without rooting or jailbreaking
Tracks deleted chats and media files
Real-time location tracking
Multiple device tracking available
Easy and fast app setup
Live demo
60-day money-back guarantee
Cons:
Restricted social media tracking for iOS
There is contradictory information on the site; it claims to have call recording but does not offer rooting or jailbreak – these are mutually exclusive factors
Cannot play videos dispatched to your dashboard
No Spyzie free trial
Software dysfunctions after updates and reboots as per user reviews
FAQ
Is Spyzie legit?
The Spyzie app is a reliable tracking tool legislated under legal regulations. It protects user anonymity and data through privacy policies and offers a 60-day money-back guarantee with a refund option. Secure payment methods are used on the official website, and all legal and disclaimer info is open to the public.
Is Spyzie free?
Spyzie monitoring app offers customers paid tracking services, and a demo version is available for parents and spouses who need a sneak peek at the most advanced spying features of the tracker. If you want a free trial spy app, you can visit mspy.com and redeem a 1-day trial coupon code for $13.68 or request a $1 trial offer from uMobix.
How often does Spyzie update?
Spyzie app device sync takes place frequently. These intervals are adjustable on the user dashboard, and users can refresh data whenever they want. However, shorter update frequencies drain the battery more, and the optimal update times automatically set for non-rooted and non-jailbroken phones provide the best spying performance.
Spyzie App Review: Final Verdict
Spyzie
Spyzie addresses the monitoring needs of persons and provides a secure tracking service with reasonable prices. There are plenty of spying features for Android devices, but the lack of social media tracking in iPhones drops the charm of the app in the eyes of Apple users. Using more comprehensive spyware such as uMobix seems a better option for those who seek deeper online research on their kid's or partner's mobile device. Last but not least, our Spyzie review reveals the most important features of the spyware but highlights the fact that some improvements in updates and reboot glitches may contribute to the overall app performance.
Spyzie addresses the monitoring needs of persons and provides a secure tracking service with reasonable prices. There are plenty of spying features for Android devices, but the lack of social media tracking in iPhones drops the charm of the app in the eyes of Apple users. Using more comprehensive spyware such as uMobix seems a better option for those who seek deeper online research on their kid's or partner's mobile device. Last but not least, our Spyzie review reveals the most important features of the spyware but highlights the fact that some improvements in updates and reboot glitches may contribute to the overall app performance.