How to Hack an iPhone With Best Apps to Access iPhone Remotely
Affiliate Disclaimer: SpyPhone.App may earn a commission from purchases made through our links, at no extra cost to you. Our reviews are unbiased and based on our evaluation of the products and services. Your support through these links helps us maintain our website. Thank you for your support!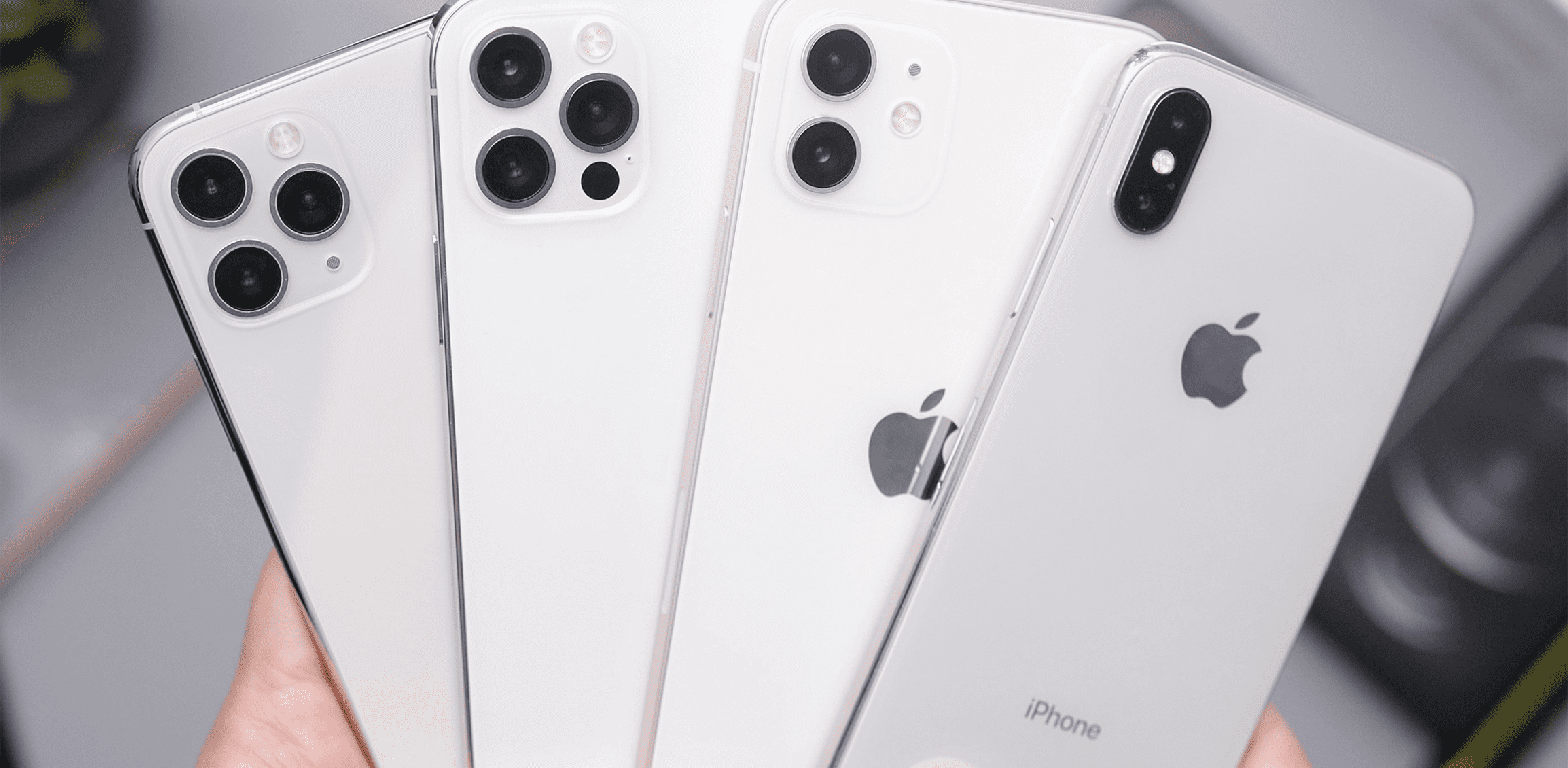 Did you know that even people with no hacking experience can easily breach the security of an iPhone? With just a little bit of knowledge and the right tools, anyone can hack into iOS. How hard is it to hack an iPhone? Believe it or not, it is easier than ever imagined. Despite hackers' various tactics, even a determined person can access an iPhone quickly. Scary, right?
So, if you're keen to learn how to hack an iPhone remotely, this article is for you.
Why Do People Decide to Hack Someone's iPhone?
As the popularity of iPhone devices continues to skyrocket, a dangerous trend has emerged–hacking to access other people's devices. Why do many of us do it?
To access kids' phone data: hacking their child's phone data allows parents to monitor their online activity and ensure their safety.
To stay informed: for those in relationships, hacking iPhone data offers the chance to check on their spouse's fidelity and catch any suspicious behavior.
To monitor productivity and efficacy: some employers frequently hack their staff member's iPhones to monitor their productivity and ensure company policies are followed.
To recover data: it's a great life hack to recover iPhone data when the gadget is lost or to see for any potential security breaches.
Regardless of the reason, iPhone hacking is becoming more common as people seek to gain access to information that can help them make crucial decisions.
Is It Possible to Hack an iPhone?
The short answer is "YES." While you can get more protection from an iOS device than from Android phone, they are still at risk of being hacked through app vulnerabilities and malware. Hackers can hack your iPhone via app/system vulnerabilities or by deceiving you into downloading malware.
Most Frequent Ways to Hack an iPhone
So, let's jump to the most important part of the review–ways through which people hack an iPhone remotely:
Password Generator
The Password Generator is a secure and ethical method to hack any iPhone app, such as, for example, Instagram. Although one could try to retrieve their target's password through guesswork, this approach is less efficient than the generator, which may take more time, but is the safer alternative.
Phishing
Hackers often use phishing as a means to hack someone's iPhone. These sneaky tactics involve links with irregular spelling, unusual logos, or unfamiliar URLs that can grant hackers access to more than just login credentials – including sensitive financial information.
Spy Apps
iPhone spy apps allow monitoring of calls, messages, social media, live tracking, and remote access. Spy apps are frequently used by individuals for monitoring their children, spouse, or employees, with the ability to block apps.
5 Best Spy Apps to Hack iPhone
If you're searching for the best app to hack iPhone, look no further. Our top-notch selection ensures maximum safety and unparalleled performance:
uMobix
uMobix offers a comprehensive suite of features, including real-time GPS tracking, iMessage monitoring, call tracking, and device oversight, to give you unmatched control over the target device. Whether safeguarding your data or watching your child's digital trails, uMobix is your go-to solution.
Features:
Controlling Facebook and Instagram on iOS without jailbreak required as if on your own device
Tracking incoming, missed, and deleted calls
Text messages monitoring
Access to WhatsApp, Messenger, TikTok, Snapchat, Viber, Skype, etc.
GPS location tracking
Access to block websites, apps, messages, calls, WiFi
Real-time audio and video streaming
Viewing deleted contacts
Browse history tracking
Photo and video tracking
Keylogger
👀 Read our uMobix review to see the full list of its features.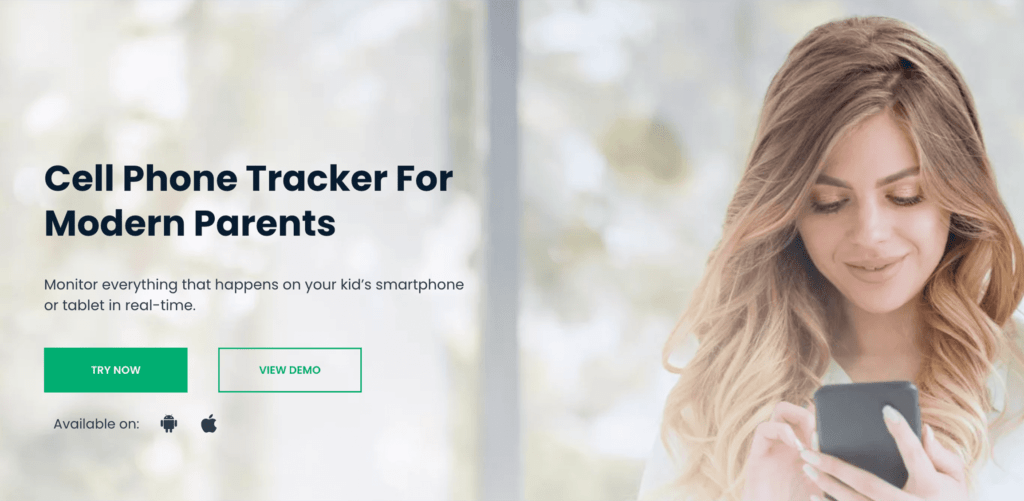 Pros:
Easy setup and installation process
Friendly and easy-to-navigate UI
Customizable reporting
Advanced features
Many social media platforms supported
Remote installation for iOS
Affordable plans
Free trial
Live chat available
14-days money-back guarantee
Cons:
It does not have a call-recording feature
A subscription works only per one device
How to Hack into iPhone with uMobix?
Enter umobix.com on your device.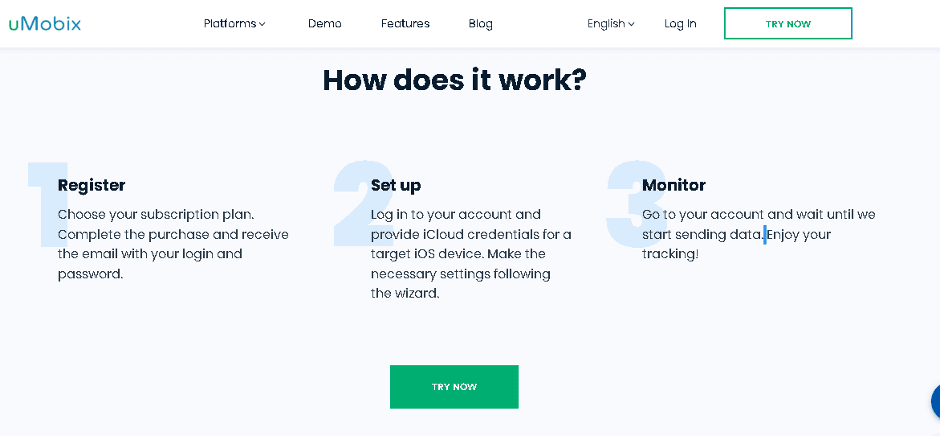 Click "Try Now."
Create an account.
Choose the tracked device's operating system – iOS.

Choose a subscription plan and proceed with the payment process.

You'll get an email containing your login URL and credentials to access your uMobix profile.
Download the app on the target device to monitor the location and browser history. If you want more features to be allowed, log in to your account and provide iCloud credentials for a target iOS device.
To access iMessage monitoring, social media applications like Facebook, Instagram, and other advanced features, the approval and entry of a 2FA code are required.
Go to your account and start receiving the data.
iKeyMonitor
iKeyMonitor is a well-known parental control software that lets you keep an eye on an iPhone's activities from afar. With this hack tool for iPhone, you can monitor various information. In contrast to competitors, it offers a free plan with unlimited usage time, including call history, SMS messages, GPS location, geofencing, contacts, calendars, notes, reminders, voice memos, and WiFi history. Yes, it's a basic set, but it's free and not a scam.
Features:
Live video screening
GPS tracking
Call recording and call history logs
Text messages monitoring
Phone calls recording
Browser history checking
Real-time screenshots capturing
Setting screen time limits
Blocking apps/games
Getting instant alerts
Keystrokes tracking
Tracking social media activities
👉🏻 Read full iKeyMonitor review to see more detailed information about its features.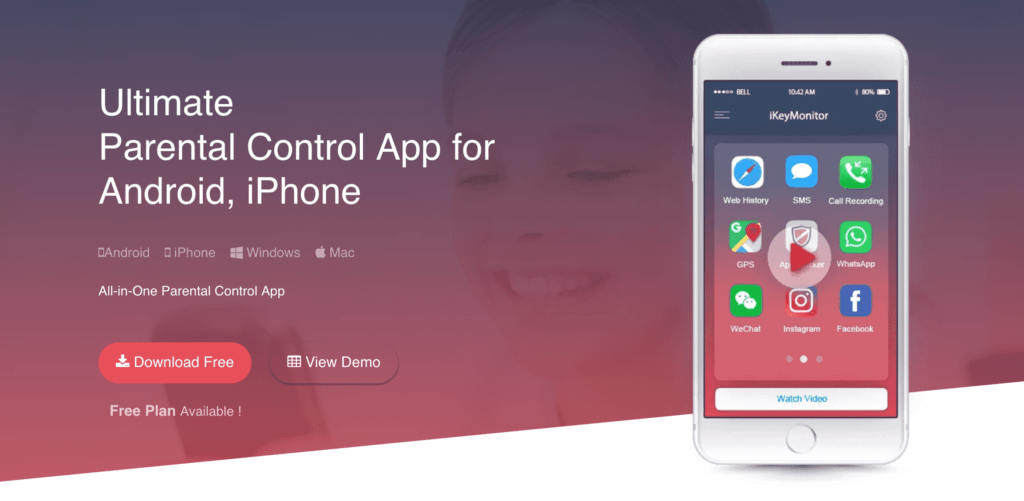 Pros:
Advanced features
Remote control capabilities
Accurate GPS tracking and GEO fencing
User-friendly interface
Free app for mobile phones
Cons:
A few social media are supported
It has limited features for non-jailbroken devices
How to Hack an iPhone Remotely Free with iKeyMonitor?
To install the app on the needed device without jailbreak, you should check whether you have an iCloud ID and password of the target phone, iCloud backup enabled, and 2FA disabled. If 2FA cannot be disabled, create a new iCloud account.
Sign up and log in to the iKeyMonitor panel.
You'll see 3 OS to monitor provided: iOS, Android, or Windows. Choose iOS.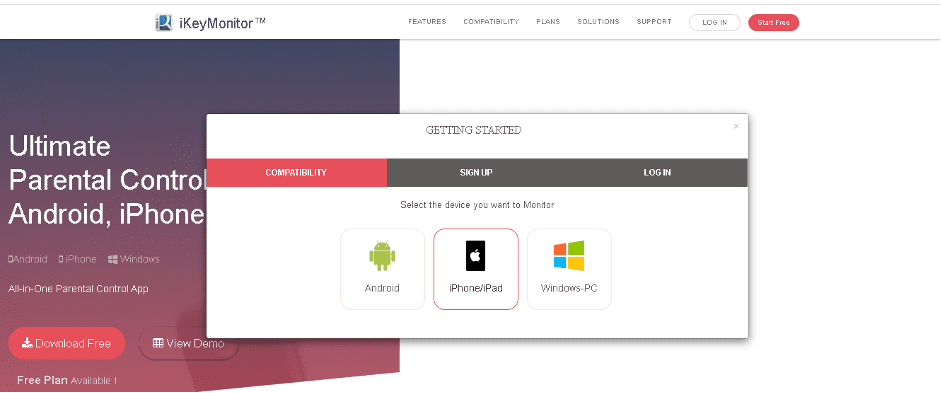 Choose the option that suits you best: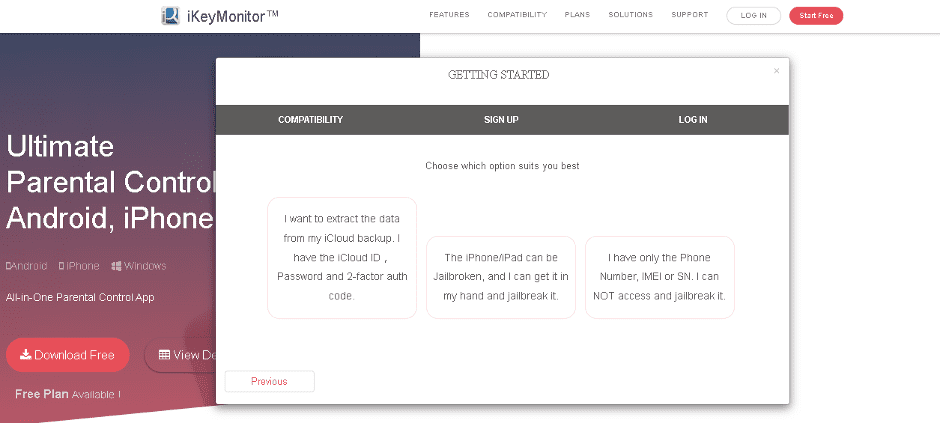 Enter the user ID email address, confirm the email address, and click "Sign Up."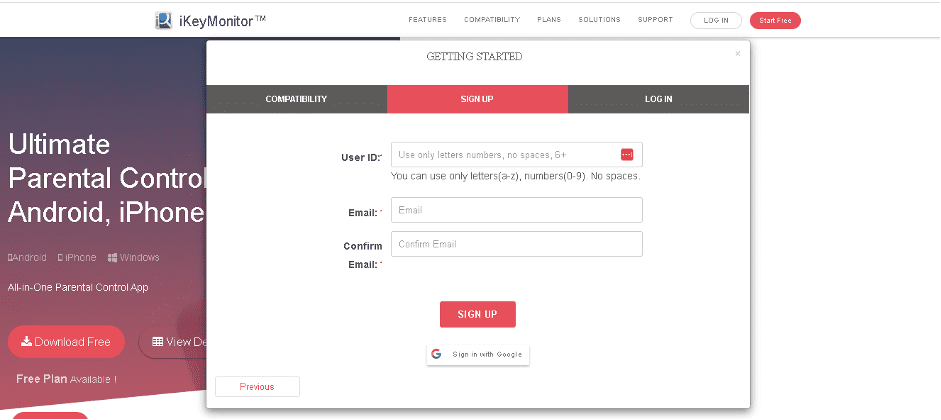 Choose the type of device you want to monitor:

Choose the option that suits you best: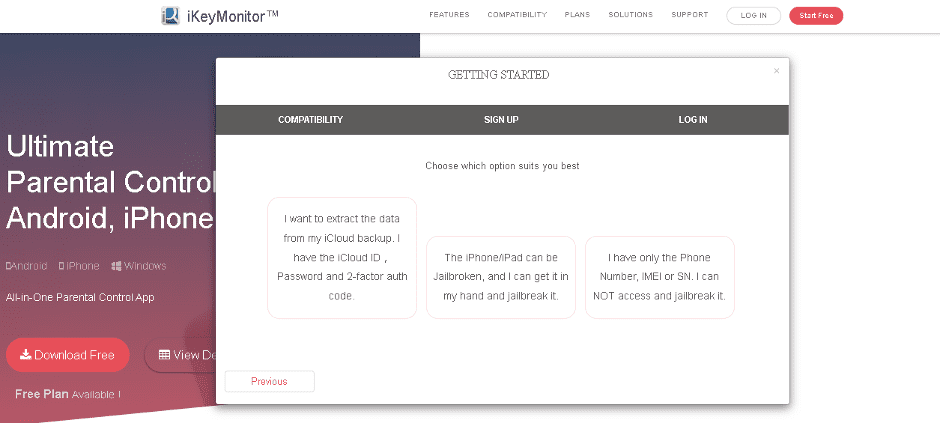 Add the iCloud ID.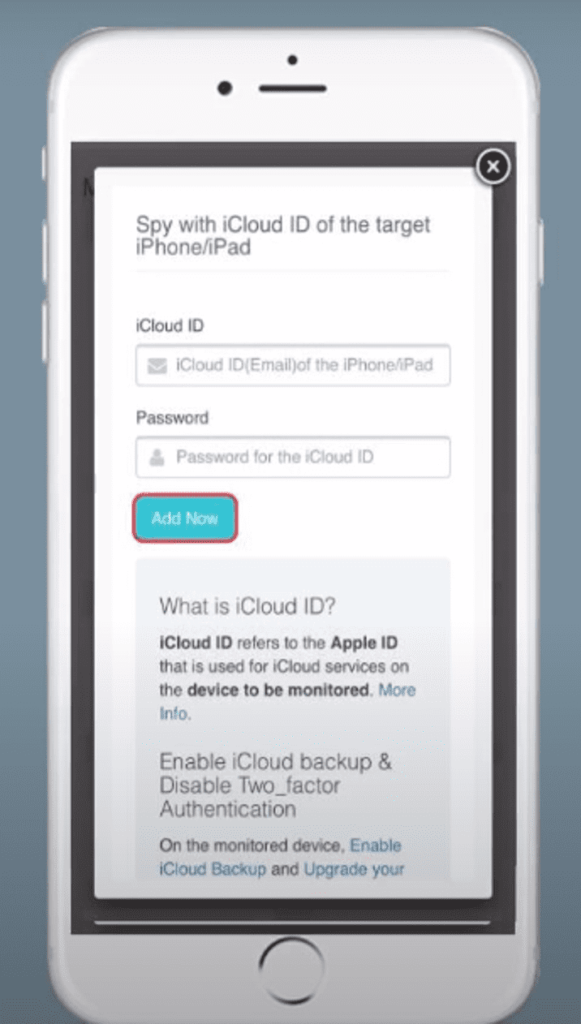 Wait 20-30 minutes.
Log in to the Cloud panel.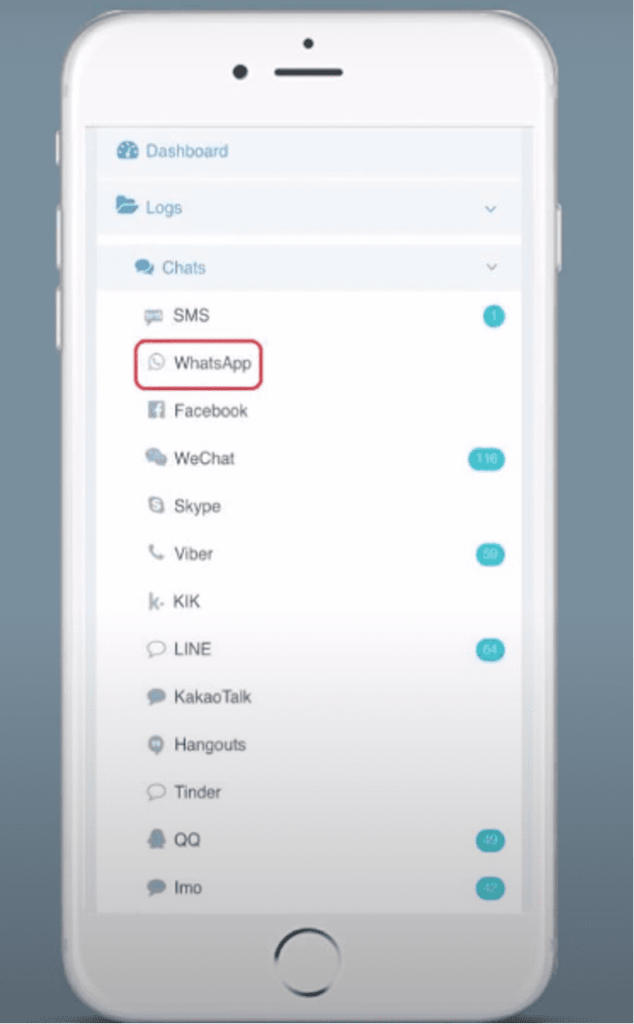 That's it.
SpyBubble
SpyBubble Pro provides a comprehensive range of spying features. You can use the app not only to hack an iPhone to read text messages but also to monitor call logs, track location, and monitor the social media activities of your spouse to expose cheating behavior. SpyBubble is discreet and operates in the background, making detecting its presence difficult for the person.
Features:
Viewing visited websites
GPS location tracking
WiFi history viewing
Keylogger
Call monitoring
Accessing photos and videos
Blocking specific apps/games
Viewing social media charts
Seeing contacts
Reviewing call logs
Reading sent and received SMS and emails
Getting alerts on restricted actions
👀 Read SpyBubble review and learn more about its available features.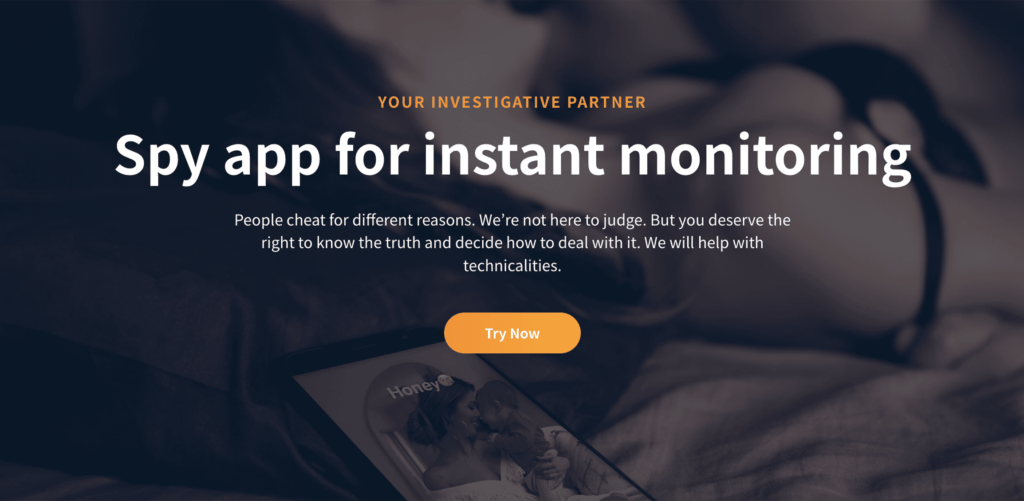 Pros:
24/7 customer support via live chat
Glitch-free operation
No jailbreak/rooting required
Easy-to-navigate user-friendly interface
Full control over Instagram and Facebook
Simple to use
Cons:
Since no jailbreak is possible, functionality is limited compared to the one for Android; hence Snapchat cannot be tracked on iOS, no keylogger or live streaming for iOS, etc.
How to Hack Someone's iPhone with SpyBubble?
Go to spybubblepro.com
Click the "Try Now" button on the top right corner.
Create account.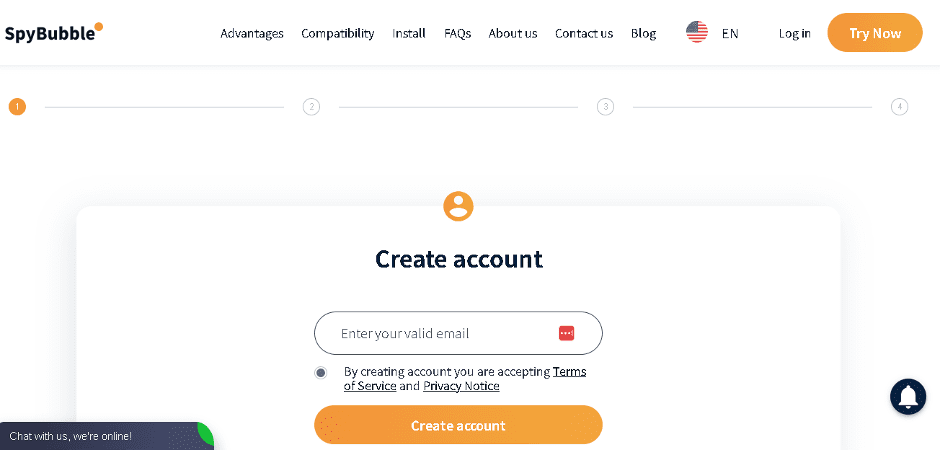 Choose iOS as the device you want to monitor.

Choose a subscription plan.

Click on the "Try Now" button and proceed with payment.
Follow the guides and fill in the required data to use the app.
You provide iCloud credentials for a target iOS device in your user account.
Log into your account and wait until the devices are paired and the data starts to be sent.
mSpy
mSpy is an easy way to hack iPhone. The app provides real-time monitoring, highly advanced features, and an easily navigable interface. The application's user-friendly design ensures maximum ease of use and convenience, making it a valuable tool for anyone seeking to stay updated on the activities of their close ones. Through its great features, mSpy ensures that users can keep track of their loved ones' activities without being discovered.
Features:
Location tracking
Web and app filtering
Activity reports
Email monitoring
Social media messaging apps monitoring
App monitoring and filtering
App blocking
GPS location tracking
Real-time updates
Geofencing
Web filtering
Keylogger
Screen recording
Phone call tracking
Access to multimedia files
Browser history monitoring
WiFi network monitoring
Invisible mode
👉🏻 Read full mSpy review to see more detailed information about its features.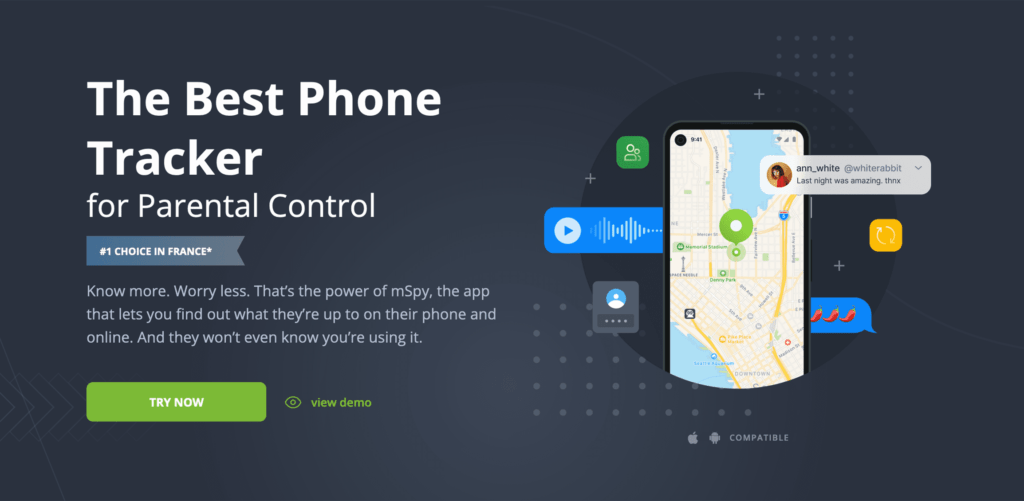 Pros:
Affordable pricing
Easy to use
Updates every 5 minutes
It's 100% invisible
Powerful GPS tracking feature
Support jailbroken devices
Friendly customer service
Budget-friendly
Detailed installation wizard for jailbreaking
It can be run discreetly
Cons:
You can use it on 1 target device, or an extra subscription is necessary
Instagram and Facebook cannot be tracked without jailbreak
How to Hack an iPhone with mSpy?
For non-jailbroken devices, follow the instruction below:
Go to mSpy.com, create an account, and choose iOS.
Choose a subscription plan and purchase it.
Start the installation process.
Plan A: Through iCloud account.
Log into your mSpy account and enter the credentials sent to your email.
Enter the iCloud login details of the target device.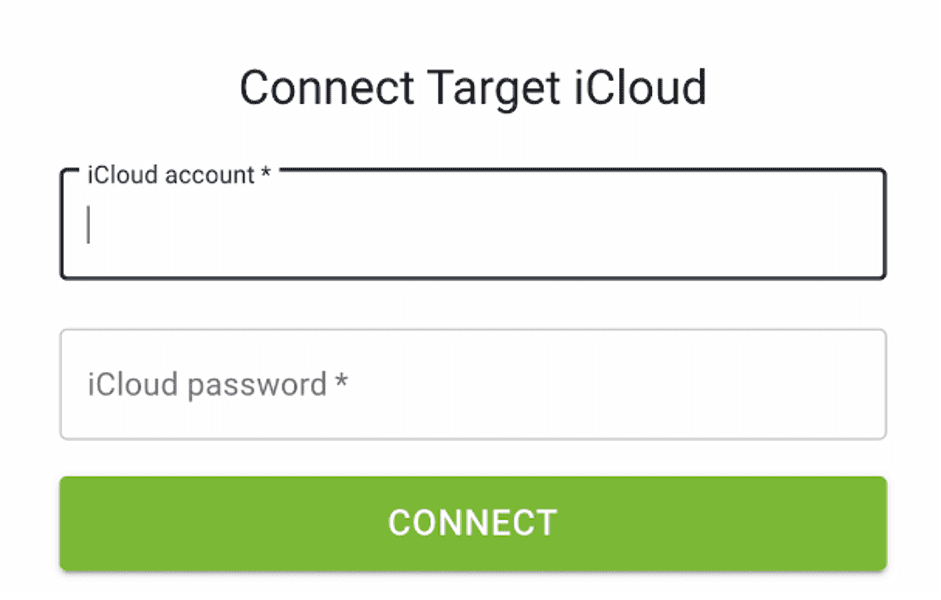 Got a 6-digit code for 2FA confirmation from mSpy on the target iPhone.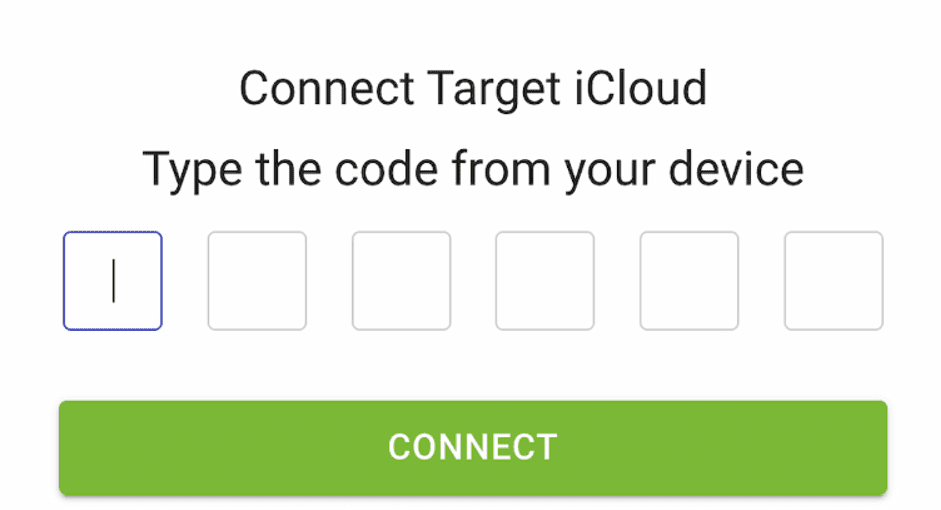 Enter the code into mSpy account to log into the device.
You will get access to contacts, photos, notes, calendar events, emails, files, reminders, and tasks.
Plan B: Spy through WiFi.
Download the mSpy app on your Mac or PC.
Connect the target device to the computer (your MAC or PC) via a USB cable.
Wait until mSpy gets the info from the iPhone via WiFi.
Disconnect the iPhone to start monitoring (you may do the same manipulation with another iPhone too).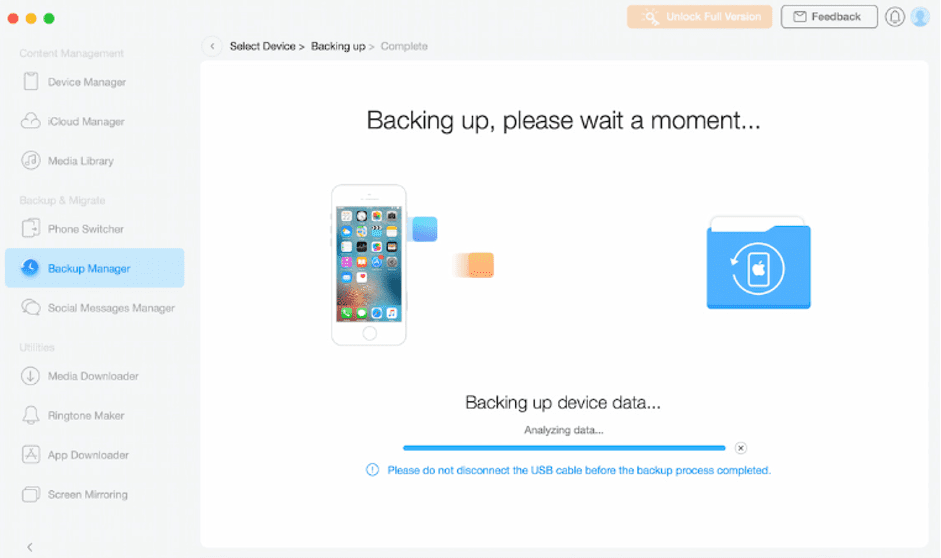 It allows you to monitor the target device's activities (view photos/videos, call logs, contacts, calendar, browser history, reminders, notes, WhatsApp, Viber, and Line) whenever they log in to the same WiFi network (exceptionally comfortably for parental control).
However, you will get much more features with the jailbreak option:
Install "Cydia" (graphical UI for installing non-authorized Apple apps) on the device of interest.
Open "Cydia."
Go to "Sources," click on "Edit," and then "Add."
Enter the required download address for the mSpy app and then select "Add Source."
Once the mSpy source has been updated, return to "Cydia."
Choose the "Technology LTD repository" option and then click "All Packages" and "iPhoneInternalService."
Press "Confirm."
Wait until the app is automatically downloaded.
Tap "Restart SpringBoard."
Install the mSpy app by clicking its icon and tapping "Continue" and "Accept."
To start collecting data with the app, enter the registration code provided when purchasing and choose "Finish Registration."
Cocospy
Cocospy performs exceptionally well in its intended function of monitoring iOS phones. Its impressive range of features, inconspicuous nature, lack of need for jailbreak, and reasonable price make it a good choice to close our list of the most reliable spy app to hack into an iPhone device. With Cocospy, you will discreetly spy on iPhones without the user being aware. Monitoring iPhones requires no software installation, as tracking can be done through the device's Apple ID credentials.
Features:
Social network monitoring
Text message history and phone calls tracking
Social media activities monitoring
Access to contact book
Stealth mode
WhatsApp, Instagram, Viber, and Snapchat monitoring
Contact list checking
Geofence alerts
Tracking SMS
Websites history monitoring
Tracking SIM location
👉🏻 Check out full Cocospy review and see the full list of its features.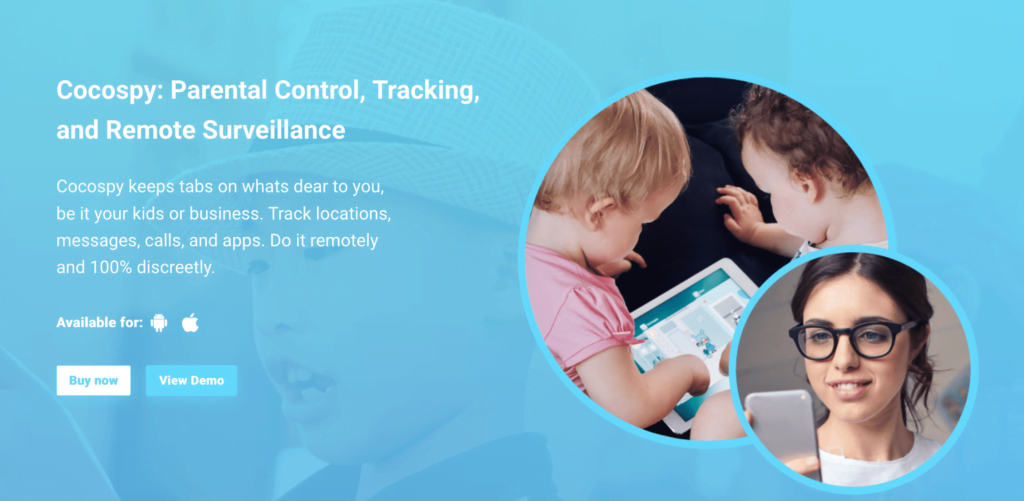 Pros:
It's completely undetectable
No jailbreak
No need to download the app
Cons:
A few social media platforms are supported
No video/audio stream tracking
Limited features for iOS
How to Hack Someone's iPhone Without Having Their Phone with Cocospy?
To get started with Cocospy, you need to:
Go to the cocospy.com website.
Click on the" Sign Up Now" button.
Create an account or log in.
Click on the Apple image and choose a desirable subscription plan.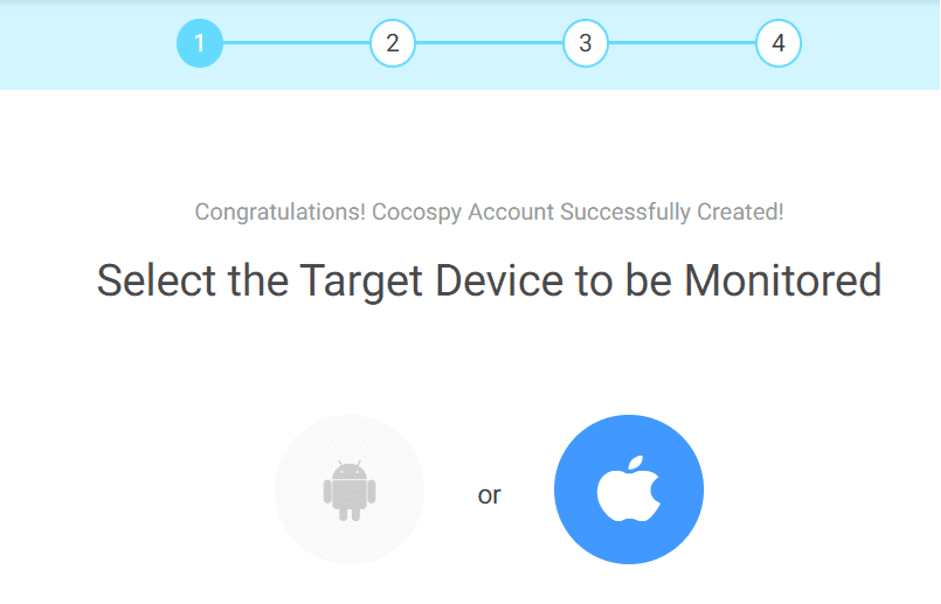 Proceed with payment.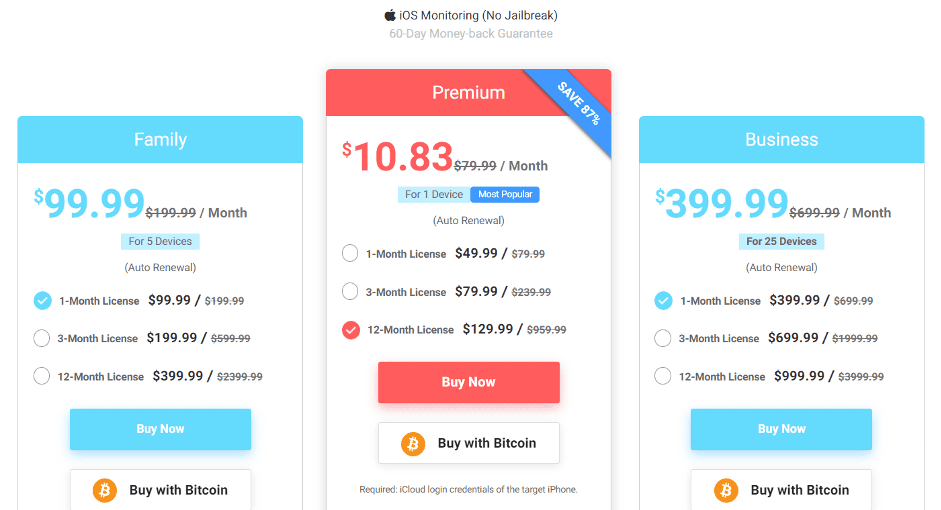 After payment, you'll receive an email with further instructions.
Tap "Start Monitoring" to enter the Control Panel.
You don't need to install Cocospy on the target iPhone. It is because Cocospy tracks an iOS device through iCloud backup. So, all you need to follow the other people is their iCloud credentials.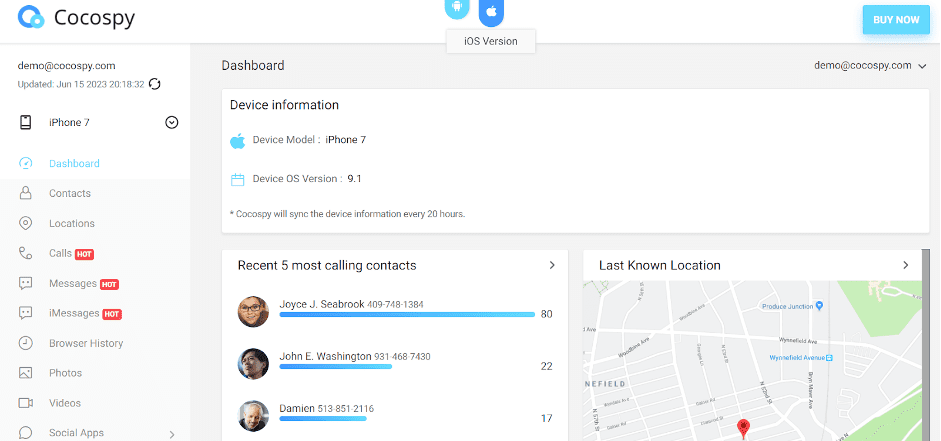 Conclusion
So, to hack an iPhone, the best approach is to use efficient spy apps. They can easily enable users to hack iPhone messages and access users' geolocation, photos, video, phone activity, browser history, and more of the person being monitored. The hack apps described in the article offer a user-friendly solution requiring little expertise or effort. With a broad range of helpful features and an intuitive user interface, these monitoring tools are an excellent choice for hacking iPhones. Explore and utilize any of the spyware provided in our article as per your budget and needs.
👉🏻 You may also like: